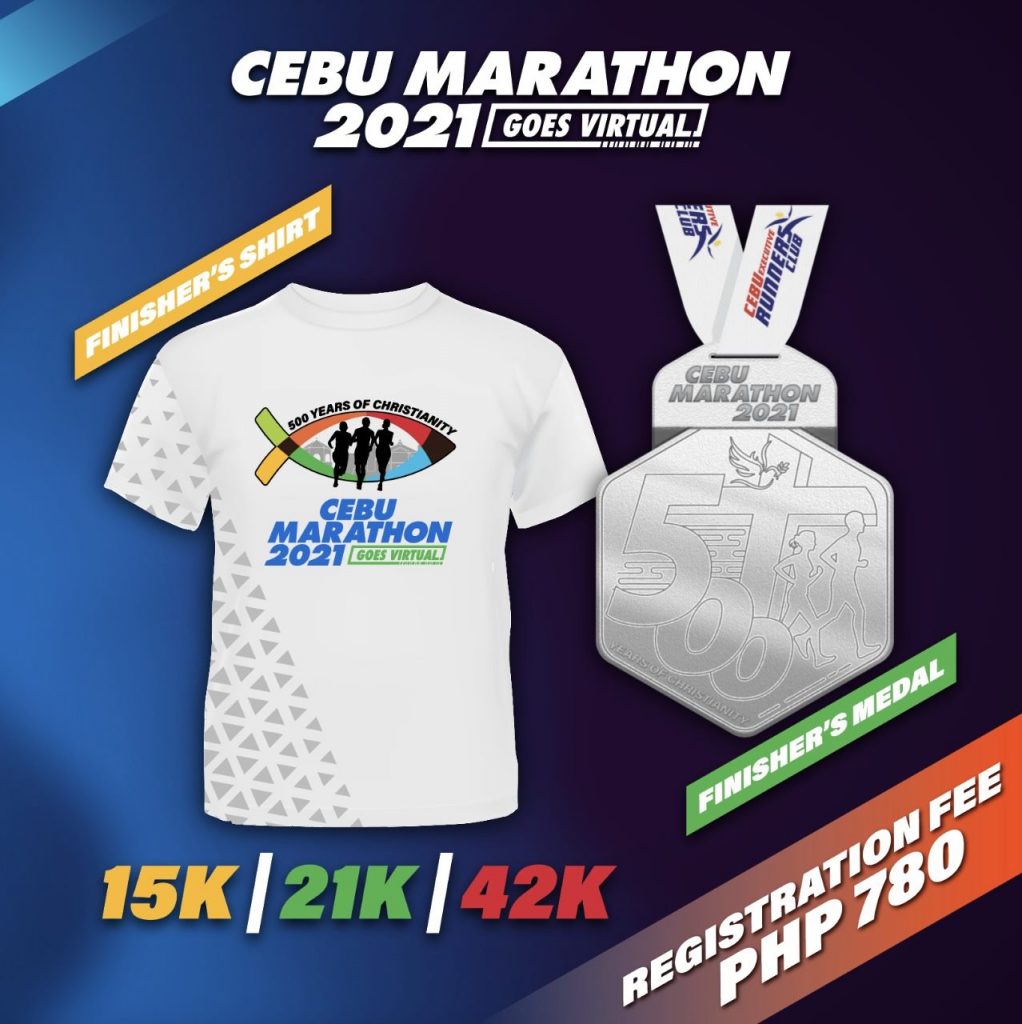 Over 1,400 runners have registered thus far for the 2021 Cebu Marathon Virtual race. I mean "thus far" because, while the deadline was originally set last Thursday night, another 10 days were added to accommodate those who have yet to join. The new and final deadline is on January 10. 
If you're one of those who occasionally runs and walks, join the race. In case you're unfamiliar with how a virtual race goes, it's simple. You run or walk at your place and time of choosing. What's important is you record and complete the distance within the cutoff time.
It's 2021! There's no better way to start the year than to set a target and to accomplish it. The targets are doable. There's the 15K distance. To the non-athlete, covering 15,000 meters by foot seems far. Yes, it's the 5K distance from USC Talamban to Ayala Center Cebu — multiplied by three. It's not a "walk in the park." But if you consider that you're given four hours to complete this distance, it's achievable.
Half-marathon. This is the next option. This one measures 21 kms. That's the 10.5K distance from USC Talamban to SM Seaside Cebu — multiplied by two. The 21,000-meter stretch looks daunting. But if you've been running or walking far distances for sometime, this is a good target. The cutoff time is very kind: five hours. (As comparison, the Milo Marathon 21K has a 2.5-hour cutoff time for you to avail of the medal. This doubles that deadline.)
Finally, there's the 42K. This one I don't recommend unless you've been a serial runner or one who's willing to endure suffering and pain. The cutoff is a very unselfish 10 hours.
Why run and walk and join the Cebu Marathon?
First, it comes at the beginning of 2021. After the frightful and horrendous 2020, no year was as highly-anticipated and welcome as this new year. And for you to join a physically-demanding race and to raise your arms and smile at the finish is an accomplishment that will carry over for the remainer of 2021. You'll feel confident, reassured and optimistic ("positive" is a word that I would have used.. except now).
Second, it's 1521 plus 500 years. This year is a historic moment for the Philippines and, in particular, our very own Sugbu. Joining the Cebu Marathon virtual race and completing the distance will mean being part, in your own way, in the celebration. It will also mean receiving not only the well-designed Finisher's Shirt but, more importantly, the Finisher's Medal with the number "500" engraved on the metal.
Third, no New Year's Resolution is complete without a fitness goal. Once you join and complete the 15K or 21K or 42K, this will trigger a perfect January start for your fitness journey that will reverberate in the coming 11 months months. You'll be off to a good new year's start.
To join, visit cebumarathon.ph.