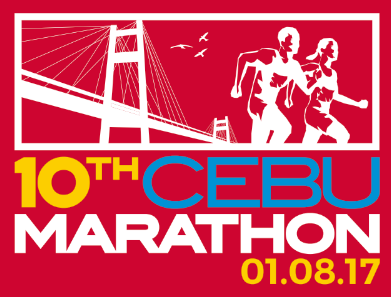 Exactly 90 days are left before January 8, 2017. That's the morning when the starting gun will be fired at 3 a.m. to commence a looong 42 kilometer adventure for those running the 2017 Cebu Marathon.
Why, you ask, should someone be crazy and idiotic to travel that far a distance with no bike wheels or car wheels but just one's God-given leg wheels? Why run the marathon, you ask? Valid question.
As someone who's been bitten by this running bug the past 10 or so Octobers, I offer a few reasons.
One, because it's there. That's not an original phrase. Those are the same words that Sir Edmund Hillary uttered when asked why climb Mount Everest. Because it's there, he proudly exclaimed.
Same uncomplicated reason why you ought to strive and finish a full 42.195-km. run called the marathon. Simply because the challenge presents itself. Simply because very, very, very, very few have achieved it. Simply to absorb the pain, to endure the training of that dawn-to-sunrise footslog, to sweat endlessly for six hours with legs cramping and heart pounding and knees aching. Because the marathon is there.
Two: to get slimmer. I've tried all types of sports and exercise and I tell you with all comprehensive analysis and honesty that nothing beats running. You burn more calories per minute on the road, pounding those calf muscles and swinging those arms and bobbing that head with running than any other sport.
I guarantee you: Want to lose those 24 unwanted pounds? Enlist for a marathon. Given the volume of training that you'll endure, it's but natural that your body fat will evaporate and those excesses will disappear.
Third reason: You'll gain friends. Running long-distance is tough to do by your lonesome. It's also not advisable as you wouldn't want to be running (in the dark) from 3:30 a.m. onwards by yourself— I'm talking of your physical safety. If you're training long, enlist a group of friends to trek with you. Those one, two, three, four hours of running will be most enjoyable when you're talking to a buddy, sharing how your work and week went, conversing tsismis while touring Cebu's city streets.
This is what our Cebu Executive Runners Club (CERC) group does on Sunday mornings and this is what dozens of groups do. They run together. They forge better relationships.
Fourth, I quote Theodore Roosevelt: "Nothing worth having was ever achieved without effort."
This means that the greater the effort, the greater the achievement. It's the same with running. Almost weekly, a Fun Run is offered for anyone to join. Mostly, the distances are 5K and 10K. These are good distances to cover. But if you really want to aim for a difficult yet achievable grand target, go for the full length. It will require more time and more sweat and more willpower and more fighting spirit — but once you've crossed that 42K finish line, you'll be rewarded with an inner joy and the widest of smiles.
Fifth reason: You'll sleep better. No kidding. It's proven that the more tired you are physically, the better your sleep. And who doesn't want that deep and relaxing rest at night? When you run, let's say four times weekly, your body will be more fatigued than usual — which will give you a better sleep.
Six: You'll inspire others. I've met so many marathoners who were previously sedentary individuals. When their relatives or office mates look at their physique now, they're slimmer. But more than appearance, when others realize how far they've run, they stand amazed and marvel at the effort and dedication. If you can inspire others to run and to turn healthy… kudos! You've not only helped yourself but also others.
No. 7: You'll develop a good habit. What's so laudable with running is you need very little equipment or baggage to do it. When you travel, just bring your Saucony shoes and off you go. (You can't do this with the Vellum road bike.) As your love for running grows, it will infiltrate your life and become enmeshed with your lifestyle. Your mind and body will look for that daily sweat.