For an eye doctor, the numbers "20/20" are special. (Don't we all want to hear the words, "You have 20/20 vision," from our ophthalmologist?)
For Dr. Potenciano "Yong" Larrazabal III, the year 2020 takes on a special, double meaning as a top eye surgeon. Just last week, he completed the most incredible of accomplishments: running 7 marathons in 7 days in 7 continents.
From Feb. 7 to 14, he ran a 42K in Cape Town (Africa); Novo (Antarctica); Perth (Australia); Dubai (Asia); Madrid (Europe); Fortaleza, Brazil (South America), and Miami (North America). Dr. Yong was one of only 23 men and 12 women to have completed the event and he became the first Filipino to accomplish this World Marathon Challenge. 
Yong started running in 2006. That was only 14 years ago — I say "only" because since then, he has completed a mind-boggling 68 marathons. On one of his first, the 2008 Hong Kong Marathon, we were together.
In preparation for a talk ("Exercise is Medicine") that I gave to a group of doctors two years ago, I asked Yong why he chose this sport.
"Running clears my mind from everything that goes on in my busy daily routine at work," he said. "I feel my day is not complete without exercise. Mental and physical sluggishness usually happens when I don't exercise. Joining marathons not only makes me strong physically but mentally as well. In every marathon, there is always an end goal. And just like in life, to reach your goal, there has to be focus, commitment and determination."
Yong tries to run five times each week (four times on the treadmill) and he joins local races for his long runs. And unlike many of us who prefer morning runs, Yong cannot because of his early daily surgeries. 
"I started exercising because my work became too stressful and I knew then it would eventually take its toll on my health," he said. He opted for running because his preferred sport (basketball) was too dangerous for his fingers and body — considering his profession (apart from being the CEO and Chairman of CebuDoc). 
"Not only is running safe," he said, "it also compliments my lifestyle since I finish work late. I can train alone anytime after. Later on, after joining international races, I appreciated travelling abroad and learning about their different cultures. Travelling was rarely done before I started running."
In my interview with him in 2018, he had just completed back-to-back events: first, the Boston Marathon and, six days later, the London Marathon — achieving the coveted Abbott World Marathon Majors Medal (finishing all six majors).
Last month after Yong completed the Cebu Marathon, I texted to congratulate him that night. He said thanks and told me he was running 42K the next day.. on a treadmill! This was all in preparation for his amazing 7-7-7 (World Marathon Challenge). 
Yong's advice to us all: If you want to live a long, healthy life with your wife/husband and watch your kids grow old and graduate from school, you should prioritize your health.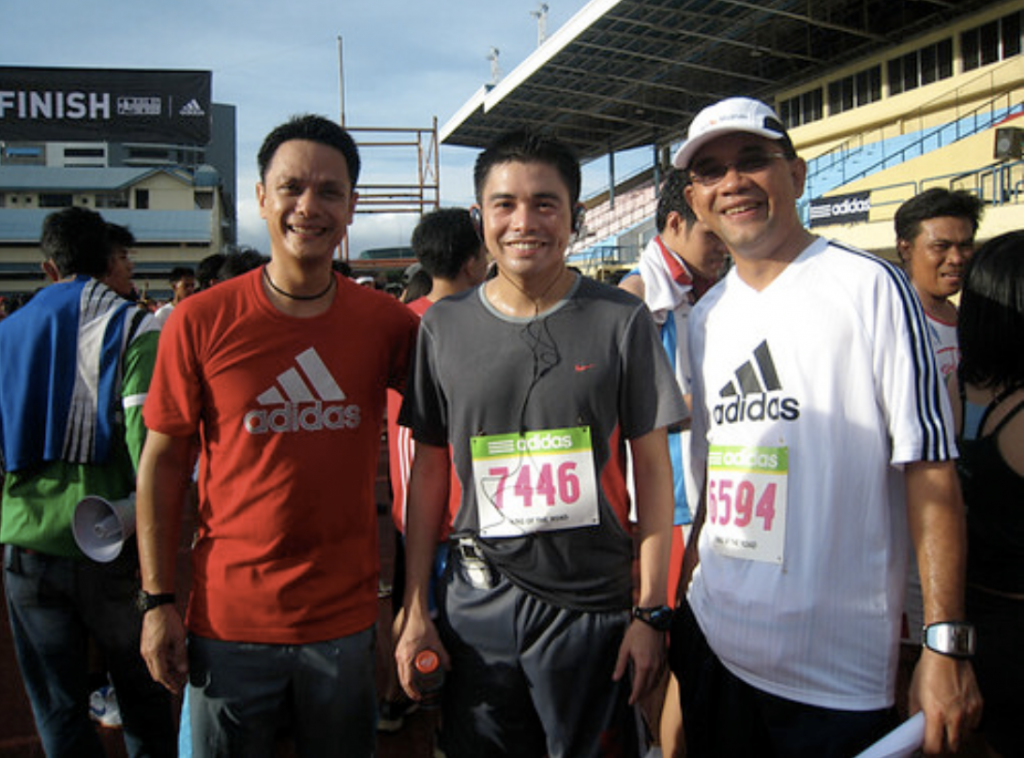 Yong (center) with me and Dr. Peter Mancao