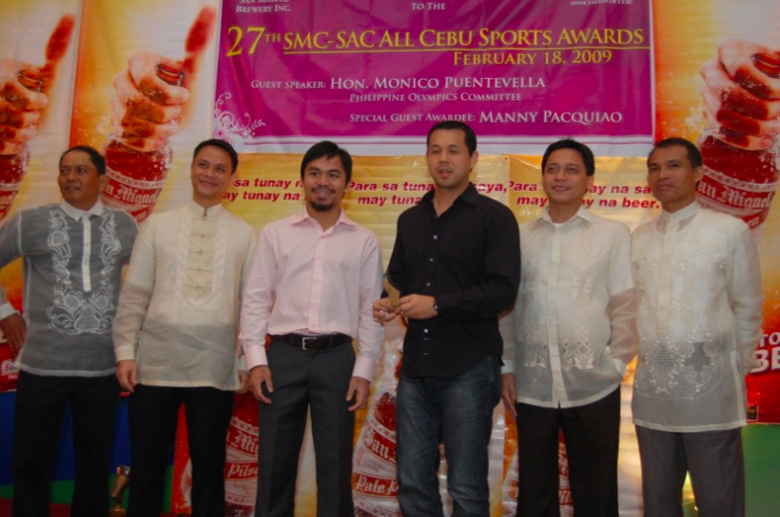 Michael Aldeguer (center) receiving the award in the 2009 Cebu Sports Awards with (from left) Jun Migallen, John Pages, Manny Pacquiao, Jingo Quijano and Raffy Osumo
Pinoy Pride has become too big a show for the true boxing fans in the provinces, said Michael Pastrano Aldeguer, the president and CEO of ALA Promotions.
That's quite a revelation. Having concluded its 39th edition last November, the "Pinoy Pride" brand has become synonymous with tremendous success. Why mess with it?
But Michael Aldeguer — the first Asian promoter to organize boxing events in the U.S. — is realistic and forthright.
"Pinoy Pride will be for the bigger fights in the bigger cities around the world," he said.
Ever since the ALA gym was founded by Antonio Lopez Aldeguer in 1985 — whose mission then and now continues to be training aspiring boxers, including the out-of-school youth, to become the best that they can be (including becoming world champions) — the ALA group has continued to evolve and prosper.
NEW FOR 2017. "We are looking to launch different events all over the country and abroad," Michael Aldeguer said. "We will continue to provide an avenue for prospects all over Philippines and the world as we are working on bringing back the smaller events to connect more to the fans."
There'll expand a new feature called "Fists of the Future," which they launched in San Mateo, California last July. It will continue under the "ALA Stars on Tour" brand.
"It will be smaller than Pinoy Pride and will be held in smaller cities around the Philippines and the U.S.," he said. "We saw the potential of growing our U.S. events in the coming years; but the plan for 2017 is to go more to the provinces around the Philippines as there are a lot of talents that need to be showcased."
ALA Boxing's "IDOL" will also remain. "IDOL will be our grassroots program that will provide young fighters an avenue to fight and develop their potential," Aldeguer said. "The TV show Pinoy Pride is consistently one of the top Sunday shows. This proves that our market is growing. Filipinos will always have a healthy appetite for boxing. As long as ALA Promotions and ABS-CBN continue to do its part, Phil. boxing will soar."
To Michael Aldeguer, today is the best era for boxing.
"Manny (Pacquiao) is back as world champion and looking great," he said. "Philippine boxing has four world champions and one interim world champion. It could have been six if Donnie Nietes didn't vacate his title to move up in weight but he will be fighting for a world title this year."
MMA FOR ALA? "ALA Promotions is officially ALA Sports Promotions International, Inc. (ASPI)," Aldeguer said. "We're not an exclusive promoter of boxing, however focused we are to the sport. It will always be our top priority but this does not mean we are not open to expanding and supporting other fields. I believe the upsurge of MMA helps people appreciate the athletes and sports, in general, including boxing, therefore raising awareness leading to the respect that these unique professionals deserve."
INSPIRATION. "Boxing is a part of the life of every Filipino since the time of Pancho Villa to Flash Elorde to Manny Pacquiao," he said. "From the beginning, it has been ALA Boxing's commitment to help sustain and grow the sport as a means of helping underprivileged kids achieve their dreams. While it's true that not all who go into boxing succeed the way Pacquiao and Nietes have, ALA Boxing believes that there is a future for the sport."
Aldeguer spoke about the beginnings of both Pacman and Ahas.
"We can draw inspiration from their stories. Boxing has helped improve their lives and their families. Pacquiao left home and turned to boxing at the young age of 14 because of poverty. Nietes came to Cebu to work as a janitor for ALA Gym before he turned to boxing," he said.
"We hope to continue working towards supporting the stability and growth of boxing. We can do this by creating more avenues for both the new and experienced fighters; this will bring their dreams closer to reality and build a stronger future for Philippine boxing."