Scanning the headline news just five hours after Manny Pacquiao's victory, you'd think it was somebody else the Philippine senator faced on Saturday night. Of the two dozen articles that emerged from Philboxing.com, at least 10 of them plastered the words "Floyd Mayweather." Sporting a 49-0 record that has matched the great Rocky Marciano's spotless number, is there any boxing fan who believes that Mayweather won't emerge out of retirement and target Fifty-Oh? Why would he salivate at ringside if not to pique our interest and titilate the bloggers with his comeback?
"Not bad," said Mayweather post-fight, flashing a thumbs-up on the Pinoy's performance.
Who gave Floyd tickets? "I invited him to be here tonight," Pacquiao admitted, smiling and waving a fist at the American just moments before the bout as if to tease him and say, "Watch me."
Will he or will he not do PacMay 2? This question is as unpredictable as that organ which serves as the center of the nervous system called Mayweather's brain. As brash and loudmouth as he is, he's reclusive; only he knows which gambit he'll conjure. But forget Mayweather (who'll turn 40 this February) because this fact is undeniable: Pacquiao is still our real-life superhero named SuperManny.
"His speed surprised me at the beginning, and that knockdown woke me up," Jessie Vargas said. "He has tremendous speed, and sometimes you get caught with those quick shots you don't see and it knocks you down."
Haven't we heard those words uttered by MP's swollen-faced, battered and defaced opponents right after their skirmish? Think about these facts: Pacquiao will turn 38 on Dec. 17. He has five children. He is the playing coach of the PBA team Mahindra Floodbusters. Professionally in boxing, starting with his first bout against Edmund Inting Ignacio in Jan. 22, 1995, he has climbed the square arena, been punched in the jaw and abdomen and nose 1,001 times — and 22 years after his pro debut, he's still the same restless, energetic and indefatigable human being.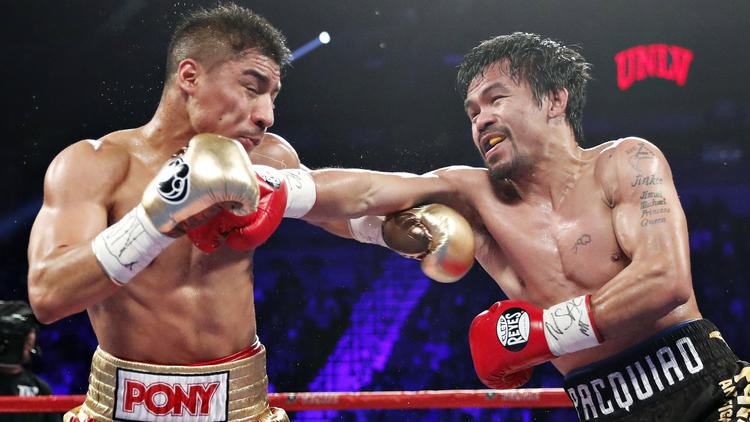 (Isaac Brekken/AP)
"I thought Manny performed extraordinarily well," Arum said. "When he's moving and punching like that, disappears around a guy and comes out on the other side throwing punches — that's great craftsmanship."
Watching from the beautiful home of Mario and Emma Siao and together with our close friends from the Brotherhood of Christian Businessmen and Professionals (BCBP), the man we saw two mornings ago was possessed.
In the 11th and 12th rounds, when Vargas' long legs wobbled and his smile turned sour and his shoulders dropped, Pacquiao was the same spitfire that he was in Round 1. He didn't tire (he never does, not in the dozen or so times that I recall). It was the youthful champ 10 years his junior who got tired. Pacquiao's footwork, dancing and hopping endlessly with those brick-wall legs; his head, weaving and bobbing like an unhitabble target; his arms, protecting that face and insulating that chest while pummeling and jabbing.
Who wants to see this guy retire? Not me. While we all believed his "I'll retire once I'm a senator" talk and wished that he'd quit this game called the "Sweet Science," now I'm convinced otherwise.
Who else will entertain us? Anyway, we know that there's no better juggler than Pacquiao. Remember his old sinful days, when he'd gamble and womanize at night, sweat in the morning at the gym, pet his fighting cocks at 3 p.m., sing the Karaoke before dinner, play basketball, court Ara, shoot billiards, flick his wrist at darts and sign documents as Sarangani congressman?
Manny is a multi-tasker and he can jockey the work as One of the 24 and as Welterweight Number One.
"He was really busy with the senate and all of that, but he was training really hard every day," Freddie Roach said. "We are going to have to get used to this because he's going to be a senator for the next six years and he's not done fighting yet."