As shocking as incoming Pres. Donald John Trump's victory yesterday is this fact in men's tennis: Roger Federer is out of the Top 10 — the first time it's happened since 2002.
R. Federer is acknowledged as history's greatest men's tennis player. He's won 17 grand slam singles trophies, ranked world No.1 for a record 302 weeks, has pocketed $100 million in prize money and, on a personal note, is such a sharpshooter that he is the father to two sets of twins with wife Mirka (Myla Rose and Charlene Riva then two boys named Leo and Lennart).
Federer is ranked 16. That's astonishingly low. Same with Rafael Nadal, the 14-major winner, who's ranked eighth. For those who follow the sport, the Swiss and the Spaniard ruled tennis for 211 nonstop weeks from July 2005 to August 2009 — the duo taking turns at the No. 1 spot.
Federer is out; so is Nadal. Same with the 29-year-old from Belgrade, Serbia named Novak Djokovic. While we had grown accustomed to one of the Big Three standing at Tennis' Mt. Everest, now they've been supplanted. For the first time since Feb. 1, 2004 — that's 666 weeks — not Roger nor Rafa nor Novak is No.1.
It's Andy Murray. Thanks to an incredible run — seven trophies in eight finals out of nine tournaments — Murray has overtaken his childhood friend Djokovic. This is shocking. First, because of Novak's collapse. After he won the year's first two majors — the Australian and French Opens — his game collapsed, losing both Wimbledon and the Olympics.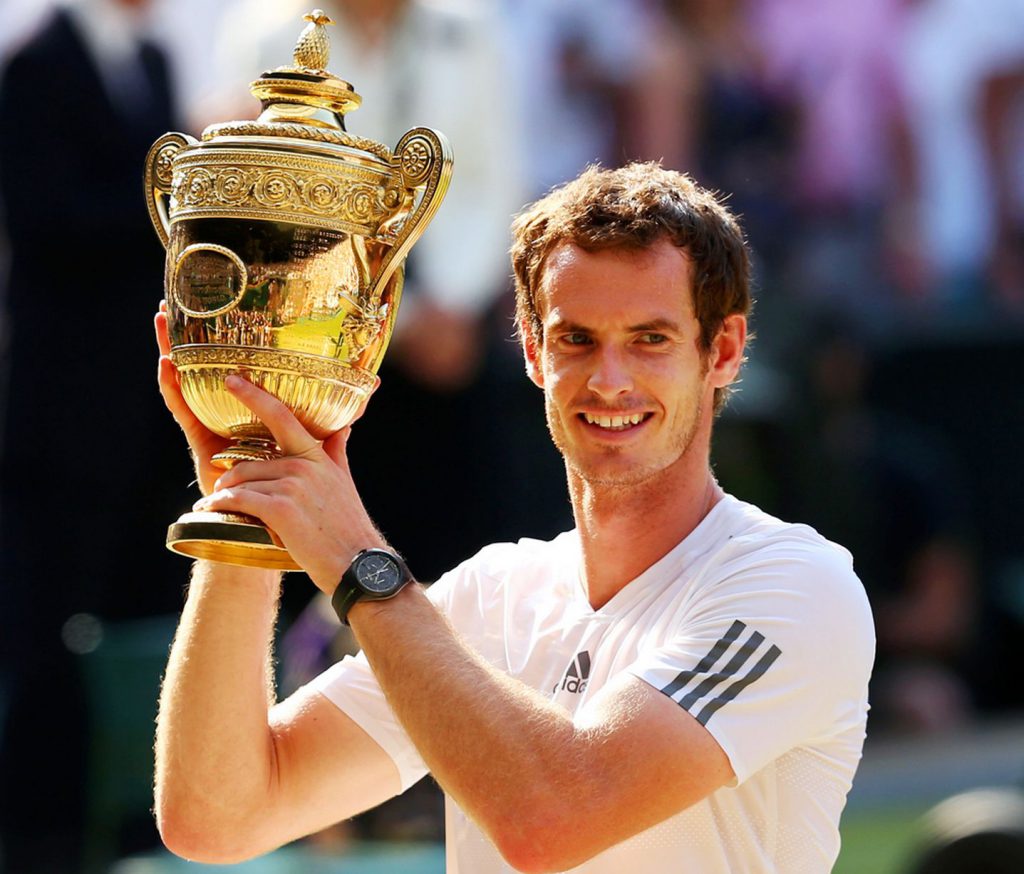 For Novak, who's been so consistent the past years, this might be a case of "What more can I achieve?" After the career grand slam (in Paris), he may have lost his invincibility and motivation.
With Murray, the combination of Djokovic's defeats and his triumphs have elevated the Scot. How elusive is that top spot? Since 1973 when the ATP rankings were developed, the 29-year-old has become only the 26th player to achieve that feat.
"To get to No. 1 isn't about today, but it's about 12 months of tournaments to get to this stage," Murray said last week.
The No. 1 ranking has been Murray's ultimate goal. He's been No. 2 and hovered among the top four since August 2009. You can say he's been the perrenial groomsman, winning only three grand slam titles after being in the finals 11 times. (This, too, is a double family celebration because his brother, Jamie, held the top spot in doubles earlier this year.)
But Murray can't rest for more long. This Sunday, the year-ending Top 8-only event commences and if Djokovic goes undefeated, he'll reclaim the top ranking.
"It might only be for one week, so I might as well try and enjoy it," Murray said, "because I could lose it at the (ATP World) Tour Finals and never be there again."
KERBER. On the women's side, there's a similar transformation. Serena Williams has been dislodged as the top female netter. In Wimbledon last July, Ms. Williams won her 22nd singles major— tying her with Steffi Graf for the most majors in the Open Era.
But like her co-No. 1 Djokovic, after that accomplishment, her game dipped. She lost in the Olympics and the in U.S. Open. Already 35 years of age, Serena has suffered knee and shoulder problems and decided to rest after New York. Two weeks ago at the WTA Championships in Singapore, she skipped the year-ending tourney.
Angelique Kerber is tennis' new No. 1. And what a 2016. She reached the finals at the Olympics, in Wimbledon, and in Singapore last month and won the three majors of the year: in Melbourne, Paris, and New York. Ms. Kerber, a muscular and ultra-fit left-hander, hails from the same country as the wife of Andre Agassi.
"For sure, when I was growing up, Steffi was my idol," Kerber said, "and this is also special that she is German."
Talking about change, like our Pres. Rodrigo Duterte and the newly-crowned Mr. Trump for the nation that Duterte despises, tennis has its own change-has-come version: Andy Murray and Angelique Kerber.