Jessie Vargas will pocket $2.8 million (Php 140 million) today.
Sen. Manny Pacquiao? The math has changed. While he was previously handed guaranteed fees (say, $20 million), now, his income will be determined mainly by the pay-per-view proceeds. Asked how much Pacquiao's guarantee is, Bob Arum replied, "I don't know."
Pacquiao is taking a risk. If the PPV numbers are low, our GenSan Pinoy Pride will receive a "small" salary.
Here's what happened: The major TV networks have declined their usual involvement with Pacquiao. While they used to collaborate and handle the PPV distribution, this time they said no. HBO and Showtime — the "middlemen"— used to earn 7.5 percent on the net proceeds. This time, Top Rank is independently producing and distributing the pay-per-view mechanism. The only way for Pacquiao to earn plenty is if the PPV numbers go high.
"We're going to put a low number on the contract because he has really no guarantee," Arum said. "We've upped his percentage of the take. He's fighting on a percentage. We can no longer afford the tremendous guarantee he was getting based on the results in the Bradley fight. Rather than going in with a huge guarantee, we're giving him an upside. We played it safe."
What are the PPV predictions? Not good. Largely because Pacquiao unretired after saying he's done with boxing and because Vargas is unknown, the hype has been muted.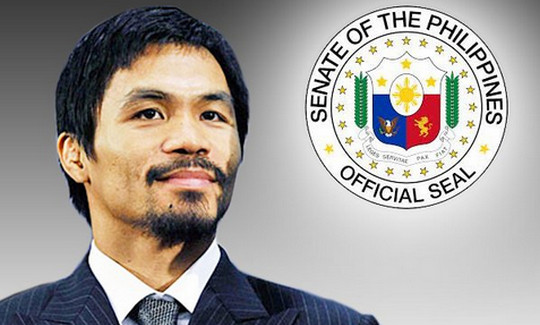 If you remember the Pacquiao-Mayweather bout, that generated a whopping 4.6 million PPV buys at $89.95 or over $400 million. Add the gate receipts and other revenue and the total exceeded $600 million. Manny pocketed over $100 million while Floyd was said to have received double that.
Here's the problem: The hoopla for that long-awaited fight on May 2, 2015 was exaggerated. When the fight turned out to be boring and lackluster, everybody felt downtrodden. In a way, boxing suffered a letdown. So much so that the PPV numbers of the succeeding fights of other boxers may have been affected.
Take Canelo Alvarez, the Mexican star under the stable of Oscar de la Hoya. Last Sept. 17, Canelo faced the undefeated Liam Smith (who had KO'd his last eight opponents) for the WBO light-middleweight crown. While Alvarez won via a ninth round stoppage, he lost in the earnings game. Though 50,000 spectators cheered inside the AT&T Stadium in Texas, you know how many PPV buys were made? A disheartening 300,000.
Back to Pacquiao-Vargas, the PPV price in the U.S. is pegged at $59.99. Will the numbers be good? The analysts are not too optimistic. Vargas is a 1-6 underdog against Pacquiao and boxing fans seem to have wanted a clash with Terence Crawford, who sports a 29-0 (20 KO) record.
One man who is forever optimistic is the still-energetic 84-year-old Bob Arum, whom my dad Bunny and I had the chance to meet two years ago in Macau.
"A hundred million homes are going to watch this thing," Arum boasts. "This is a worldwide event. We think so small in boxing. We don't really capitalise on how popular globally boxing is."
Arum was referring to the outside-America market. That's why he enlisted China's two-time Olympic gold medalist Zhou Shiming in the undercard.
"It's the same as a stadium's importance in a soccer match," he said. "Yeah, you want the people there and you need the atmosphere.. Our arena seats about 19,000 people, it will be filled, but it's really the millions and millions of people we're going to reach on this telecast. This will reach more people than the Super Bowl."
Let's see, Bob. As to us, Pinoy fans, our hope is that Pacquiao wins for the 59th time in his pro career — despite Vargas being 10 years younger, five inches taller and with a four-inch reach advantage.
With the crowd advantage, we know who'll have the loudest cheers. Our forever generous senator has splurged by buying 2,000 tickets for his family and friends to watch him in Las Vegas. The cost: $1 million. Exorbitant? Nah, that's miniscule for the man Forbes magazine says has career earnings of $500 million.