In boxing, everybody says they'll knockout their opponent. Right? Haven't you noticed this? Fighters brag and showboat. "I am prepared to give a knockout," said the visitor. But, as we know and unless there's a draw, at fight's end there'll only be one winner.
Donnie Nietes will be the lone man standing inside the stage this weekend, raising his Murcia-bred arms towards the Waterfront Hotel ceiling, blood dripping, sweat raining, applause from his fellow Cebuanos deafening the ballroom.
His opponent: A Mexican named Velarde but not first-named Mike. He's Carlos and his 26-wins, 3-loss record will become four defeats before midnight. I'm not saying that Nietes is invincible. Unlike basketball that requires 48 minutes or volleyball where each set must reach 25 points, boxing is spine-chilling: You may dominate the entire fight but, in one careless moment, that incoming stab can plunk you to sleep. Remember Marquez's wallop on Manny?
Let's wish this doesn't happen to Ahas. Having witnessed numerous Nietes fights, I think the 32-year-old is too crafty and too clever to be careless — and thus, we anticipate that he'll break the nearly-half-a-century-old record of Flash Elorde as the longest-reigning Filipino world champ.
(Read the two articles I wrote about Donnie last April 24 and April 28.)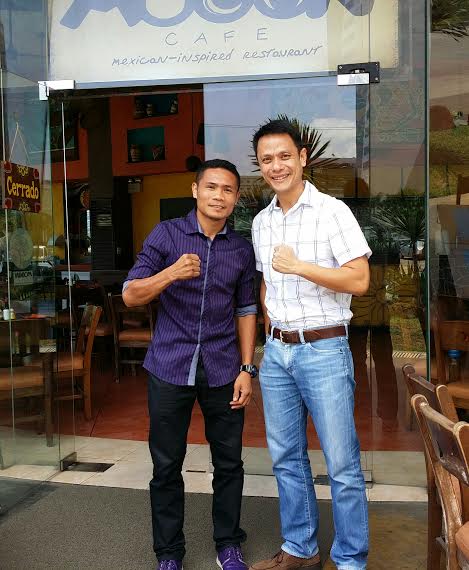 With the world champ
My hope this Saturday — in a night loaded with A-list boxers from ALA Promotions that includes AJ Banal, Albert Pagara, Milan Melindo and Mark Magsayo — is this: That Carlos Velarde put up a tough stand. We've witnessed many Waterfront Hotel sorties that finish in a few seconds. We want a quarrel, an altercation, a pummel-versus-jab encounter, a clash and scuffle — with Nietes smiling in the end.