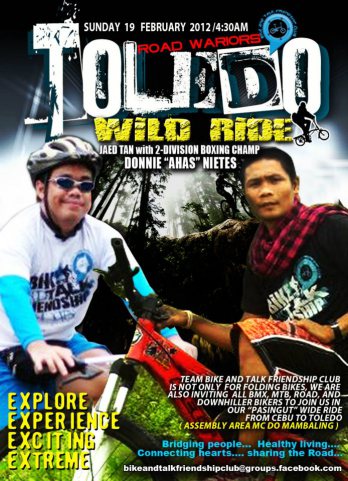 The WBO world boxing champion likes to bike. He owns four types of folding bikes. One that's 16 inches (the wheel); he has two more, 20 and 26 inches. But his favorite: a very small 10-inch (wheel) folding bike. "We bike from Cebu City," he said, "all the way south to Barili then up north to Tabuelan."
Donnie Liboon Nietes is an extraordinary athlete. If you're the best 108-pound boxer on Earth, you have to be.
Apart from four folding bikes, Donnie also owns a mountain-bike. He pedals often, usually during off-season, and is a member of the BTFC. "That's the Bike and Talk Friendship Club," he said. "We're a group of over 100 members. On Sundays, we do long rides." Why does he enjoy it? "Biking is an excellent cardio workout. Going uphill is tough."
Donnie and I had lunch last Tuesday. He was accompanied by ALA gym coach Edmund Villamor. We met at our family-owned Mooon Cafe at the Cebu I.T. Park. Dining at the Mexican-inspired restaurant, Donnie will be facing a Mexican this May 10 at the SM Mall of Asia (MOA) Arena. It's a rematch against Moises Fuentes.
Hailing from Murcia, Negros Occidental, Donnie and I often spoke in Ilonggo. For 75 minutes, we exchanged lots of stories.
Donnie's a huge Michael Jordan fan. Today, he follows the Miami Heat and is eagerly awaiting the three-peat in the NBA Finals.
Volleyball? Check. "I often watch inter-barangay tournaments," said Donnie, who used to play volleyball when he was in elementary.
He also swims. Here's a funny story: Back when he was a little boy in Murcia, their house was a few steps away from the river. Donnie learned swimming this way: His dad Josue would throw him to the water! He had to scramble to survive. Donnie was only six years old then. "I cried and cried because the water was deep," he said. But, he proudly said, I learned to swim!
FOOD. I asked him about his weight. "This morning, I was 116 lbs.," he said. "A day before the weigh-in, I'll be just two pounds over. I'm right on track with the 108 lbs. limit."
Edmund Villamor explained that "making weight" is one of the toughest challenges of a boxer. At the ALA Boxing Gym, the target is a gradual weight reduction of two pounds per week.
Talking about food, we ordered. Donnie scanned the menu. Pasta? Fish? Chicken? I offered.
"I'll have beef," he said. The world champ ordered Steak A La Pobre. "With plenty of garlic," he said. He cleaned the plate with a cupful of garlic rice.
Nietes needed the protein. Hours after our lunch, he would be engaged in the final and toughest sparring session of his training: a 12-rounder at 3 p.m. last Tuesday against four boxers who'd alternate fighting him per three rounds. Two of those sparring mates at the ALA Boxing Gym in Cabancalan were Johnriel Casimero and Milan Melindo.
SNAKE. We talked about his nickname, "Ahas" (snake). He pulled out his huge Sony phone. Browsing through the photos, he showed me two pictures of him standing in his living room. Shirtless, the boxer wore boxers and, on his neck was draped a white and yellow Burmese Python.
"His name is Don," said Donnie of his snake. "When I bought him four years ago, he was only this small," showing me his pinkie finger. Don was then one foot long. Now, he's about 12 feet long and growing. "I bought him for P6,000."
Donnie brings Don to his fights in Cebu and Bacolod. But not in Manila, he said, complaining about the hassle. Prior to Don, he owned a Philippine python. But Donnie confessed, "I'll never hold a cobra!"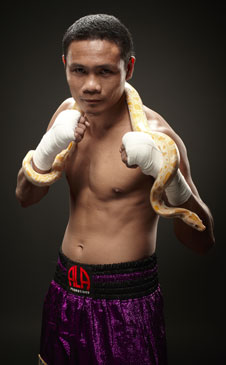 RITUALS. Unlike Bradley who doesn't shower for a week prior to the fight or Marquez who drinks his urine, Donnie doesn't have any crazy habits. "I pray," he said. Before arriving at the fight arena, he spends time in prayer. "I've been religious since birth," he told me of his Christian belief. To relax, he loves to lie on his "duyan" (hammock) and listen to Christian songs from Chris Tomlin and Don Moen.