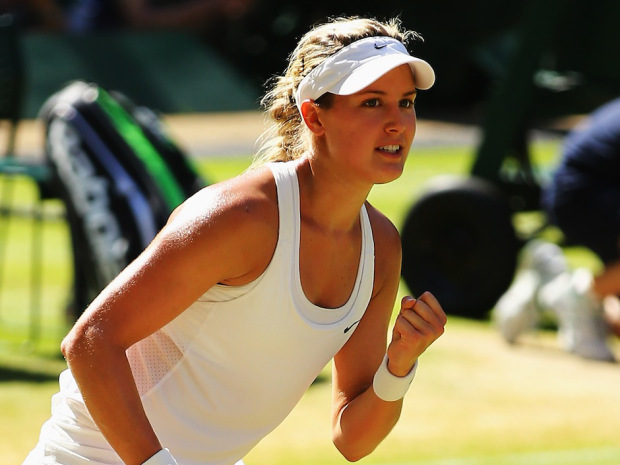 (Al Belo/Getty Images)
My choices lost. I picked Eugenie Bouchard and Roger Federer to each win the final point at Wimbledon. They didn't. The crowd favorites, Bouchard and Federer, just by listening to the screams of the British, were revered.
Bouchard is stunningly pretty. Blonde, svelte, power-hitting yet not named Maria, she was the darling of The Championships. Sadly, Petra Kvitova annihilated her W dreams. The Czech checkmated her in 55 minutes. Only 20 years young, Bouchard will soon be a multiple Grand Slam lady. She has the mentality. When she reached the finals, she was not contented. That's the hallmark of a champion — that hunger, thirst, need for more.
Roger vs. Novak Djokovic? Wow. That's the ideal W for these W Championships. Unlike last year's boring clay-court-like final, last Sunday was bang-bang-bang. They stood on the baseline. They rifled forehands. They swatted backhands. Serves smothered the T.
The first set was nail-biting. Just when you thought that Novak would snatch the tiebreaker, Roger inhales his 17-slam worth of experience to activate his muscles. He won 7-6. This is it! Roger fans believed. Eight Wimbledon crowns. 18 majors. Rolex watches to gift every family member after the triumph. But, no, Nole never goes away. Though he looks downtrodden, though he appears wilted with his skinny looks and skinny shorts, his heart is as large as Nadal's. He never, ever, as Churchill would say, quits.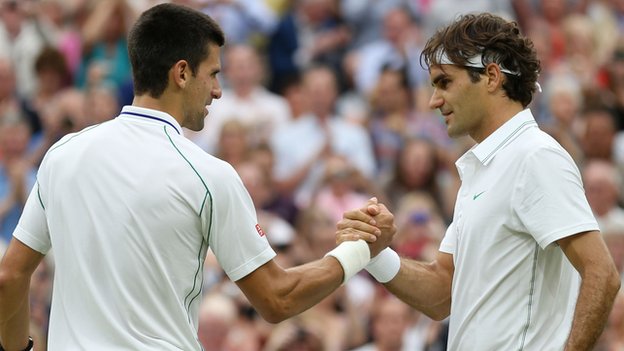 Novak wins the second set. And the third. Oh no, we, Roger fans, watched from our TV sets in anxiety. The 32-year-old looked old. As Novak looked to Boris Becker and pumped his Serbian fists, Roger was, like he always is, silent and cool. He was too cool that he was close to losing the dream.
Fourth set: According to script, Roger fades. He goes down quickly 2-5 as the Philippine clock nears 12 midnight. Time to go to sleep, we say; this will be over in minutes. RF holds. It's 5-3. Serving for the championship — and the chance to snatch back that No.1 ranking from Nadal — Novak goes down love-30. The crowd erupts in excitement. Two points later, it's 30-all. The fans turn quiet. Moments after, Roger scores the break — it's 4-5 and on serve! Yehey.
But Novak, ever the brave, fires back. He reaches Championship Point with Roger serving. Bang! Fault, the linesman calls it. Roger raises his arm. The slow-mo cartoon video is called and it shows that Roger served an ace. Yehey! Minutes later, deflated and in disbelief at letting slip his chances, Novak loses the fourth set, 7-5.
It's two sets all. By this time, the momentum has shifted to Roger. He has escaped like Houdini. By the 5th set, he's stepping forward, slamming that backhand inside the rectangle. He has nothing to lose — he should have been in the locker room at this point — and an 8th W to gain. On the other side of the net, Novak wobbles. His leg is injured. Well, not exactly. But he's limping. Yet, he fires an ace on game point. The trainer is called (delaying tactics maybe?) and he massages the Serbian's calves.
Roger's fans, by this time, believe it. They can sense History in the Making. For isn't that the Rolex ad, "It doesn't just tell time… it tells history." Sunday, July the 6th, was Roger's historic date.
Well, unta. Watching the game until 1 a.m. yesterday, it was painful. It was too bad that Roger lost after that scintillating comeback; although it would have been worse pain for Novak had he lost after that 4th set meltdown.
It was one of the best matches I've watched — just like Chris Weidman's win over Lyoto Machida earlier that day. It was also interesting to see the contest of the two people seated: Becker and Stefan Edberg. The other winners? Uniqlo, with their logo plastered on Novak's shirt. And tennis… for isn't this game unique? While all other sports involve a coach, in tennis you're alone… What made Novak win? His heart, will, mind. Finally, the best sight of all: wearing matching dresses, Myla and Charlene. How we wished their dad climbed the box to hug the twins.