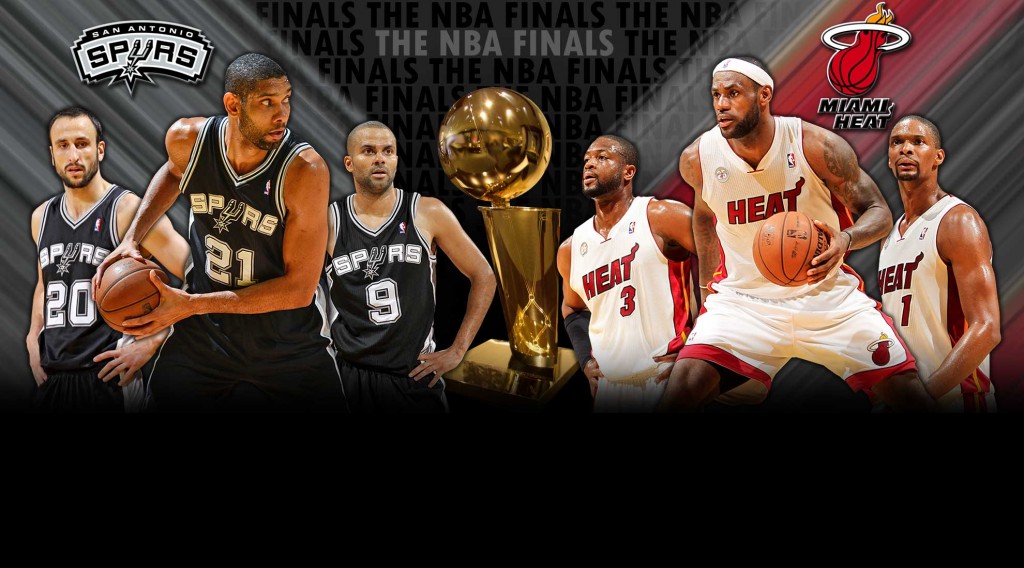 Greg Slaughter is the Tim Duncan of the PBA. No wonder, when I texted him yesterday asking for his prediction, this was his reply: "Hey John! I think the spurs will win because they want it more this year."
Makes sense. After that unbelievably painful experience 12 months ago when, in Game 6 of The Finals against Miami, the Spurs led by five points with 28 seconds left and, soon after, were 10 seconds from winning the NBA title before Chris Bosh rebounded a LeBron James miss then tossed the ball to Ray Allen for a three-pointer to force the overtime … which led to Miami not only winning Game 6 but also snatching Game 7 when Tim Duncan missed a layup in the final minute — ouch, that's hurtful.
But, like any champion, defeat makes one better, not bitter. "Our guys, they actually grew from the loss last year. They showed an unbelievable amount of fortitude," said Spurs head coach Gregg Popovich. "If I can compliment my own team humbly, to have that tough loss — especially the Game 6 — and not have a pity party, and come back this year and get back to the same position. That's fortitude."
That's scary — for Miami. Given that nightmare, the Spurs want it more. They're hungrier. Plus, who knows if this will be the final year for the 38-year-old Duncan whom Greg Slaughter, in his message yesterday, calls "the ultimate efficient winning machine."
Said Duncan in a prelude to Game 1: "We're happy it's the Heat again. We've got that bad taste in our mouths still."
Game on! So, who's your pick? When I meet friends and ask, the answers are varied. Some prefer the Spurs because "we want to see another team win." Those who choose SAS agree with this analysis from NBA great Jerry West: "The Spurs are the prettiest team in basketball to watch because of their ability to pass the ball, the way they play together and the efficiency of the way they run their offense." True. But, when I query friends, more tilt towards Miami Heat. That's understandable; they're more flamboyant and they possess the one-man-MJ/Magic Johnson of today. And, of course, there's a Pinoy in the mix, Erik Spoelstra.
You know why this series is so compelling? Let's start with Duncan. A 17-year NBA veteran, although he still has one more year to go in his $10 million contract, if he wins this month he might opt to retire.
The Big 3. There are two sets: Wade-James-Bosh and Parker-Duncan-Ginobili. Our hope is that all of them will be injury-free during the contest, especially Parker and Wade.
If Miami wins, the "Heat Three-Peat" will elevate their status as among the league's best squads. Remember that this three-straight-wins feat has not been achieved since 2002 (by the L.A. Lakers). Plus, only two franchises have reached four straight NBA Finals, the Lakers and Celtics. "We don't take this for granted," said Wade, "and hopefully our fans in Miami, our supporters don't take this for granted, neither. This is not something that happens every day."
With LeBron, here's an interesting fact: He can win Trophy No. 3 before he's 30. (He turns that age this Dec. 30.) As comparison, MJ was a few months older when he did the Bulls 3-peat.
Michael Wallace of the Heat Index Blog added: "While it's pretty much established that LeBron, at age 29, is already one of the top five talents to ever play the game, this series can fortify his legacy more than any he's played to this stage. A win, and LeBron has done something his idol, Michael Jordan, and his biggest contemporary co-superstar, Kobe Bryant, have achieved with a three-peat. A loss drops LeBron-led teams to a 2-3 record in the Finals."
In every one of the five Game 1s (NBA Finals) that San Antonio has played, they've won. On the flip side, every single Game 1 that LeBron has played on the road — he's lost. He's 0-7. Which means that the Spurs are sure to win tomorrow, right? Right. But if they don't.. that'll be a huge first punch to San Antonio. It's a must-win for the team from the Wild, Wild West.