Fritz Ponce Satera was at the prime of his life. He was tall, athletic and possessed a handsome smile. He was a friend to dozens of classmates, cousins, and tennis players. And how he loved the game.
"Fritz started at the age of nine," said his father, Tito, during our conversation two days ago. "The date was April 7, 2005. I'll never forget that. That's when he first played tennis in Sibonga."
Everyday, the young boy would sprint to the hard-court. "I got a coach for Fritz and agreed to pay him P1,000 a month but, weeks later, he had to leave because he had work elsewhere," said Tito. "Nobody was left to teach Fritz but me."
Father and son would hit hundreds of balls each day; dad tossing the yellow ball in various corners of the court while his son would swing and strike. Months passed. By October that year (2005), Fritz was ready for his big test: the provincial meet. He reached the quarterfinals. Not bad! said the dad but promised his son that, by 2007, he'd win the gold.
He did. Fritz swung forehands relentlessly and improved with each backhand. He'd go on to become a multiple Palarong Pambansa medalist and won dozens of trophies. Just last April, he represented Region 7 in the Prisaa Games in Tagum. Always the winner, he partnered with Mac-Mac Enriquez and won gold.
Sadly, and here's the most shocking news, Fritz Satera is no longer with us. Last Friday night, he passed away.
Fritz was 18. He was to turn a year older this August 1.
Nobody knows exactly what happened. "He had no signs of sickness," said his mom, Flor, during our lengthy talk at St. Peter Chapel when we visited two days ago. "The only time Fritz got hospitalized was a few years back when, together with his USC teammates, he had dengue. Other than that, he was perfectly healthy."
It happened too quickly. Sometime Monday last week, Fritz was coughing hard and feeling tired climbing the stairs to his 3rd floor apartment unit. His parents had him checked and admitted him to the hospital. That was a Monday. By Friday, he passed away.
We don't know the exact cause of his death. (Upon my speaking with a few doctors, because Fritz's heart was enlarged, could it have been a rare case of HOCM –Hypertrophic Obstructive Cardiomyopathy — a disease that can strike anyone, including a topnotch athlete like Fritz?) Nothing is conclusive. What we know is that, after being admitted in the hospital, his condition worsened very quickly. This we also know: everyone's in shock and hurting, especially his parents, seeing their only child leave this world so unexpectedly.
"Fritz was the perfect child," said Flor. "He was respectful and was a very good son." He was so humble, said his mom, that when she visited USC to check on his grades, she was surprised to know that he was in the Dean's List. "He didn't even mind telling me. He was that humble."
I've known Fritz myself for a long time. In many of our local tournaments, including those I've organized, Fritz has often emerged the champion. There'd be many finals when he and his fellow age-grouper Jacob Lagman, older by just a few months, would contest a match.
When I scanned through my photos yesterday, I found myself standing beside a tall and handsome young man — Fritz was wearing baggy Nike shorts, orange Adidas footwear and our white Thirsty Cup shirt — as the event was sponsored by Thirsty three years ago.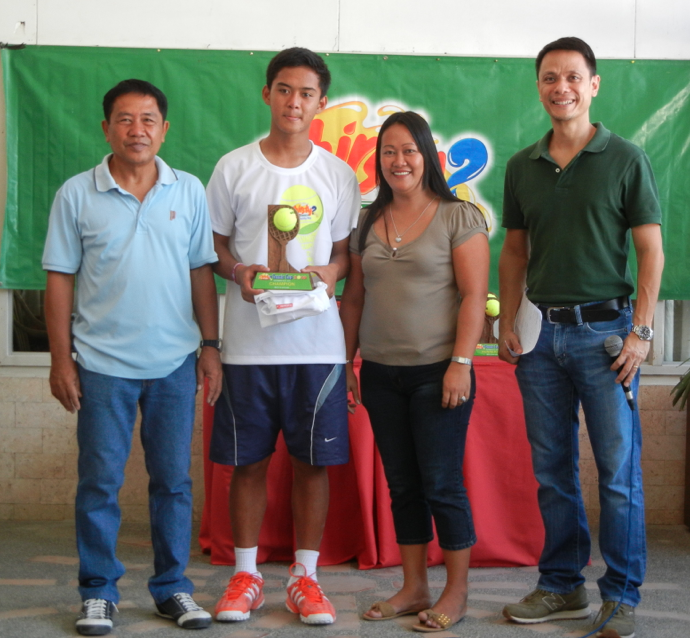 Fritz Satera with (from left) Fritz Tabura, his mom Flor and JP
Jasmin, Jana and I are still in disbelief at his passing. So are many of his friends, including Em Em Siso, who said, "He was like a brother to me. He and Kokong (Nino Siso) are like brothers. After we both did the Kool Adventure Camp, Fritz once told me, 'I wish I had a sister like you.'"
Dr. Rhoel Dejano remembers his doubles partner well. A couple of years back, Cebuana Lhuillier had a Pro-Am event. Dr. Rhoel and Fritz were partners. "We played one tight match that we lost 8-6 after a 6-all tie. I'll never forget that match."
Neither will we forget Fritz: a good son, friend, classmate, cousin, tennis player. He'll be missed.