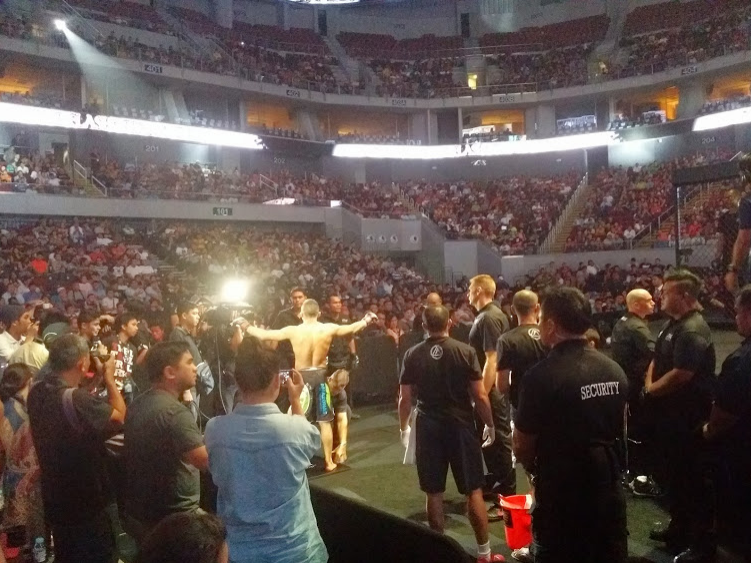 MANILA — If America has UFC, Asia has One FC. If the U.S. has Dana White, Asia has Victor Cui.
It's loud. It's a dark coliseum brightened by swirling lights. It's young, fanatical 25-year-olds clenching their fists. It's brutal. It's girls screaming. It's blood gushing from the nostrils. It's half-naked men climbing on top of each other.
It's the One Fighting Championship. Last Friday — thanks to the help of Salven Lagumbay — I was lucky to be inside the Mall of Asia (MOA) Arena for the One FC: Rise of Heroes. I stayed for five hours starting at 7 p.m.
First, it was girl to girl. The first fight of the Mixed Martial Arts (MMA) event was between Jeet Toshi of India vs. our Filipina, Jujeath Nagaowa. It was lopsided. Toshi ran. Our Pinay nicknamed "Bad Girl" won. I'm not sure about the others in attendance but it wasn't pretty. I don't mind men attacking each other, brawling and wrestling. But with girls, I squirmed and frowned. I know, in this day of gender equality, women can do all things men can — but, for me, it's just too vicious and ferocious, watching two bloodthirsty girls inside the cage.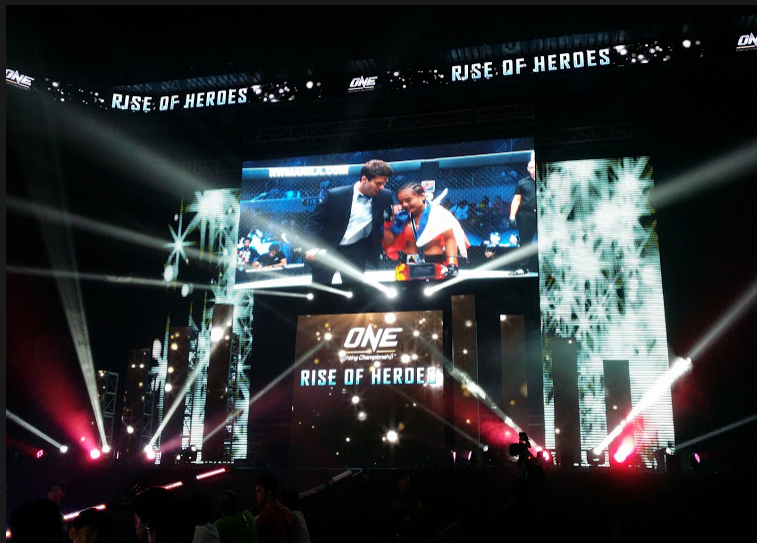 One FC is world-class. The whole organization is topnotch. With the list of competitors — 20 of them — 15 were non-Filipino. Of the five Pinoys that fought, we won all bouts.
Ana Julaton was the star. A famous WBO boxing champ, it was the first time for the California-based Pinay to do battle inside the MMA cage. The Philippine flag was draped around her shoulders as she entered the stadium. I was seated on Row 2 — with a perfect unobstructed view of the circular-shaped One FC cage. Julaton easily defeated Aya Saeid Saber of Egypt. They boxed, kicked and tumbled to the floor. Elbows were thrown to the face. With the near-capacity crowd cheering on their California-based Pinay hero, Julaton delivered a win then said to the crowd, "Love you Philippines!"
I don't do "selfies" but when Julaton passed my way, I quickly pulled out my Samsung phone and requested for that face-to-face. We posed as I pressed the shutter. Thanks, Ana! I said. She smiled. Unluckily for me, the photo was blurred!
The most impressive showing was Leandro Ataides of Brazil, who won over Japanese Tatsuya Mizuno. These 200-lb. giants, loaded with muscles like Schwarzenegger, swung uppercuts and hooked punches.     MMA. What I like about MMA is it's fast. It appears to be more barbaric than boxing — but it's often not. That's because, while in boxing a fighter can be at the receiving end of numerous blows, in MMA it's often one knee to the chest or elbow to the body — and that's it. Game over.
It's wilder. As fighters enter the arena, the announcer would scream the names so loud. At the side entrance where the players emerge from the dugout, smoke machine and fireworks cloud the stage. The biggest HD screen I've ever seen stands at the top. Rap and hip-hop music shake the place. Everybody in the house sports a tattoo.
Take the James McSweeney – Chris Lokteff heavyweight fight. These guys are massive! While Lokteff fired several punches that could have put Sweeney to sleep, none connected. But with one perfectly-delivered knee to Lokteff's head, McSweeney won. Painful, yes. But painfully-fast.
Eduard Folayang was the one I wanted to watch. In my first MMA watch in Cebu, he starred in an incredible performance. Then, I likened his massive legs to Veco posts. Now, it wasn't just his legs that did the kicking. He dominated Kotetsu Boku. He'd jump to do a flying turnaround kick. He displayed multiple MMA skills. He won.
I saw Renault Lao there. The organizer of the URCC fights held every January in Cebu, I told Renault to help bring this to Cebu.
I'll repeat what I said before: I hope the SCA rises in Cebu. If it does, we'll be witnesses to NBA exhibition games, Beyonce concerts, Maria Sharapova-Li Na matches, and this world-class production by a remarkable man whose roots come from Cebu: Victor Cui, the CEO of One FC.
What's SCA? It's Seaside City Arena. We hope these two come together: SCA and One FC.