Imagine your daily job to be this: You walk amidst tall pine trees, smell the pink roses that circle the pond, stroll on green natural carpet as the blue skies and white clouds dance above; you inhale fresh wind, smile, appreciating God's beauty as you hear the birds chirp while you chip.
Ahhh… the day in the life of professional golfer Charles "Chuck" Hong.
This scenery was made more perfect last weekend when the Cebuano ace aced a giant tournament: the ICTSI Sherwood Hills Classic at the Sherwood Hills Golf Club in Cavite.
Firing a four-under 68 in the final day last Saturday, Chuck wound up with a 12-under 276 total to emerge victorious in a strong field that included international pros. "I feel great," Chuck said. "When the 2nd victory was coming or whether it was coming at all was always on my mind."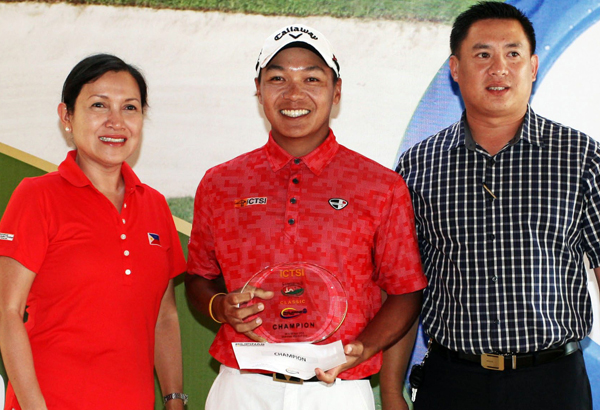 Charles with ICTSI PR head Narlene Soriano and Sherwood GC manager Shin Paul Chan (Photo: The Phil. Star)
Hong's first professional victory happened in September of 2012 when he won the Pueblo de Oro Championship in Cagayan de Oro City. That was nearly 20 months ago. Then, Chuck pocketed P200,000 for the first prize. Last weekend, it was P650,000. "It's all in the bank," he said. "Just have to focus on the future and not spend on unnecessary things."
Asked about the secret of his triumph — which elevated him to the No. 2 spot, behind Tony Lascuña, in the ICTSI Phil. Golf Tour Order of Merit ranking — he answered: "I'm a firm believer that there's no substitute for hard-work. Of course, those 3 eagles on the 3rd day helped out a lot. I still think that it was just hard work. I increased my practice for the past 3 weeks after missing the cut in Baguio by 1 stroke. I guess that got me fired up."
Hong, 25, is the golfing pride of the Cebu Country Club, where he first learned how to putt as a six-year-old. By the age of 12, he was winning most jungolf events and, at 15, he snatched 2nd place at a Phil.-Japan Friendship event. In college at DLSU, he emerged as "Collegiate Player of the Year."
"My mindset was not to rest on my previous achievements," he said. "Like my last win and Resorts World for the Asian Tour. It's always easy to lean on those but I changed my mind on improving on them rather than sitting on them."
Chuck is not all-golf, all the time. He swims and goes to the gym. He did yoga but said, "I find it a little boring although I know it's good for my game." He also follows the NBA but his favorite team (Lakers) is out. A diehard Bryant fan, he said, "Kobe does his own thing and doesn't get affected by what people say about his game. In the end he proves his critics wrong, which is a trait I admire. You control your destiny not what others say."
Now on his fourth year as a pro, Chuck is living a dream — playing golf for a living. But there are drawbacks. "I'm based in Manila. I'm away from family and some relationships have suffered because of the travel and time it takes away from my personal life. This will always be a negative. But the tremendous support I have from those people keep me going. And for that I am blessed."
What's next for this Tiger Woods fan, who continues to admire ("I like his swing and focus") the world no. 1? He'll join the PGT event at the Valley Golf and Country Club. But his ultimate dream is to qualify for the PGA Tour. But before that, it's the Asian Tour and, he adds, "Now that the Order of Merit is in reach, I'd like to give that a go. It'd be nice to take that distinction away from Tony Lascuña since he's had it for two years now."
As for his final tip to golfers, here's a good one from Champ Chuck: "Most people think that you need to focus 100% of the time out there, but my key is the opposite. It's to keep yourself distracted at times; like, you don't need to be thinking when you're walking. But when it's time to hit the ball, then you turn on your focus switch. Four hours can take its toll on the mind if you're thinking about the results all the time. Just focus on the shot and accept whatever the outcome will be and walk forward unto the next one."