LAGUNA — We're here for the Palarong Pambansa. It's our country's largest, inviting 12,000 athletes from 80 provinces to compete.
My daughter Jana and her Central Visayas team won Silver in tennis last Tuesday. They nearly got the gold. After beating the girls high school teams from regions X (Cagayan de Oro), CAR (Baguio) and VI (Western Visayas), they faced Region XI (Davao) in the finals. Jana blanked Davao's top netter, Jeni Dizon, 8-0; but we couldn't sustain the momentum, losing in the doubles and 2nd singles. Still, winning Silver in a field of 17 regions is commendable.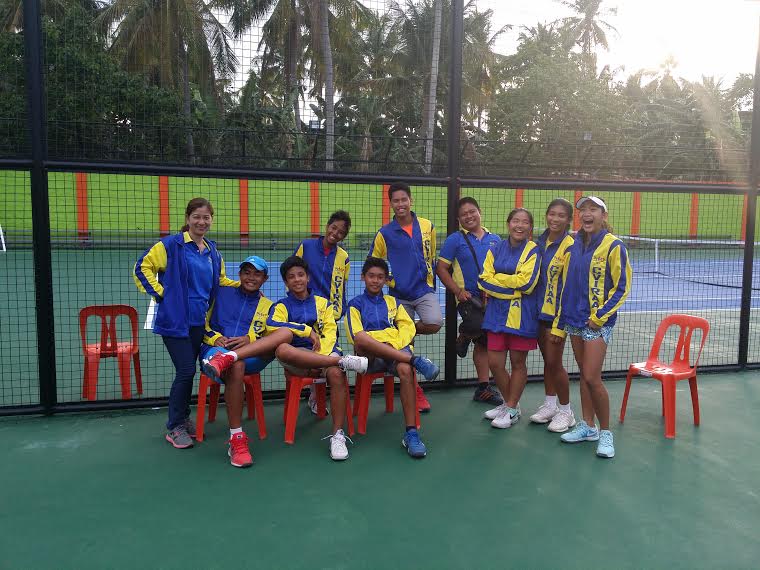 CV high school tennis players
Here are nine other thoughts:
1)    Laguna is prepared. It's the first time for this province to host the games. According to my readings, they spent P1 billion in infrastructure. The centerpiece, the sprawling 19-hectare "New Laguna Sports Complex," is located in Sta. Cruz. At the center sits a football field encircled by a maroon-colored track oval. Bleachers surround the field. Two softball fields park at the left. Nearby are the indoor basketball and volleyball courts. At the back of the grandstand are four tennis courts. An Olympic-size swimming pool is meters away.
2)    Surrounding the Sports Complex are various shops, all showcasing the beautiful province of Laguna. Each city and municipality is given a space in a 600-meter stretch of road. Places like San Pablo, Calamba, Majayjay, Liliw and others have constructed elaborate designs depicting their land. Los Baños has plenty of buko. Paete has wood carvings. Pagsanjan, naturally, has the Falls. This is why sports and tourism are a perfect doubles tandem. They complement. People flock to an event to watch the athletes — but they also spend a lot of time (and money) digesting the local culture.
3)    To all parents: This is the added bonus of joining these events. You get to travel. You get to visit places that you'd normally not visit. Although Jasmin and I have been to Los Baños before (my Lola Bing and Jasmin's uncle both taught at U.P), it's our first in the farther areas of Pagsanjan and Sta. Cruz. Thanks to our daughter Jana's exploits, we've trekked to so many spots that we would otherwise not have visited.
4)    Jose Rizal hails from Laguna. He lived in Calamba. In honor of our greatest hero, photos of Rizal are everywhere. At the heart of the complex towers a 26-foot-tall gold-colored figure of Rizal — in a sporty pose holding a fencing blade.
5)    We did not attend the Opening Ceremony last Monday, opting to forego of the morning heat to preserve our players' energies. What I heard from everyone was the same: It was boring. Endless speeches lasted for hours. Luoy ang mga bata. They had to stand on centerfield listening to all these politicians rant their spiels.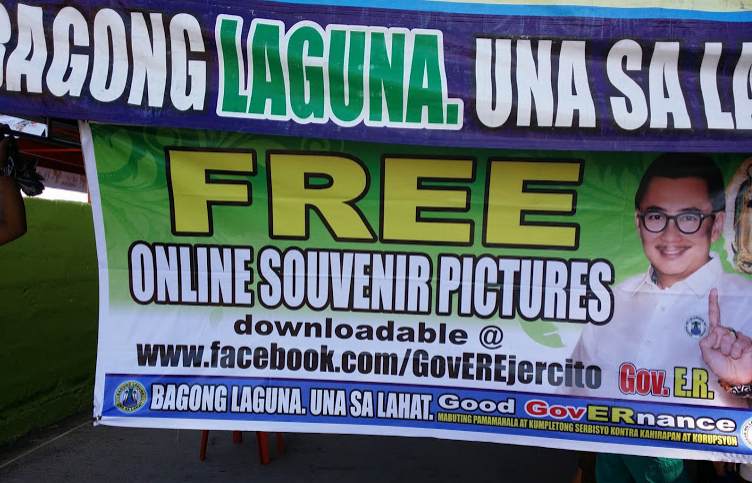 6)    Manny Pacquiao was a no-show in the Opening. Days prior to the start, the organizers were advertising his attendance. Imagine the nation's hero attending the largest sporting party in the land of Rizal? He didn't show up. Instead, Manila Mayor Erap Estrada landed in Sta. Cruz via helicopter.
7)    Speaking of "Openings," I can't help but talk about Ricky Ballesteros, Junjet Primor and our Cebu group who organize the best — and this is undisputed — Opening ceremonies of sporting events. Because of their immense experience hosting the Sinulog, our games' opening (SEA Games, Milo Olympics, CVIRAA) are unbeatable. Which brings me to…
8)    When will Cebu host the next Palaro? It's been 20 years since we last hosted. Visiting these not-very-near spots is good Phil. tourism, but I bet you that athletes would love to compete in Cebu. Mayor Mike?
9)    I reserve the last for the best: After watching four days of competition here, the ones that brought me nearly to tears was seeing the handicapped join. It started after hearing mass in the Pagsanjan Church last Sunday. As we were exiting, we met a group from Cagayan de Oro. One child had no arms and was limping. She only had one leg. And she's joining the swimming event. (In Dumaguete last year, she won gold.) Speaking to her coach about this child got me teary-eyed. Last Tuesday, I saw two dozen boys and girls lining up. They formed a line, each athlete holding the shoulders of another. The front-most child was guided by a DepEd official. He was advised to bend down and touch the floor. Then, after a slight bend, he'd jump. They're blind. It was the standing long jump competition. Some jumped five feet. Some barely a foot. It didn't matter. What mattered was this: These children, deprived of sight, were joining the nation's largest sporting meet and could hear thousands cheering them on.