When The Masters begins this Thursday, one name will be missing: the world No. 1.
Golf isn't like MMA. It's not like football or basketball where injuries abound. It's not Pacquiao punching Bradley. Golf is a gentleman's game. It's a sport of leisurely walks, effortless 9-iron swings, soft putts, gingerly handshakes. Golf is not a sport of injuries. That's what I thought.
But Tiger Woods has suffered repeated injuries. Consider these afflictions: Surgery on left knee to remove fluid inside and outside the ACL. Arthroscopic surgery on his left knee to repair cartilage damage. Two stress fractures of the left tibia. Surgery to repair the ACL in his left knee by using a tendon from his right thigh. MCL sprain. Lower back spasms. And, just last March 31, surgery for a pinched nerve. (Not to mention his head nearly getting chopped off by that golf club swing of his ex-wife Elin!)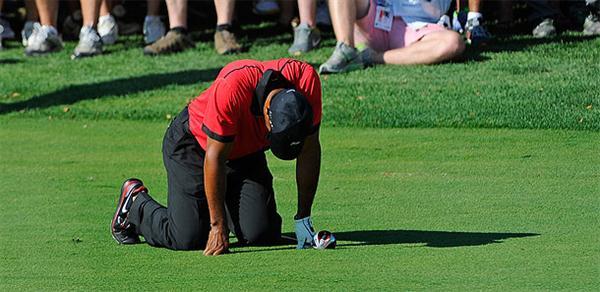 Perplexed at Tiger's injuries, I sought the advice of the country's top sports and orthopaedic doctor.
Dr. Jose Antonio San Juan is one of the most in-demand physicians in town. Call his clinic (Cebu Orthopaedic Institute) and you'll be lucky to get an appointment this week or the next. I queried Doc Tony about Tiger. I asked him not only because of his medical authority but also because he's a Class A (9-handicap) golfer of the Cebu Country Club.
"First, we weren't born as immortals or with nine lives," said Dr. San Juan. "Over time, the use and abuse we have put on our bodies will slowly show its true colors. We can't deny the fact that there are limits to what our bodies can take from the physical standpoint and such is the point Tiger Woods is in right now."
Jim Litke (of the AP) explained: "He (Tiger) broke into big-time golf at 20, thin as a 2-iron and swinging with all the abandon of a kid. He putted without nerves, hit the ball farther and passed so many career signposts so breathtakingly fast, and with such ease, that his future seemed to be on cruise-control already. But Woods is 38 now, and despite sparking the fitness craze that revolutionized professional golf, he's falling apart like a used car."
Dr. San Juan continues: "Whatever beating and moving parts God has given us only come as one unique part that is irreplaceable even by the most advanced of medical or surgical techniques. Once any of these parts start to malfunction or fall apart whether by injury, wear and tear (degeneration in medical terms), when one overcomes such conditions be it by medication, physical therapy and conditioning or by surgery, they never return to normal despite the fact they may seem or may be used like normal."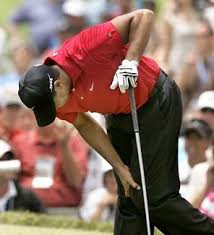 "Second, while the physicality in golf is not like other contact sports (basketball, MMA – except of course when you get hit by a ball or a wayward club which, by the way, has happened to me), the golf swing is so dynamic and involves practically your whole body from the head down to the toes that repeated swings will definitely lead to injuries or body aches and pains from wear when the basic principles of a good golf swing and conditioning are not followed."
When a child learns the game of golf at a young age, added Doc Tony, the body adapts to the kind of swing. "Tiger's swing was very athletic from the start but as he started to get into his late twenties, he realized that the kind of swing he had that was making him bomb 300-yard drives wasn't going to give him longevity in the PGA Tour."
Tiger adjusted. He went through several changes. "As Tiger changed swing coaches from Butch Harmon to Hank Haney to Sean Foley," he said, "his body that had gotten used to certain repeated movements was now adjusting to new dynamics and now causing more wear on body parts that weren't used to that amount of stress as he was growing up. Unfortunately, it involved body parts that don't grow back – cartilage in his knees and the cartilage equivalent in his back (intervertebral disc that was pinching his nerve)."
Can Tiger fully recover? Find out the prognosis of Dr. San Juan this Tuesday.