Two days from now, the world's top golfers will converge in Augusta, Georgia for the "Super Bowl and Wimbledon of Golf." It's The Masters. But "The Master" himself, Tiger Woods, won't be joining. The 14-major winner and current world number one is injured. Last Sunday, I chronicled a litany of injuries that have befallen the sporting world's first billionaire. Yes, Tiger is that rich. He's universally acclaimed as the wealthiest among athletes.
Plus, among golfers, he's the fittest. Standing 6-foot-1 and weighing 185 lbs., his height and weight are like Rafael Nadal's. Comparing bicep to bicep, Phil Mickelson will cry with envy.
But sporting an eight-pack abdomen and standing tall and robust like Tiger doesn't make one injury-free. In fact, it appears that Tiger has spent too much time on the gym.
"He will have to slow down on bulking up and lifting heavy weights off the floor or with his back unsupported by a bench and concentrate instead on conditioning of golf swing specific muscle groups." Dr. Tony San Juan said those words.
Hank Haney, the former coach of Woods, concurs: "He does a lot of the gym stuff. I know you need to do some for golf, no doubt about it. You need to be in shape, you need to avoid injury, but my opinion is he really overdoes that … He looks like he's gained more muscle mass. When he was thinner and younger he was actually faster then. The strength maybe helps you get out of the rough but I'd agree that he's overdone it. But he loves to work out."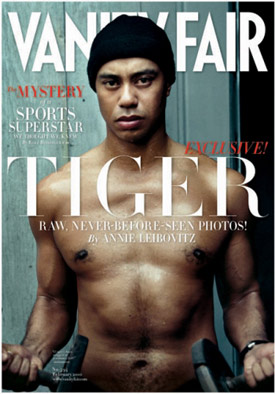 Last Sunday, top sports and orthopaedic physician Dr. San Juan outlined the reasons why Tiger repeatedly got injured. (Doc Tony is a Class A golfer who started the sport at the age of 8 and whose best handicap is 7; he's preparing to do multiple triathlon events soon, including the Ironman 70.3 this August.)
I asked Tony if Tiger, after his latest surgery, will be able to play competitive golf in the PGA Tour. His reply? A resounding… "Definitely!" But, for Tiger to compete longer, these are words TW has to heed… Here are Tony's Tips For Tiger:
1) Less time in the gym (mentioned earlier).
2) "Make a few adjustments to his swing if he were to consider staying in the Tour for several more years."
3) "Work on precision and course management more than outdriving the opposition and making them eat his dust off the tee. We do know, however, he is one of the best already in the former from years back."
4) "Execute a shorter swing with less twisting (but potentially more torque as not to compromise distance and power) that comes with a lower risk for more injuries and accelerated wear on his back."
5) "Go for quality practice rather than quantity practice in the practice tee or range."
I'm sure Tiger is as frustrated as his fans about his ailments. The reason why Doc Tony is confident Tiger can hurdle all of his afflictions?
Because of his support group. "Tiger has the best possible top-tier team surrounding him, the best that the best golfer can afford — from his caddie to his therapist to his conditioning coach to his swing coach to his sports docs," he said. "They all have the same aspiration as he does. And like every other Tiger fan, like myself – we'd like to see more of the Sunday Red shirt on the last flight on as many more tournaments and majors in the coming years."
There's no doubt that Tiger will be back. The question is: For how long? He's one of humankind's greatest competitors. But what use is a strong heart if the body parts are weak?
Interestingly, Dr. Tony mentioned that not all of Tiger's woes are golf-swing related. "He didn't tear his ACL on his left knee playing golf," he said. "While he had the tear, however, Tiger and his golf swing really suffered."
How did he get injured? He had a misstep and twisted his knee and ankle. While running!
My common sense advice for Tiger? Stick to golf. Quit running, weight-lifting and skirt-chasing.