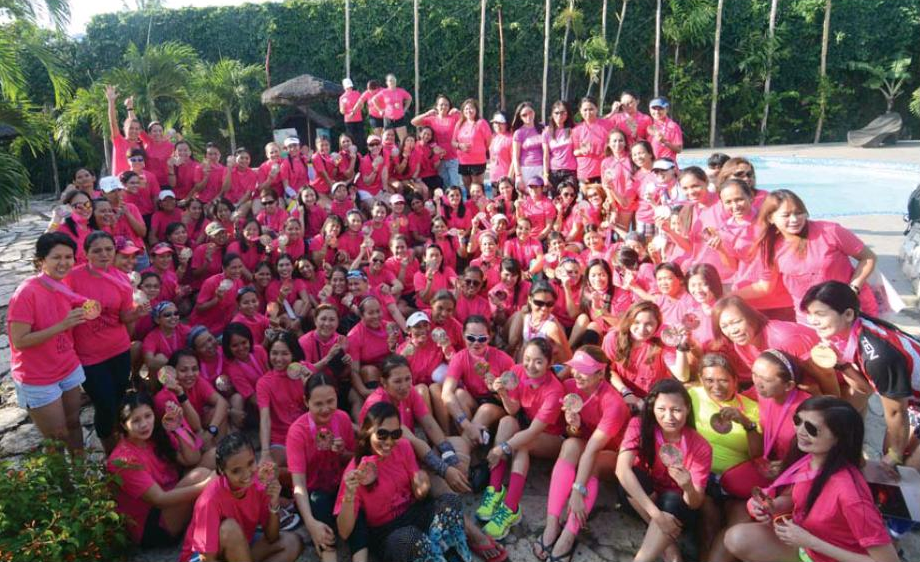 (Photo by Allan Defensor/Sun.Star Cebu)
"Once made equal to man, woman becomes superior." Socrates, the Greek philosopher, said those words. True? Ha-ha. We, men, lest we be smothered with a gunfire of words, will say… yes, nalang.
Who's superior? This is a debate that's not worth discussing. For as someone once said, "Women get the last word in every argument. Anything a man says after that is the beginning of a new argument."
Tinuod, no? Here's another truth: This month is Women's Month. Yesterday – and it's held every March 8 – was International Women's Day. It's that moment when we celebrate the importance of our mom, our wife, our sisters, our daughters, our female colleagues in the office, our Sisters (nuns), our aunties – every single lady whom we greet and meet each day.
In the realm of sports, there's no better way to commemorate March 8 than by holding a marathon. And to show the boys that the girls can run farther, a unique event was organized in Cebu…
AWUM. It stands for the All Women Ultra Marathon. You and I are not invited. And while you and I, dear fellow man, may have finished a 42.195-km. marathon before, the women are staking their claim that they're better.
It started last night at 10. If you happened to drive along the streets of Cebu City, starting at the Provincial Capitol where the km. marker reads "0," that's where 250 ladies embarked on their first steps.
AWUM, now on it's 3rd year, offers a distance of 50 kms. (If you've ran a 5K and felt tired after, imagine multiplying that 10 times!) Organized by Think Tank and led by Dr. Wilfredo Estepa, this event is, quite possibly, "the world's first all-ladies 50K race."
These girls are strong. They're tenacious. They've banded together. They've trained for several Saturday nights.
"This is about women's empowerment. And it takes courage to run 50 kms.," said Sun.Star Superbalita's editor-in-chief Michelle So, an AWUM co-founder and race participant. "More so running at night. It's showing the world the resilience of women, mentally and physically."
The all-ladies ultra-race last night took them from the Capitol to JY Square to Marco Polo Hotel down to the Pacific Mall in Mandaue to Cansaga Bridge to the Mactan Shrine – passing through 23 hydration stations – all the way to the finish at the Alta Cebu Village Resort in Cordova.
Which means that while you're reading Sun.Star this morning, all-night-long a few hours ago, these women from all over the nation (half of whom are first-time AWUM participants representing 27 running clubs, including Sen. Pia Cayetano and several from Tacloban) were running.
Three friends of mine who joined are doctors: Loy Tan, Mai Ugalino and Roselyn Yu. They're barkada. They've completed the 42K run before. And, the past weeks, they've been training together, arising at 4 a.m. on Sundays to run. They practiced the 3-1 run-walk strategy. Run for three minutes, walk for a minute.
Their cheerers? Their loyal husbands – also marathoners and physicians – Charles Tan, Sander Ugalino, Andrei Yu.
"Pacers are not allowed in AWUM," said Michelle. "Husbands cannot run alongside their wives. But we appreciate the help and support of family members. Also, the men who'll man the hydration stations and who'll treat the women runners like princesses."
This race achieves many things. It's bonding time for the girls. It's bonding time for the "support squad" of husbands. It's an event to achieve supreme fitness. It's a whole night of sweating to show the boys that, hey, we're not scared of the night, and, hey, like we do when we give birth while you boys can't, we can endure more physical pain.
To these brave ladies, we applaud you. As Eleanor Roosevelt once said, "A woman is like a tea bag – you can't tell how strong she is until you put her in hot water." Or let her run a 50 km. race.