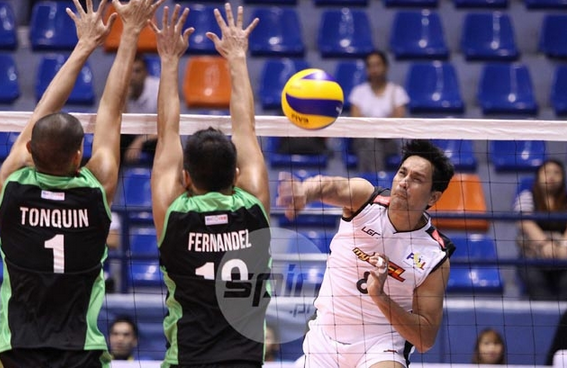 (From spin.ph)
Can you believe it? Richard Gomez, one of our most famous of actors, is trying to achieve a feat that's never been done before. Not by Pacman. Or Paeng. Or Bata Reyes. Or Jaworski.
He's vying for a spot in the men's national volleyball squad. The players will compete in the 18-nation tournament called the PLDT Home Fibr Asian Men's Volleyball Club Championship (AMVCC) that runs from April 8 to 16.
How old is the actor-athlete? Goma turns 48 on April 7. He hasn't made the team. Not yet. And, I presume, just because he's handsome and prominent and is married to Leyte congresswoman Lucy Torres, that he won't be given automatic entry.
An actor joining the Philippine team in a physical sport like volleyball is fascinating. "I am determined to join the men's volleyball team," Gomez said. "I've been joining the tryouts since coach Francis (Vicente) issued the call and I'm not going to miss this chance at serving the flag once more."
If he makes the cut, it will be phenomenal – and not just because he's 48. It's because of this fact: This will be the fourth sport that Richard Gomez will join representing Team Philippines. Yes, four national squads – in rowing, fencing, shooting…. Volleyball?
"Gomez first joined the national team for rowing in the early 1990s," said the article, "Juico believes Richard Gomez will be an asset to national volleyball team," from the popular sports website Spin.ph.
"He spent several years with the national fencing team for which he contributed a Southeast Asian Games bronze medal in 1995 in Brunei, two silver medals in 1997 in Jakarta, another silver in 2001 in Malaysia, a gold medal in 2003 in Vietnam and another gold medal in 2005 in Manila. Gomez also doubled as an entry in the shotgun event in the sport of shooting in the 2005 SEA Games in Manila, where he placed fourth."
To be a national squad member is, by itself, difficult. To be a member of two events is herculean. The one other prominent athlete that I can think of is Bea Lucero, now married to Jean Henri Lhuillier. She won a bronze medal in 1992 when taekwondo was a demonstration sport in the Barcelona Olympics. Prior to that, she won gold at the 1987 SEA Games in Jakarta, Indonesia.
Goma is attempting to join his fourth sport at the elite, national level.
"Gomez would be a welcome addition to the new national team," said Philip Juico, the AMVCC organizing committee chairman who was formerly the head of the Philippine Sports Commission. Aside from his leadership, his experience playing for the three national teams will be a big factor for the team."
The Philippine Volleyball Federation (PVF) is conducting the tryouts at the Rizal Memorial Coliseum. Gomez is among the 30 players vying for a spot. The final composition will be announced this Sunday.
Volleyball isn't new to Gomez. He first played the game in grade school and joined competition in high school at the Arellano University. "Every since I was young, I really enjoyed playing volleyball. It was really part of my daily routine," said Gomez in Spin.ph.
The sport appears to be his "first love," playing it even before he got into his multitude of activities, which include golf and basketball. In college, he competed at the Polytechnic University. When asked when he last competed, he replied in the Spin.ph article, "Matagal, more than a decade na wala akong volleyball. So when I came back, I began playing for small clubs muna and then major club competitions hanggang umabot dito (sa PSL)."
Wrote Mei-Lin Lozada for Spin.ph, "Ever competitive, Gomez said he won't allow himself to be just an ornament in the tournament, much less be a liability to his team when he's on the court. He is out to win.
"I train with them (PLDT) everyday," Gomez said. "Ako naman personally, I don't want to enter the tournament na hindi rin ako prepared, I will not allow myself to be a mediocre player. I will train hard and play my best and hopefully we will get the championship."
I hope Goma makes it.