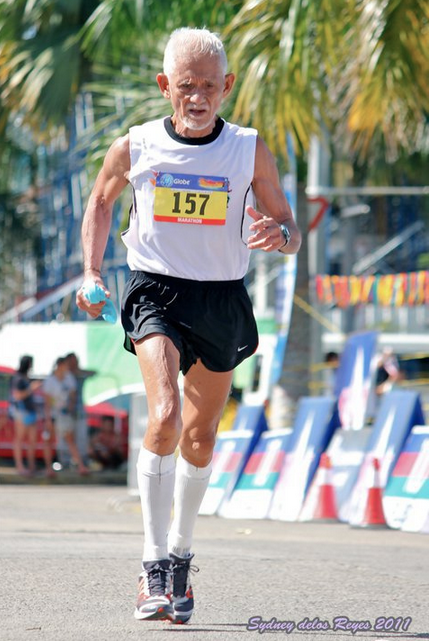 I feel sad. One of my closest friends has passed away. Our ages are so far apart. He's nearly twice my age. But, whenever we speak and exchange stories, he treats me both as a friend and like a son.
Raul Cepeda left us last Saturday. It was a shock. Two weeks ago, I spoke to him on the phone and we agreed on a date. We often meet for dinner or over coffee.
"Raul," I excitedly said when he answered. "Are you free for lunch? Let's meet with Jesse Taborada."
He wanted to. But couldn't. "My back is aching now," he replied. "Why don't I call you next week when I'm okay and let's meet?"
That "next week" was last week when, last Wednesday, I got a shocking text message from Raul's son Sandy that his dad suffered a stroke that was caused by bleeding in his cerebellum. At 1 a.m., he had to be rushed to the Community Hospital where, upon arrival, he was in a coma and survived on life support.
Raul wasn't young. He was 81. But, by heart and by the strength of his heart, by his running and the strength of his running legs, he was young.
At the 2011 Cebu Marathon, he didn't join the 5K or 21K. That's for the young ones! He joined the farthest distance, completing the 42K – at the "once young" age of 78 – with a speedy time of 5 hours and 30 minutes.
He did it again. The following year, with a slim frame of 132 lbs. and a white crop of hair that shone bright while he jogged before dawn, he ran. He completed back-to-back marathons at the age of 78 and 79. Just as amazing, Raul took up running at the age of 74!
Yes. While most men that age graduate from running to walking or to the cane or wheel chair, that's the age when his craze for long-distance runs started.
Raul was always an athlete. His family, too, with his father a national champion in boxing, baseball and track and field. His brother, Dominador, helped found the Philippine Sports Commission. Sport swam in his veins – and he did run at an earlier age but he stopped for 15 years before resuming at that ripe age of 74.
I'll never forget one dinner date that we had. It was a week after the 2011 Cebu Marathon and we ate at Mooon Café I.T. Park. Overlooking the start/finish line where Raul just triumphed a few days earlier, we drank beer and ate steak to celebrate. It was a double celebration because, the day before, it was his 78th birthday.
Then, as always, Raul was groovy. Wearing his trademark jeans and shiny buckle, he'd tuck-in to reveal his super-slim fit. Over a black shirt, he wore a maong jacket with the label "4 corners." I think it had a Harley-Davidson seal. Once, many years back, he told me, he rode a big bike and toured by two wheels the four corners of the United States. I bet only a handful of Filipinos – if any – have ever done that.
Same with marathon-running. On the road, we see a handful of senior citizens running for hours – but how many were Raul's age?
He was special. Passionate. Talkative. Most of all, he was an inspiration. At last year's Cebu Marathon, we asked him to face a crowd of a few hundred runners to motivate the audience. He did. Anyone who says that they're too busy or too old or too tired to engage in exercise and sports, after meeting and knowing Raul's story, will have a different outlook.
"Some call me 'lolo,'" he once told me, laughing. "But I don't want to be called 'lolo,'" he said. Instead, he wanted to be remembered as someone who inspired others.
He wanted people on the road to see this old man running and to say… "If he can do it, why can't I?" Those were his exact words. He wanted the multitude of us to look at him and be amazed; he wanted to serve as inspiration.
He was. To me. To Leia, Sandy and the rest of his children. To our Cebu Executive Running Club members. To hundreds of others who knew him.
Last Thursday, I said goodbye to Raul at the hospital. His eyes were shut. His body, a runner's body that was lean, had slimmed even thinner. His heart, though, pumped strong. Like it always did when he ran. We will miss you, my friend.