Call it "Cebu City Marathon" or "CCM" or the "Safeguard Active Cebu Marathon," it's the same footrace that's held along the streets of this Queen City of the South every second Sunday of the new year.
Teamwork. Cooperation. Volunteerism. One group helping another. It's rising at 1 a.m. on a cold day to barricade the roads so everyone's safe. It's called bayanihan. Tinabangay. My mom Allen did it. Bikik Besavilla did it, too. So did Gerard Tan, Mike Enriquez and Carlo Suarez. Same with the Primary Group of Wally Liu. A couple of thousand of women and men braved the rain to help.
Dr. Wyben Briones, the model of Service Above Self, drove his all-terrain AMRO vehicle to the SRP at dawn to lend his medical expertise.
Same with another prized surgeon, Peter Mancao. A New York City Marathon finisher (among his several 42Ks), as the event's Medical Director, Dr. Mancao agreed to carry the burden of all medical concerns. For free.
"Rain helps," said Doc Peter, as we stood near the finish line. "Less cramps, heat stroke and injuries." He pointed to the empty chairs in the Medical Tent that would have been filled had the sun torched the Sunday.
Rain. To many, it's a curse. But, as long as it's not a typhoon-like deluge, it's a welcome "blessing from the skies." It rained. It rained on Saturday. It rained at 2 a.m. when we arrived at the Cebu I.T. Park. It rained at 3 a.m. when the 42K brave-hearts started their agonizing trek; it rained at 4 a.m. when the 21Kers were set for the firing gun.
The rain, though, didn't bother the Hydration Booth sponsors who took care of the 14 stations along the route. Their goal was, well, to supply water — and the water-from-the-sky wouldn't stop them.
Thanks these groups, the Hydration deployment was near-perfect. Gatorade drinks. Cold Nature's Spring water. Sponges by Safeguard. Bananas. In order of start-to-the-tip, the CCM hydration partners were: Brgy. Lahug, Cebu Grand Hotel, Captain A's, Honda Motorworld, Holiday Gym and Spa, Thirsty Juices and Shakes/Bright Academy, Aeolus Tires, Cebu Bionic Builders, Filinvest, Cebu Parklane Intl. Hotel, and the Primary Group.
They said Yes to our request for assistance. Providing manpower and entertainment (the CCM trademark of music and dancing), they're the unsung heroes of CCM.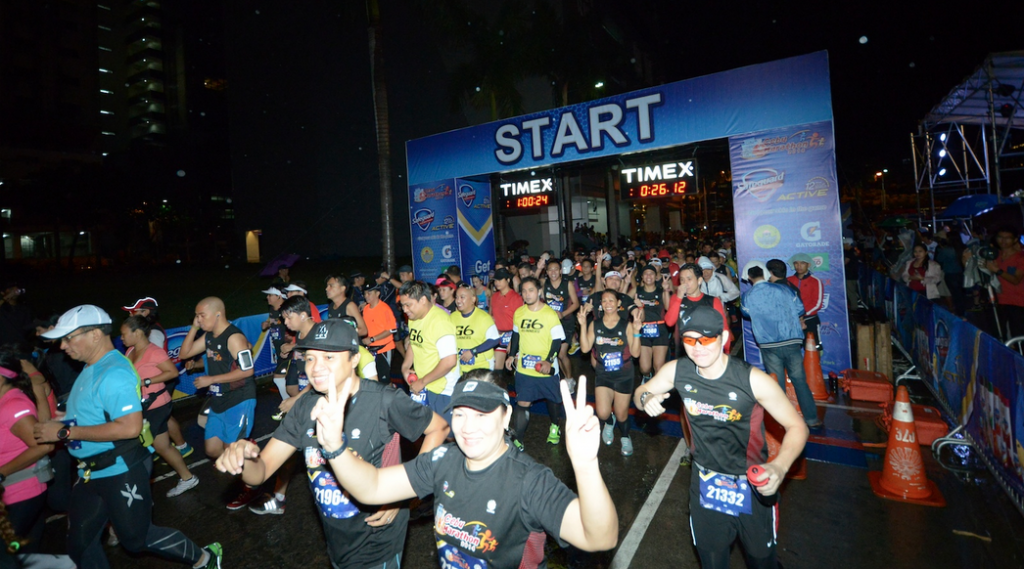 (More photos at cebumarathon.com)
Special mention goes to my high school best friend Jonel Borromeo. He not only easily finished the 21K (his first) but his Honda Motorworld sponsored a Hydration Station plus they gave away the raffle grand prize: a Honda Scoopy motorcycle.
CITOM is to be applauded. The Tunnel was promptly closed by 12 midnight. They stood at every intersection to ensure that runners had access. Our salute to Atty. Raffy Yap, Joy Tumulak, Ulysses Empic and the whole team.
Mayor Mike Rama joined. Running under gushing rain, he ran 5K until the finish. Wet and refreshed, he cheered on the finishers, "Pit Señor!"
Councilors Richie Osmeña and Mary Ann de los Santos should be given special citations by the City Council. Not only did they help CCM (prize money, Lahug entertainment, etc.) but they showed Cebuanos this: We run in politics as well as on the road.
Kudos to the Talisay City government for annual partnership with Cebu City. To the police and to the hundreds of barangay officers who helped, salamat.
Finally, I had lunch yesterday with Rio de la Cruz. We'd like to announce the date: "1-11-15." That's the next CCM. Online registration will start by March and we'll introduce several new "pakulo."
Until then, to all the marathoners and half-marathoners… Rest well. Sleep plenty. Shine your medal. Have a massage and reward yourself. You've done it.
As Fred Lebow, the NYC Marathon founder, once said, "The marathon is a charismatic event. It has everything. It has drama. It has competition. It has camaraderie. It has heroism. Every jogger can't dream of being an Olympic champion, but he can dream of finishing a marathon." Congratulations!