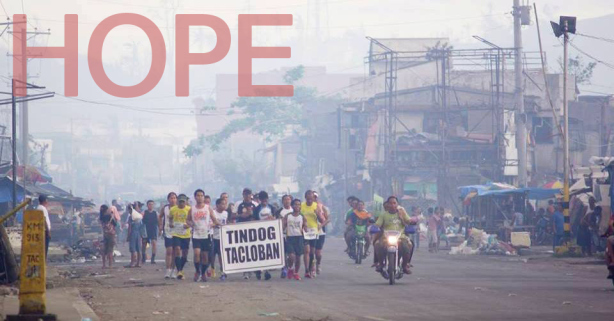 (All photos from lapiskamay.wordpress.com)
Lester Tabada emailed me yesterday. "I'm a runner from Southern Leyte," he wrote. "I ran for Tacloban City."
Last Sunday, exactly one month after the strongest typhoon on earth decimated Visayas, a band of runners decided to do the unthinkable: They decided to run. For 10 kilometers. Around Tacloban's streets. "We decided to rise up and run," declared Lester, "to show the people of Tacloban that we are stronger than Yolanda!"
Their race bibs were made of tarpaulin. The runners, instead of writing numbers, inscribed messages of gratitude and hope on the plain white tarpaulin. Some wrote "Wag mawawalan ng Pag-asa," "Thank You World," "Thank You Paul Walker," and "DTI what happened to the Price Freeze." Lester, who penned the inspiring story in his blog, Lester Pencilhands (lapiskamay.wordpress.com), wrote on his bib: "Anderson 360 for President (Thank U CNN)."
Last Sunday, he said, was a comeback run. "Most of the Tacloban runners who showed up were having their first run since Yolanda," he said. "But it suddenly transformed into a fun run the moment we agreed to steel that 'Tindog Tacloban' tarpaulin near the City Hall.
"We made it as our banner for that hope rally. I believe it was a spontaneous turn of events that led to us running not only for ourselves and our goals but also for the city and its people. We wanted to show them Hope through running. We wanted the Taclobanons to see us running back again to tell them 'We are stronger than Yolanda.' That is the goal of our instant fun run. No registration fees, no singlets, no water stations, no marshals. Only Hope."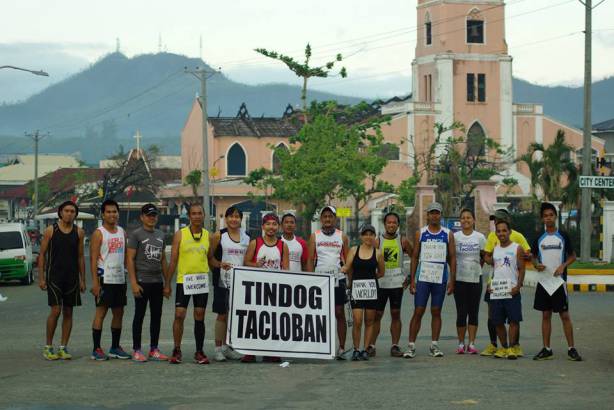 They converged at the front of the DYVL. Starting at Romualdez St., they ran to Imelda St., then to Real St. and all the way to Coca-Cola. That was the first 5K. "These are the major streets of downtown Tacloban City, where the most number of people can see us," Lester said. With the second half of the race, from Coke, they traversed to the hardest hit barangays of San Jose. The finish line: Tacloban airport.
Along the way, the nearly 20 runners chanted "Tindog Tacloban" in unison. "The people couldn't help but notice and be amazed," said Lester. "People were clapping at us, waving at us, taking pictures… It was such an amazing experience, like something taken out of those sports movies."
It was, as described by Lester in one word, magical. "It was a great feeling to finally be able to run after a month of hardships and heartbreaks," he added. "Tacloban runners could hardly run before that day because they were shocked and freaked-out of dead bodies lying in the streets. Most of them lost their houses and members of the family.
"I think some showed up wearing borrowed shoes and running gears. And it broke my heart later on when I learned that a close running buddy was not able to run because he lost his running shoes and all his belongings in the flood.
"Nightmares, regrets, desperation, and helplessness; these are the harsh realities these runners have to go through (and overcame) coming into the event. I hope running in the streets in that fateful day brought back a sense of normalcy to them. These are good people trying their best to be strong for each other. That fateful Sunday was the 1st month anniversary since Yolanda devastated our city. It was the day we decided to move on and run once again. Tindog Tacloban!"
PLEA. Lester added: "I only started to run seriously this year. I did 4 half-marathons that started in the 1st Tacloban City Marathon. I was in Cebu too this year for a couple of 16Ks. But there's one race we Tacloban runners are dreaming of: Cebu City Marathon (CCM) 2014. It was and still is our goal of conquering its 42k. It wil be my 1st Mary! We will be there.
"Sir, I hope there's something you can do to help the Tacloban runners. Some of them lost everythng. Even old shoes and unused gears, it would be the world to us."