Pele called him "one of the most influential people in my life. He was my hero, my friend." Muhammad Ali adds: "His was a life filled with purpose and hope – hope for himself, his country and the world. He made us realise we are our brother's keeper and that our brothers come in all colours."
The world mourns the death of Nelson Mandela. Imprisoned for 27 years, he emerges from his 8 x 7-foot prison cell not loathing with hatred and revenge but overflowing with peace and forgiveness. Given the depth of his world impact, what many don't know about Mandela is this: He's a lover of sports.
BOXING. He was a six-foot-tall heavyweight boxer. "Although I had boxed a bit at Fort Hare, it was not until I had lived in Johannesburg that I took up the sport in earnest," Mandela wrote in his book, Long Walk to Freedom. "I was never an outstanding boxer. I was in the heavyweight division, and I had neither enough power to compensate for my lack of speed nor enough speed to make up for my lack of power."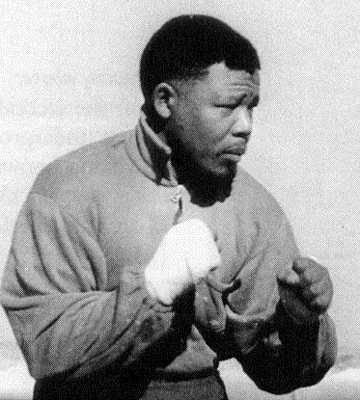 Larry Merchant, TV's top boxing commentator, recalled interviewing Mandela in 2001. He said that Mandela spoke a lot about Ali, even following closely the heavyweight champ's career while in prison. "That showed how important Ali was as a political figure and not just as a world-wide celebrity and cultural star," said Merchant. "He talked about how Ali was an inspiration both to him and to all African people."
Merchant said that Mandela discussed with him boxing technique and showed him the proper way to unleash a left hook. After their interview, the two posed for a photo, side by side in a boxing stance. Mandela — whose name "Rolihalhala" means troublemaker — was then 82.
In his 1994 autobiography, Mandela talked more about the sport. "I did not enjoy the violence of boxing so much as the science of it. I was intrigued by how one moved one's body to protect oneself, how one used a strategy both to attack and retreat, how one paced oneself over a match.
"Boxing is egalitarian. In the ring, rank, age, color, and wealth are irrelevant… I never did any real fighting after I entered politics. My main interest was in training; I found the rigorous exercise to be an excellent outlet for tension and stress. After a strenuous workout, I felt both mentally and physically lighter. It was a way of losing myself in something that was not the struggle. After an evening's workout I would wake up the next morning feeling strong and refreshed, ready to take up the fight again."
INVICTUS. Last Saturday night, Jasmin and I watched the most inspirational of films. The true story of Mandela and the healing power of sports, "Invictus" stars Morgan Freeman and Matt Damon (as the South African rubgy team captain Francois Pienaar). The two forge a bond that transcended sports. It was the 1995 Rugby World Cup and the movie showed how sports can unite and uplift a nation. Be prepared to shed a few tears. This movie is uplifting! Directed by Clint Eastwood, you have to watch it — especially at this time when the memory of Mr. Mandela shines brightest.
PRESIDENT. Although he was president of South Africa for only one term (1994 to 1999), Mandela's legacy in sports has been embedded in their nation. Apart from the 1995 Rugby World Cup, they hosted (and won) soccer's African Cup of Nations in 1996. Years later, he strode midfield, greeted by billions around the globe. It was the 2010 Fifa World Cup in South Africa.
"Sport has the power to change the world," Mandela once said. "It has the power to inspire. It has the power to unite people in a way that little else does. It speaks to youth in a language they understand. Sport can create hope where once there was only despair. It is more powerful than government in breaking down racial barriers."