Only 26, Sebastian Vettel has raced in the Formula One circuit for five years. In his rookie season, he was Runner-Up. After that, he won three straight World Championship titles. And, this 2013, he is gunning for a fourth trophy. That's 4-of-5.
I'm not sure if any other race car driver — or any other athlete of any sport — has excelled and dominated as the German has. This season, out of 15 of 19 races completed, Vettel has won nine — including the last five: Belgium, Italy, Singapore, Korea and Japan. He has amassed 297 points while second-placer Fernando Alonso has 207. With four races remaining (India, Abu Dhabi, the U.S. and Brazil), Vettel is sure to become the year-end champion. He is the LeBron James of F1. No, I change that: Vettel is even more dominant — and I can't think of another sportsman who's more imposing.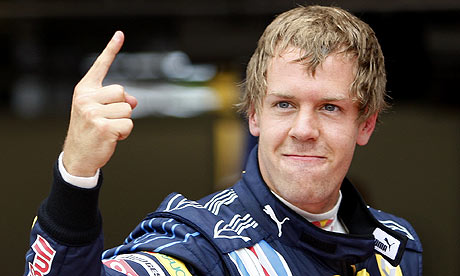 Which brings me these questions: Why is he so disliked? If he's so good, why is he, in the eyes of millions, so bad?
Charles Osmeña, my long-time friend and a five-time visitor to the Singapore Grand Prix (disclosure: he's a Ferrari devotee), e-mailed me a thorough explanation. Charles says that while F1 may appear to be individual, it's actually a team sport. "The team principal, the team engineers, designers, managers, pit crew are as integral to the team's success as its driver. More so at present," Charles said. "With all due respect to Seb, the main reason he is so dominant is that his team is the best group assembled. And one of the reasons we haven't seen how good Seb a driver is, is because his team is at least two steps ahead of its closest competitor."
On the public's dislike for Vettel, it's not limited to just the fans — but also includes his competitors. At the Canadian and Italian Grands Prix and, most recently, in Singapore, after climbing the top podium, Vettel was booed. His fellow competitor Nico Rosberg, after Seb made some unsavory remarks, explained: "Sebastian brings the boos on himself… His comments are aloof… He is running the risk of losing the respect of his fellow drivers."
Ouch! I asked Mr. Osmeña for his analysis on this dislike for the German champ and he outlined three points:
"A. His team, though dominant and the best group formed for a winning F1 team, is carrying a relatively new brand: Red Bull. Thus, human as we are, and purist as we mostly tend to believe we are, the majority of fans would probably equate this to the Oklahoma Thunder or worse the New Orleans Pelicans dominating the NBA or say the Meralco Volts dominating the PBA or the Azkals dominating the Asian Leagues. There are just too many fans for teams that have been with F1 for more years than his team has staff.
"B. His singular focus on winning highlights a very uncharismatic and selfish nature which is bluntly speaking unpopular. Not to say that Schumi wasn't singularly and selfishly devoted to winning or Michael Jordan or Tiger Woods but Seb with his unhandsome and annoyingly unkempt, just-hit-puberty, spoiled-brat-looking shell is not exactly a figure most self proclaimed pure F1 fans would relate or much less look up to.
"C. His team being just so freakishly awesome just doesn't give him the opportunity to show a heroes' performance of one being in dire straits and yet succeeding. What we've always seen with Seb is someone with everything succeeding. Not a very climactic or endearing tale."
Excellent breakdown, Charles! Well, this fact we know: You cannot please everybody. Even Michael Jordan had his detractors. It just seems that, with Seb, few positives appear on the news — especially when he wins.
Charles ended our exchange with this note: "I'd like to address this to the fans: If all F1 cars were equal and there wouldn't exist teams and strategies and drivers would be the sole factor in winning, Who would you say the best driver is?"