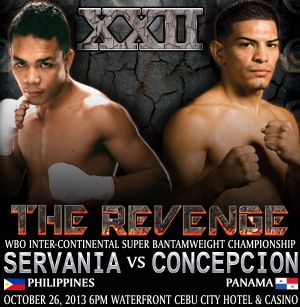 Typing on his iPad from the U.S. where, as he said, "I'm working on our California promoter's license," the president of ALA Promotions, Michael P. Aldeguer, offered these words in our Q & A yesterday:
ON SATURDAY: It will be a tough fight as Concepcion is a very experienced fighter as he has fought the best. He is very well known in the Philippines after he knocked out AJ Banal in 2008. We believe that the only way to know if the fighter is for real is if he goes through fights like this. we think that Servania has it. He needs to learn to deal with adversity asthis will be his biggest test not just inside the ring but the pressure that goes with it outside as it will be his first time to be in the main event of a big card against a known and tough fighter like Concepcion, this will be a make or break fight for him and a must see fight for all the fans.
SERVANIA: We believe that Servania has the potential to be a World Champion and to be one of the best from the next generation of Filipino fighters , he was featured in the october issue of ring magazine as the most promising prospect in the world so it proves a point that he can be for real as the boxing experts around the world have taken notice.
WHY AZUKAL? He was named Azukal because of the sugar in Bacolod and Servania was known to be a sweet punching machine in his younger days as the pride of Bacolod in his amateur days.
VILLANUEVA: King Arthur Villanueva is a fighter everyone should watch out for, if you wanna know about heart, this guy is all that, he is now ranked #2 in the world by the WBO, He and Servania should be World Champions someday.
NEW BIG NAMES IN PP22: Yes this is what Pinoy Pride is all about, to show the world that the Philippines has so much talent and all they need is to be given a chance to be recognized, the world should know that the Philippines has what it takes to be a powerhouse in the boxing world after the Pacquiao era.
NOV. 30 EVENT. This is the biggest event ALA Promotions has produced as there are not only two World title fights but it will have the five main event fighters of Pinoy Pride in one card. Nietes, Sabillo, Melindo, Pagara and Banal .. All against Latino fighters, the title is Pinoy Pride 23: Filipinos contra Latinos, it will be held at the smart Araneta Coliseum. The last Double world title event was Donaire and Villoria.
2014 PLANS: The plan is to do international events in Dubai and the US, we were suppose to do the Dubai in November but the advertisers , TV and fans felt it was best to stage it in the Philippines to show the world that we can hold a boxing event of this magnitude, they also claim that Nov 30 is close to December so a lot of OFW's will be coming home for Christmas.
BAUTISTA: Boom Boom wants to comeback on a higher weight division, we knew he will be back coz he needed a break and to assess what he wants, we all forget that at 19 Boom Boom was part of the biggest pay per view of all time the Mayweather vs Dela hoya so the expectations were just too much for a young boy who was not allowed to grow. When he lost to ponce de Leon in 1 round, people never gave him a chance, He went through a lot of injuries not just minor but major ones, he also had weight problems, we think at 130lbs he will be stronger whenever he decided to comeback next year.