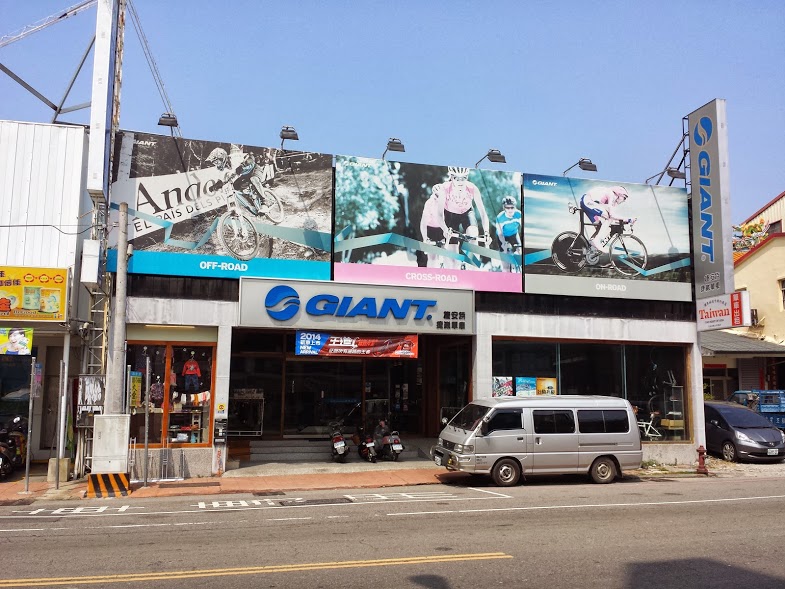 Taichung, TAIWAN — The word "giant" means "colossal," "jumbo," "mammoth" and "gigantic." This word aptly describes the City of Taichung when it comes to biking.
GIANT. I mean, the brand. If you've entered Bikecology in BTC, chances are you've seen the name. It sounds American. The word itself is one of the English language's most common terms. And when you see the GIANT brand prominently written on a bicycle, you'd think it's from the U.S. It's Taiwanese. And, to be more specific, it's "Made in Taichung." This city is the third largest in Taiwan (next to Taipei and Kaohsiung) and it's a highly-progressive marketplace.
Giant, upon my further investigation, is not only "Made in Taiwan" but it happens to be the world's largest bicycle manufacturer. Yes, no mistaken wording there: Each year, Giant produces over 6.3 million bicycles and grosses US$1.8 billion.
Here in Taichung, dozens of Giant shops are sprinkled everywhere. In bright blue color, the signage outside bike shops is giant-sized. Last Friday, I visited one mega-shop in the Dongshan District and it's littered with over a hundred bicyclyes — of different colors, shapes and prices — plus hundres of varied bike components and gear. Wanting to bring a souvenir from the land of the Giant, I looked at some cycling jerseys. I thought they'd be heavily discounted but, priced around NT$2,200 (times 1.5, that's P3,300), I declined. Instead, I opted for a "miniature Giant" — a small bike-replica that cost $560 NT and was given to me for $400 (P600).
As it was a mid-weekday morning, there was only one other customer while I checked the items. I spoke to Justin, the owner, and his shop not only housed the complete line of Giant goods — but also a sizeable room for repairs. Plus, an innovative feature of the store (since it was located along a main road), there was an "Air Pump Self Service" right outside for anyone with deflated tires to use for free. Excellent idea.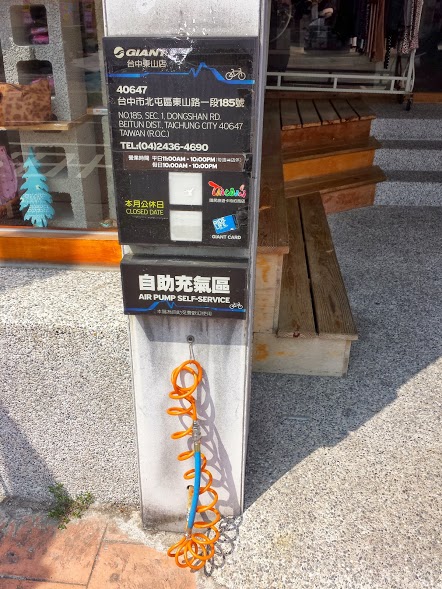 185 WAREHOUSE. The giant Giant store wasn't the only shop I visited. Together with my friend here from Manila, Albert Go-Alcantara, we went to the largest bike shop in Taiwan. It's called 185 Warehouse Shop in Daken, Taichung and it's humongous. It's a five-story building stocked with so many bicycles and gear that you feel like you're an 11-year-old inside Toys 'R Us. They have a cozy coffee shop at the ground level (with a hanging road-bike as decor) and several floors of everything-cycling. The interesting thing with this shop is, they don't have Giant bikes! They have all the other brands but no Giant. (From what I read, to be a Giant distributor, they require that you stock almost all Giant items — and this store is different.)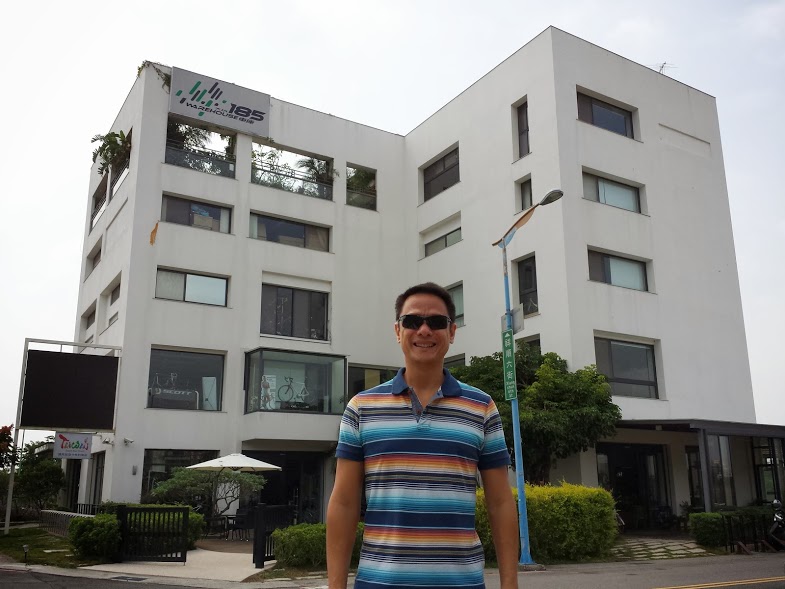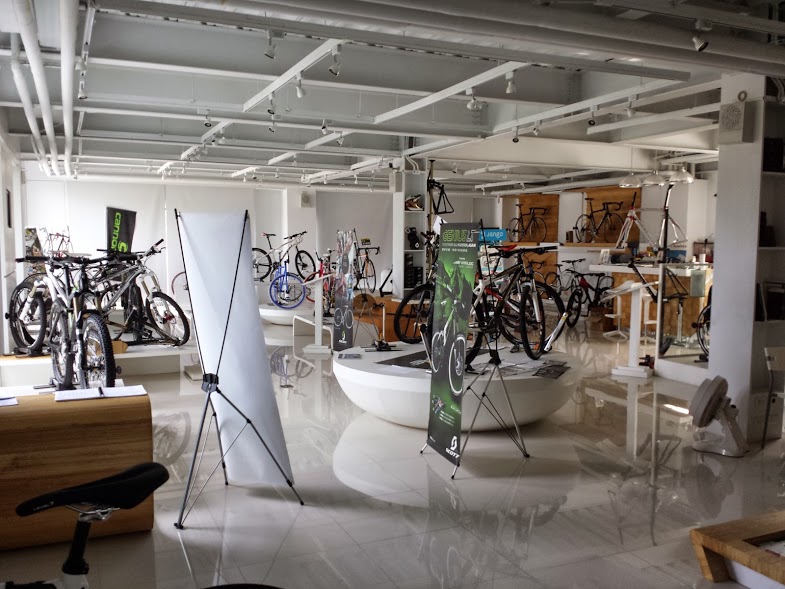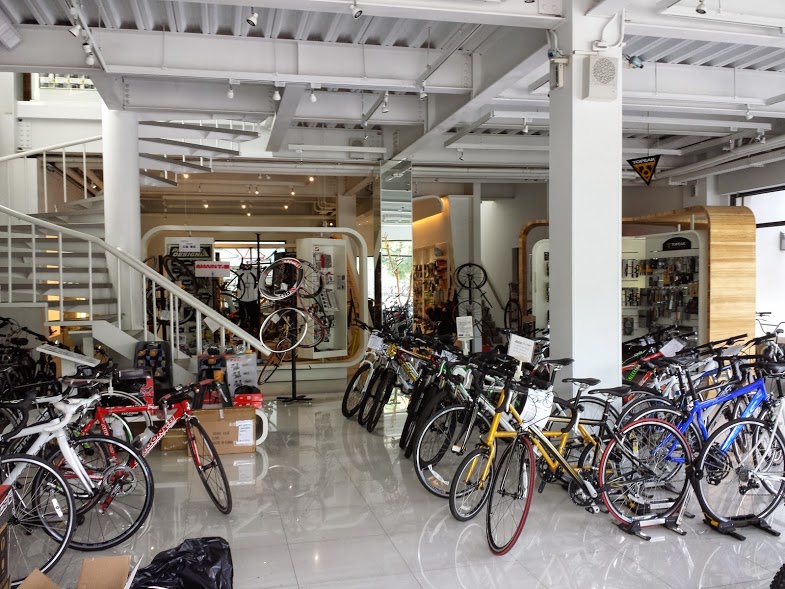 Another exciting happening: Taichung Bike Week (TBW) is near and it will bring many of the world's top manufacturers, suppliers and companies in this city. TBW runs from November 5 to 8 and two prominent Cebuanos whom we know very well — Chris Aldeguer and Mike Flores, who operate Vellum (www.vellumcycyles.com), a brand I personally use — are intending to join.
But here's a bizarre twist on Taichung cycling: While this city houses "the world's largest bike manufacturer (Giant)," not many of its residents are into biking. At least, that's what Jasmin and I have observed along the city streets. Motorcycles, yes, they run plenty — but not bicycles.
TAIPEI. In Taiwan's capital city of Taipei, it's a different story. There, bicycles are being pedaled everywhere. Bike lanes are a natural extension of the road and, for the best part, there are numerous bike-for-rent shops scattered all over. You just need to register, deposit a bond, and you can rent bicycles at spots around town. For one hour, it's NT$15 (P23). Taiwan being the world's bike capital, they have several bike options: multi-speed, folding bikes, mountain bikes and even tandem bikes! You hop on a bike and can drop it off at another spot. It's easy, inexpensive, convenient — and promotes zero-pollution and exercise. Cebu should have this!