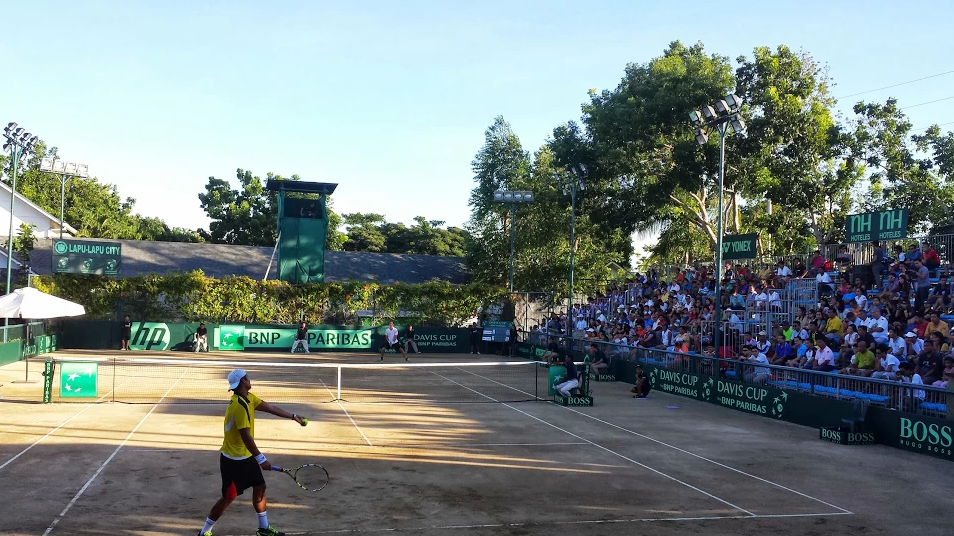 Painful. Depressing. Bitter. Heartbreaking. These are some of the emotions and words that best describe last weekend.
The Phils-New Zealand fight at Plantation Bay Resort and Spa was a see-saw, you-never-know-who's-going-to-win encounter.
Ruben Gonzales held match point in Game 1. We still lost. Rubin Statham of NZ led two-sets-to-love but succumbed to cramps; he could have lost but won. NZ up 2-0. Team Phils. won the 3rd match — the doubles, behind the superb quickness of Nino Alcantara and Treat Huey.
In last Sunday's Game 4, Rubin (Statham) led Ruben (Gonzales) by two sets to one. After a rain delay, Gonzales recovered to force a fifth set — but trailed 3-5. He wins five of the next six games to triumph, 8-6, after four hours. From down to up, it was all-square, a 2-all tie.
Treat Huey, world no. 28 in doubles, emerged from the dugout to play Michael Venus. Fresh from his US Open stint the week before, Treat provides the Cebuano crowd a treat — he wins the first two sets, 7-5, 6-4. He toys with the male Venus (not Williams). Drop shots. Lobs. Slice forehands. This is it! we thought.
Time check: 12:30 a.m. (Yes, in the morning!) We were up… then down. Unexplicably, Treat's first serve percentage went down. He lost the third set. And the fourth. The Kiwi scored aces. He tracked down the previously-unreachable drop shots. He fired gun shots from corners. Oh no!
Down 0-2 on Friday, we escaped with a 2-all tie and led two sets to love behind Treat by Sunday. But now, Monday dawn, the tide in Plantation Bay turned again — this time, with NZ winning the final point.
Painful. Devastating. More so because, for the dozens of us who stayed to cheer, we had come a few games away — so close — only to falter. And the clock read "1:50." Yesterday morning! (Two city mayors — Paz Radaza of Lapu-Lapu City and my seatmate, Monico Puentevella of Bacolod — watched the entire show.)
In the end, like in all sporting endeavors, someone has to smile and someone has to frown.
TENSION. What added fire to the fight was a near-fight that ensued in the middle of last Sunday's night's two matches.
Out of nowhere, New Zealand's captain, Alistair Hunt, a 6-foot-3 hulk of a Kiwi, confronted our own Randy Villanueva with these words, "Why don't we settle this in the room!"
I was 20 feet away. At first, we were perplexed with their face to face encounter. Only after Randy pushed Alistair did we realize the threat that NZ's captain made. He wanted a fight! Not to be contested on the clay court and by Babolat rackets — but, literally — a fight using fists.
Crazy. Good thing, amidst dagger looks and screaming, the two were restrained. Good thing also that Alistair didn't throw a single jab; if he did, given that he barged into the territory where the Pinoys stood (beside the court), he could have been pummeled with fists of Pacquiao's countrymen.
His aggressiveness was triggered by an earlier argument Randy had with one NZ team player and their team therapist. They exchanged harsh words during the Ruben-Rubin match.
Foolish. Uncalled-for. This act of Alistair. (And this is the guy with the Alistair Hunt Tennis Academy, who teaches children? What values you're teaching, mate!)
"This is unprecedented!" Randy Villanueva shouted. True. Davis Cup is country versus country. It's always heated. And the cheering and the drum-beating that we Filipinos exhibited — that's mild and tame compared to the other boisterous Davis Cup settings.
We've been hospitable. The linesmen, honest. We welcomed these guests with our world-renowned Filipino hospitality. The aggressive, in-your-face threat by the team's leader is disgusting.
END. Still, a loss is a loss. By 2 a.m. yesterday, as the resort winds cooled and the emotional heads cooled, the result was one we didn't like but accepted. We lost. The Kiwis move up to Group 1 while we remain in Group 2. There's next year. For now, as symbolic revenge, I'll buy myself these brown-and-green fruits, slice them into chunks and gobble up these kiwis.