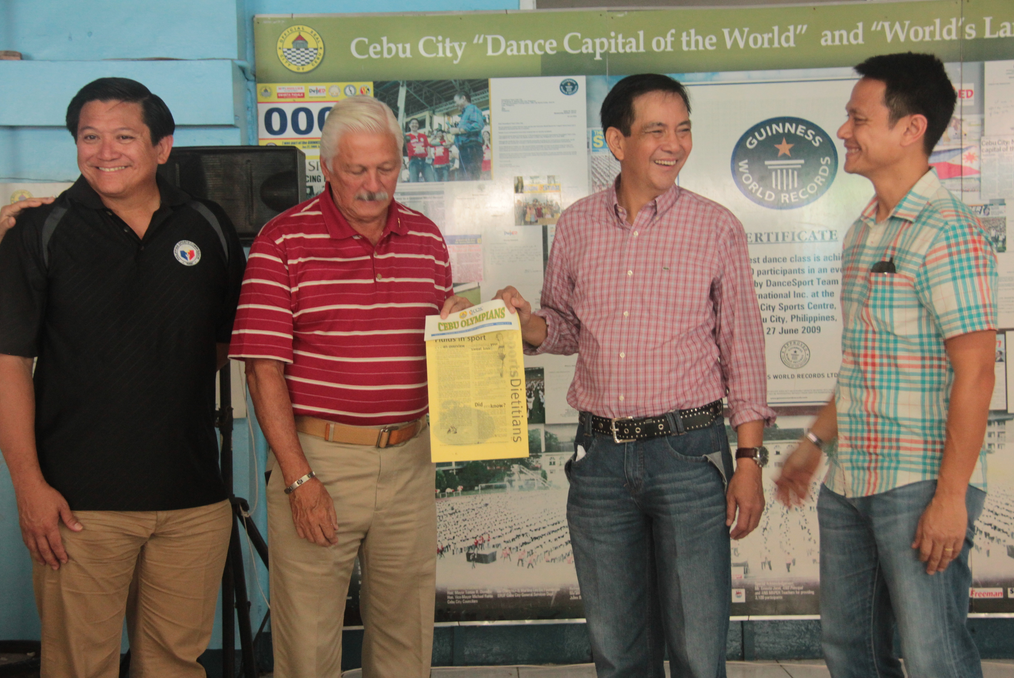 PSC Commissioner Jolly Gomez, PSC Chairman Richie Garcia, Mayor Mike Rama and John Pages
I have listened to Michael Lopez Rama render an oration many, many times before. Often, our Cebu City mayor is accused of speaking too long; enunciating words that curve and twist and stretch longer than desired.
Not seven days ago. We were inside the Cebu City Sports Center. It was a multi-ceremony occasion: Cebu's Olympians, CCSC's quarterly newsletter, was being launched by the indefatigable Ed Hayco. So was the Monthly Relay event. Gymnastics equipment were turned-over. The Cebu Sports Museum was being presented.
In attendance last Sunday morning were the country's top sports leaders: Phil. Sports Commission (PSC) Chairman Richie Garcia. PSC Commissioner Jolly Gomez. Our own chieftain, Cebu City Sports Commission (CCSC) Chairman Edward Hayco. Ricky Ballesteros, who heads the Sports Center and our numerous sporting events, including today's Milo Half-Marathon. Volleyball supporter Eric Licain and archery legend Dondon Sombrio.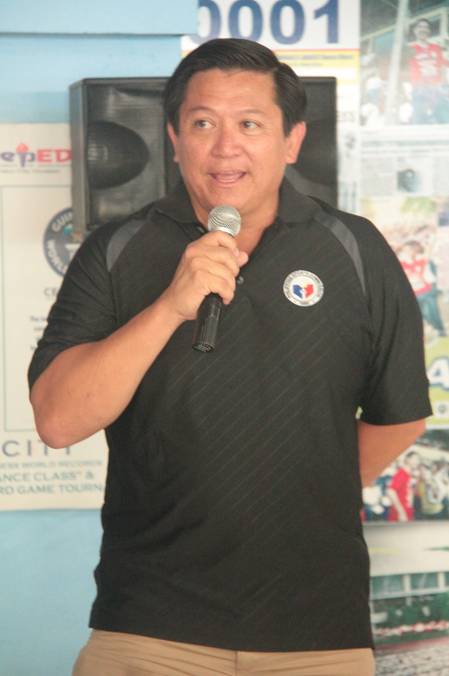 Atty. Jolly Gomez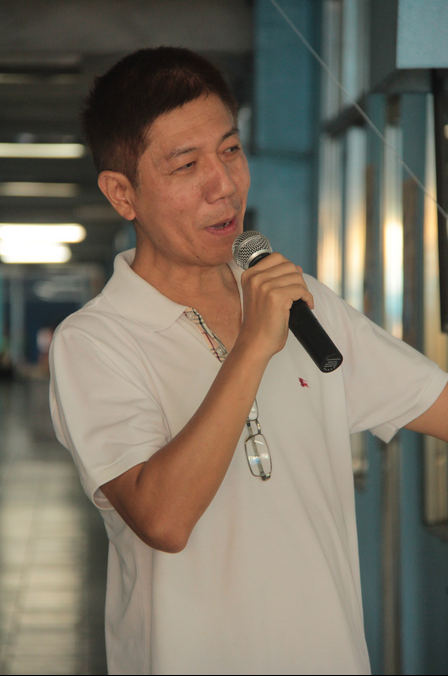 Edward Hayco
RICHIE GARCIA. The PSC chairman spoke first. "I was born and raised in Bacolod City but I've always loved coming to Cebu," said Mr. Garcia, a dapper mestizo with golden white hair and an even more golden score in golf (4-handicap). Garcia has numerous friends in Cebu, including his golfmate Montito Garcia.
"We donated a full container of gymnastics equipment," said the PSC top honcho. "Next, we will send a boxing ring." Speaking to the dozens of children who sat and listened, he said that Cebu is lucky to have a sports leader like Ed Hayco.
Richie Garcia mentioned that he's been appointed to the PSC a record three presidents. First, with Pres. Erap. Next, with GMA. And now, as chairperson, with P-Noy. Why? he asked. Because he's not a political person. He strays away from politics at all costs. "Politics should have no place in sports," he said.
MAYOR'S TALK. Mike Rama gave the inspirational speech. As I said, I've heard him give a homily plenty of times in the past — and this was the best impromptu, from-the-heart speech I've heard him deliver.
"Hi!" he started. "Hello," the children answered. "Hello," he countered. "Hi," the children echoed.
Instead of standing in front of us — the adults — he walked towards the children, who sat by rows on the staircase. He stood with them. Yes, he was speaking to the sports leaders but, more importantly — and instinctively — this inspirational speech was intended to inspire one audience: the boys and girls.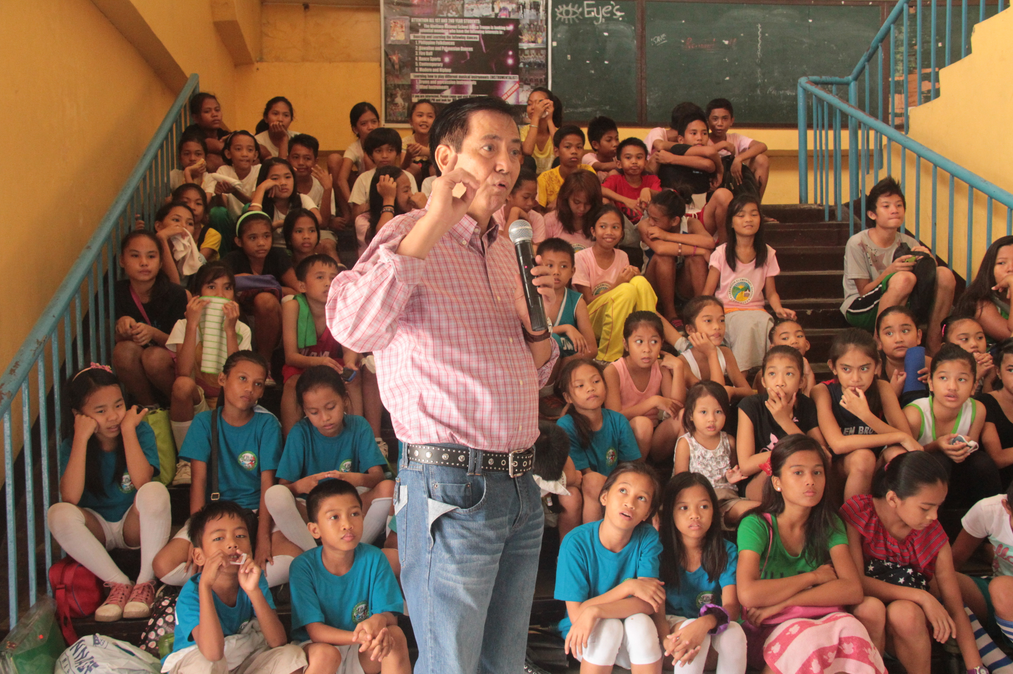 Michael Rama
MLR talked about gymnastics and basketball — but beyond games, he touched on the greater good that sports imbibes. Minutes into his speech, he integrated words that sounded familiar:
"I believe the children are our future. Teach them well and let them lead the way. Show them all the beauty they possess inside." Then, in a deliberate and articulate voice, he whispered… "Give them a sense of pride."
Yes, we know our mayor to be a singer, but this time, he voiced-out the words — not singing Whitney Houston's "Greatest Love of All" — weaving the words perfectly into his speech.
"Give them a sense of pride," he told us, looking and smiling at the children.
Sports = Pride. The mayor made perfect sense. Those words made sense. He spoke to the teachers who joined us. He spoke to the leaders. He spoke in behalf of the children. Sports give pride to our children.
Gold medals, the mayor added, are important; but what's even more important is what the children learn from and through sports. Being fair. Accepting defeat. Sportsmanship. Sport is more than physical development. It's about developing the whole person. It's when we develop individuals while they're still young — the children — that we help mold them for life, said our impassioned leader.