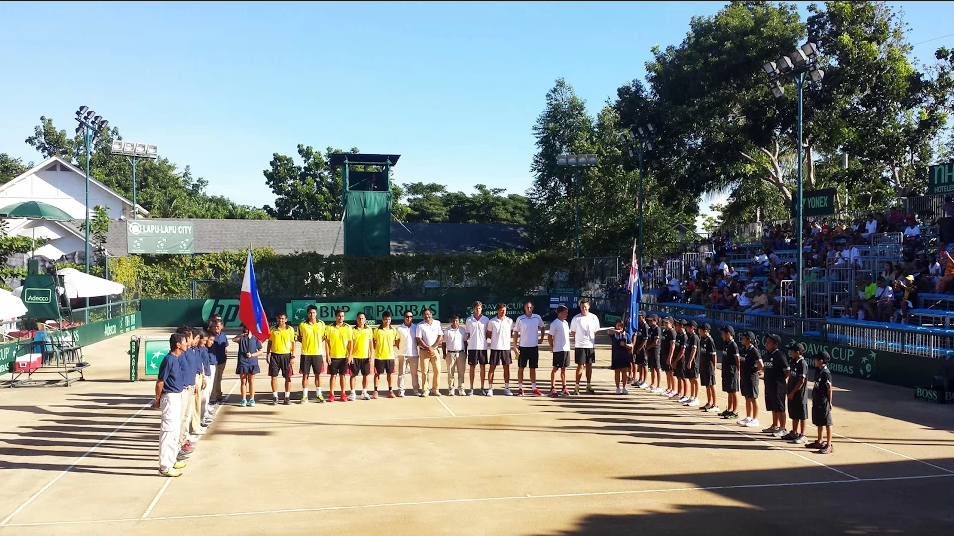 It could have been 2-0 instead of 0-2. Such is sport. It comes down to one or two points. At the "Battle of Mactan" inside Plantation Bay Resort and Spa between New Zealand and our Philippines, we nearly won. But "nearly" is not the same as "victorious."
Sayang. In the first singles tennis match last Friday, Ruben Gonzales held a match point — just one moment away from triumph — before Michael Venus of NZ escaped to win in four hours.
In the second singles match, there was Jose Statham, nicknamed Rubin. (Plenty of Rubens this weekend: Ruben Gonzales, Rubin Statham and the New Zealand Ambassador, Reuben Levermore. Of the NZ ambassador, we had a chance last Wednesday night to talk sports while sipping San Mig Light at Plantation Bay's Savannah Grill; a footballer turned rugby player, he follows cricket, NZ basketball, the America's Cup and tennis; he was in attendance last Friday.)
Back to the 2nd singles match: Rubin Statham won the first two sets against Johnny Arcilla, 6-4, 6-2. He was en route to an easy straight sets win (Davis Cup is three-out-of-five). But, no, an unnerving and game-changing occurence was happening: Statham started to cramp! His calves stiffened. He wouldn't sit down during changeovers. He served underhand.
Yes! Johnny Arcilla had a chance. He led in the 3rd set. Hobbled and near-limping at certain moments, Statham's confident face transformed into one that was shocked.
Statham took his chances. Not wanting to prolong the points, he fired go-for-broke forehand winners. He mustered all energy to score aces. In one made-for-YouTube moment, Arcilla carressed a delicate drop shot. Running towards the net, Statham barely retrieved the shot as Arcilla calmly toyed with his opponent by hurling a lob over Statham's head. We thought the Kiwi wouldn't risk the painful U-turn to sprint back. He did. And, in the "Point Of The Weekend," he managed to reach the lob and, in a no-look flick-of-his-wrist act, snapped the ball backwards for a zipping winner that had Arcilla stunned. Unbelievable.
Unbelievably, the cramping Statham broke Arcilla at 4-all then served for the match to win, 6-4. He slammed his racket after the final point and tore open his white Under Armour shirt — all in celebration of another improbable coup for New Zealand.
DOUBLES. The doubles last night? I didn't have time to write this after the match — and so, I'm guessing: We won. With Treat Huey and Nino Alcantara as partners, it's hard to imagine us losing. Treat (pronounced "Tret") is a recent quarterfinalist at the US Open (with Dennis Inglot). He's world-ranked No. 28. His teammate, Alcantara, is himself a Grand Slam winner — the 2009 Australian Open doubles champion in juniors. They form a formidable serve-and-return-and-volley duo.
Granted we won last night, today is the day. It's the 3rd and final day. It's two singles matches. In the first match, it's No.1 versus No.1. That should be Ruben (Gonzales) against Rubin (Statham). If PHL beats NZ, it will conclude with the best possible scenario: a Game 5. If this happens, I hope Treat Huey will be fielded to play the decider. This scenario happened in South Korea a few years back: We lost 0-2, won the doubles, won the 4th match and Treat Huey played the 5th match to steer Team Phils. to a come-from-behind win. I hope this happens today!
NOTES. This weekend is historic. I know the Phil. Columbian Association (PCA) in Manila has hosted dozens of Davis Cup ties but I don't think it has hosted three straight in one year — like Plantation Bay this 2013 … These events bring together tennis aficionados from all over; seen over the weekend were Rod Rafael, Romy Chan, Col. Buddy Andrada, Dyan Castillejo, Jean Henri Lhuillier, PSC Chairman Richie Garcia, PSC Commissioner Jolly Gomez, Philta's Romy Magat, Lito Villanueva … Also here to receive his ITF Commitment Award is Johnny Jose, the 1962 Asian Games gold medalist; here with his wife, Mrs. Olie Jose.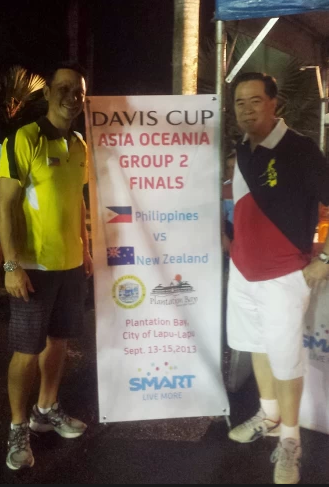 With Bacolod City Mayor Monico Puentevella