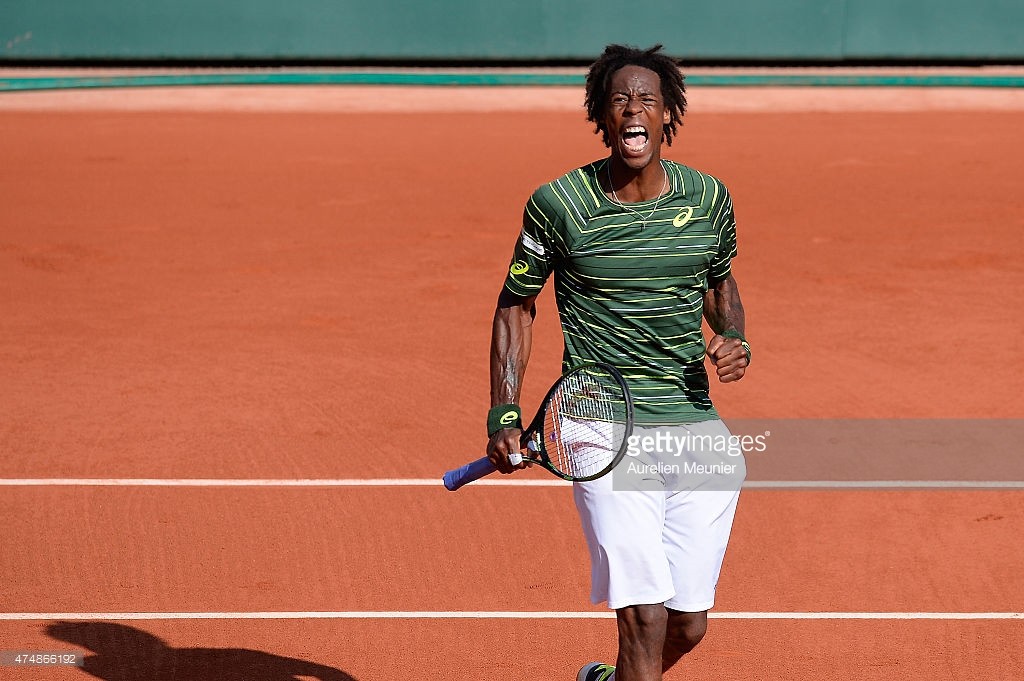 PARIS — The French are an expressive and artistic people. This was reflected on the tennis courts at the Stade Roland Garros.
In an "Italy vs. France" contest two afternoons ago, the French thumped their feet on the bleachers surrounding Court 7. They stood with arms punching the air. They screamed "Allez!" They clapped to disrupt the Italian and they clapped to uplift their Frenchman. The Italian was Fabio Fognini, world no. 27. Twice this year, he's beaten Rafael Nadal and was expected to win the slugfest against Benoit Paire. But, no; the locals wanted Paire, who hails from Avignon, to win. Midway through the match, a fight among the spectators ensued. The details were sketchy but it was possibly a local guy throwing a punch to an Italian adversary.
Paire triumphed in Paris. As Fognini exited the stadium in a huff, I stood two meters away. His face looked desolate. His head was pointed down. Inside the court, a different atmosphere reverberated. Paire was signing autographs. The French spectators wouldn't let him go. Photos and selfies were snapped. It's as if he won the French Open!
This scene is duplicated each time a Frenchman plays. The day before, my seatmates Jana, Jasmin and I witnessed the same occurrence. An unknown in the tennis world, Maxime Hamou was treated like a rockstar when he played. His famous countryman, Jo Wilfried-Tsonga, sat on the stands to cheer. The crowd jammed the same Court 7, a mid-size arena. Hamou was losing to Jerzy Janowicz (from Poland) but the French wanted him to claw back from the precipice. They did all the cheering that they could — to no avail.
They booed. Yes. Booing here is normal. While, to us, it would seem too harsh or hostile a welcome to a foreign opponent, here it's okay. They booed Janowicz. When he questioned a line call and approached the umpire, they booed. When he defeated Hamou, 6-7, 6-3, 6-4, 6-4, they booed. When the two players met at the net to shake hands, they didn't shake hands — they pulled each other's hands. Janowicz then pointed a finger to Hamou, gesturing for an apology on an earlier incident. They glared at each other. Hamou booed. The crowd booed. It was crazy and unlike anything I've seen.
The French are passionate. They were also winners last Wednesday.
Nicholas Mahut played Ernest Gulbis on Court No. 2. I enjoyed watching this match up-close. Gulbis, who comes from Latvia, was ranked as high as 10 in the world. He was expected to romp into victory against the Frenchman. But again, the crowd roused him to snatch the prize. Mahut won in four sets. Same with no. 12 seed Gilles Simon, winning against Martin Klizan.
Over at Court Suzanne Lenglen (named after an 8-time Grand Slam champion who reigned in the early 1900s), it was another Frenchman: Tsonga. Everybody loves Tsonga — including those who watched him play the International Premier Tennis League (IPTL) in Manila, where he represented the Philippine Mavericks.
Tsonga is forever smiling. He's a young-looking version of Muhammad Ali who clasps not boxing gloves but a tennis racket. Wearing all-black and looking like Batman on the red clay, he slammed aces and fired crosscourt winners. He was a winner against Dudi Sela.
But nothing beats Gael Monfils. On Court Philippe Chatrier, the 6-foot-4 Monfils was Goliath. He faced a player nine inches shorter in 5-foot-7 Diego Schwartzman. On paper, this was a no-contest. Monfils is the 13th seed while the Argentine lingers at 57.
But in the David vs. Goliath clash, it was the diminutive Argentine who was winning. He won the first set 6-4. Monfils battled back to win the second. In the third, Schwartzman won 6-4. Holding a two sets to one lead, the crowd grew tense. But, energized by the partisan Parisians, Monfils won the next two sets, 6-2, 6-3, punctuating the win with an ace on match point.
"Today I won because I had the crowd behind me," Monfils said. "They give me, let's say, some wings."