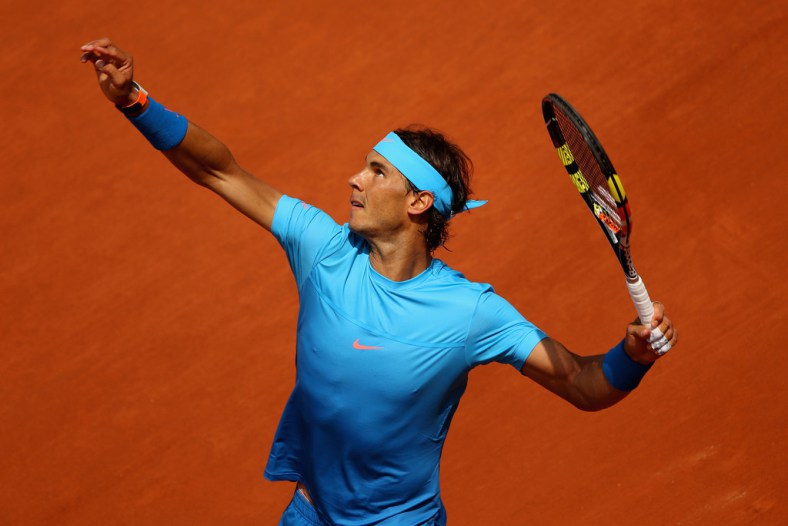 (Clive Brunskill/Getty Images Europe)
PARIS — This is the question that lingers in everyone's minds here.
On his first visit inside Roland-Garros, the 19-year-old triumphed. Every May and June since 2005, he hasn't lost. The only aberration was in 2009 when he lost in the fourth round to Robin Soderling, the Swede who has since being plagued by injury. In all, that's 66 matches won in 67 tries.
Rafa has been victorious 9 times and he's going for that double-digit here in Paris. Can he make it? From what I saw about four rows up on the stands inside the center court, the answer is Yes.
If Floyd Mayweather, Jr. calls MGM Garden his personal garden and if Michael Jordan soared in his airspace called the United Center in Chicago — then Stade Roland Garros is the home away from the Mallorcan home of Rafa.
Court Philippe Chatrier, their center court here, is not massive. I've been inside the Arthur Ashe Stadium and that 22,547-seater complex is humongous. While typing this, I'm looking around the rectangular-shaped arena and it's magnifique. Green seats abound. Glass-enclosed partitions cover the TV booths. Digital screens sit on corners displaying scores. Down below, where, on a full-capacity house, the 14,840 pairs of eyes will focus, is the centerpiece tennis court.
It's color brown. Officially, it's "red clay" but, to my brown eyes, they're brown. What makes this court different is the back-stop. It's that open space behind the baseline. It's a huge area — the ideal canvas where Nadal weaves his magic.
I watched Nadal's match here on a "Super Tuesday." Why super? Because you've got three salivating matches: Nadal first, Novak Djokovic next, followed by Serena Williams.
Rafa played a Frechman named Quentin Halys. The organizers couldn't have picked (by the luck of draw) a better first-round opponent for the Spaniard. The French here, obviously the majority who watch, are fiercely patriotic. They clap; no, make that they "chant while clapping." In unison, they all clap like a symphony orchestra to motivate their local guy. Because while they cheered for their adopted Parisian named Rafa, they cheered even louder for Halys. In the end, while the 18-year-old produced his slew of winners, he was no match to Rafa. The score: 6-3, 6-3, 6-4.
Djokovic followed. Wearing an orange shirt by Uniqlo, he looks supremely confident and tall at 6'2". He should be. He's been almost undefeated this entire season, including a win at the Australian Open last January. He's won 8 Grand Slam singles titles but never the French Open. Twice, in 2012 and last year, he reached the final only to be thwarted by Rafa.
Will 2015 be Novak's year? As much as I'm a confessed Rafa fan — I count Bobby Aboitiz, Frank Malilong, Fabby Borromeo, Ernie Delco, Bobby Lozada, Noy and Amale Jopson, and Fr. Joy Danao in the same camp — I think Rafa will lose next week. He's ranked a lowly 7 and, by the bad luck of the draw (he himself picked the ball during the Draw Ceremony), he'll meet Djokovic in the quarterfinals. That will be titanic. It's sad that the two have to meet so early; but then maybe Rafa will leave in the same stage as he did against Soderling.
I closely watched Novak's game and while he trailed 2-5 against Jarkko Nieminen, he clawed his way back to win in straight sets. The Serb has no weaknesses. His backhand is better than his forehand. His return of serve is as good as Agassi's. His mind, that unseen mass that determines a win or loss, is as strong as Lance Armstrong on the bike. Like most here, I'm voting for him to win next Sunday.
Around here, you'll see tennis greats lingering. Boris Becker occupies his usual spot at the players box. I watched how he took off his red jacket when the weather warmed. Seated four seats away was Novak's wife, the blonde and beautiful Jelena. She wasn't interested in her husband. She fiddled away with her phone.
In Rafa's camp, the Spanish armada was all-present: coach/uncle Toni, Rafa's parents, and his girlfriend, the beauteous Xisca Perello.