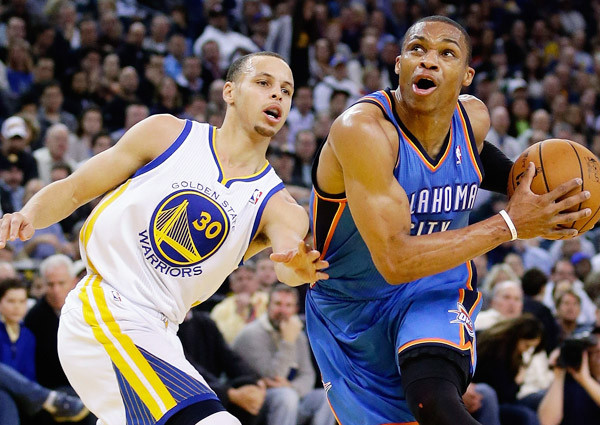 (Ezra Shaw/Getty Images)
Over steak, blue cheese, green salad and red wine to celebrate Nia Aldeguer's birthday at her and Chris' house in Ma. Luisa, the main topic of discussion among the boys — Mark Garcia, Meyrick Jacalan, my brother Charlie, Chris and I — was on basketball: Jordan brand shoes, Finn's basketball exploits and the race for the MVP.
Jacs Jacalan watched Stephen Curry with his sons last Dec. They didn't sit at home to watch on TV; they purchased 200+ dollar tickets and boarded the bus from San Francisco to Oakland to watch the Golden State Warriors play Kevin Durant's OKC. During the warmup, Jacs overheard two seatmates at the back make a bet: one guy wagered that, from three-point range, Stephen Curry wouldn't miss a flurry of shots. Steph. Did. Not. Miss. A. Single. Shot. The other guy lost $20.
This race for the MVP has been one of the most exciting. Unlike previous years when a LeBron or a Derrick Rose or, like last season, when Durant was a sure winner, this year we've got the Fab Four: James, James (Harden) and two 6-foot-3s, Curry and Russell Westbrook.
Yesterday morning on TV, I watched a few minutes of the "Masked Mamba," when Westbrook's OKC played the Minnesota Timberwolves. In back to back plays, Westbrook grabbed an inbound pass, jumped to fly on-air sideways, and banked an effortless two-pointer. Seconds later, he outmaneuvered three men to slam a dunk. No one has been hotter than Russ: last week, he scored 49 points, pulled down 16 rebounds and threw 10 assists against the 76ers to record his fourth straight triple-double — a feat not achieved since 1989 by Michael Jordan. So, Russ as MVP?
JONAS PANERIO. No! says my fellow sportswriter from the Cebu Daily News, Jay Panerio, who argues for Stephen Curry.
Here's Jay Panerio's full report:
STEPHEN CURRY
2014-15 Per-Game Stats
23.8 points (Fifth-Best),
4.4 rebounds
7.7 assists
2.2 steals (League-Best)
FG % of 48.5
FT % of 90.3 (Third-Best)
3-PT % of 42.2
33.1 minutes per game
207 Three-Pointers Made (League-Best)
Player Efficiency Rating (PER – a measure of per minute production) of 27.8(Third-Best behind Anthony Davis and Russell Westbrook)
Real Plus-Minus (the metric isolates the unique plus-minus impact of each NBA player by adjusting for the effects of each teammate and opposing player) rating of 8.55 (League-Best, ahead of James Harden's 8.51)
True Shooting Percentage (a measure of shooting efficiency that takes into account 2-pt field goals, 3-pt field goals and free-throws) of 63.1% (Fifth-Best, Harden and Westbrook aren't even in the top-20)
Win Share (an estimate of the number of wins contributed by a player) of 12.2 (Second-Best behind Harden's 13.0)
Steph is on the cusp of joining the historic 50-40-90 club (shooting percentages for field goals, 3-pointers and free throws) while leading the league in steals per game, three-pointers made and that all-important new-age metric, Real Plus-Minus. Moreover, it is his clinical efficiency that pushes him past any and all contenders. Take his aforementioned percentages and compare them with Westbrook's and Harden's and the gap becomes as wide as the Grand Canyon.
Westbrook:        43.4% FG, 28.5% 3PT, 83.8% FT
Harden:             44.7% FG, 38% 3PT, 86.8% FT
Speaking of efficiency, I have yet to mention that Steph is doing all these while playing just 33.1 minutes per game, mostly because Warriors games become such blowouts that he ends up sitting on the bench for the rest of the fourth quarter. Meanwhile, Harden plays 36.7 mins per game while Westbrook plays nearly as much.
He is the best player of the best team in the league. And while it cannot be denied that the Warriors have had breakout performances from nearly all corners of the squad, namely Defensive Player of the Year candidate Draymond Green and Klay Thompson, it also cannot be said enough that Steph is the biggest reason why Golden State has rose to such prominence this season. Need proof? The Warriors have outscored opponents by 646 when he plays and been outscored by 51 when he sits.
Many would argue the case against Curry would be that Golden State are in fact the best team in basketball, which can take some of the shine off of what he has done what with so many contributors.
But consider this: Lebron's got a guy who six months ago was widely considered to be one of the top-10 players in the entire NBA (Kevin Love) and the Most Valuable Player of the 2014 FIBA Basketball World Cup (Kyrie Irving). Westbrook shares the floor (at times this season) with the league's reigning MVP (Kevin Durant) while Harden's floormates include a center who is an eight-time All-Star, a seven-time All-NBA team selection, a five-time All-Defensive member, a three-time Defensive Player of the Year, and a certain game-changer when he's around (Dwight Howard). So tell me, who's supporting cast has more glitter?
But more than the numbers is how Steph does what he does – with breathtaking skill and mesmerizing flair. People often say that he is a wizard with the ball and maybe he really is. Maybe he goes home each day and creates some sort of potion to drink before each game that allows to him do nightly feats of basketball sorcery that has earned him the reputation of being "the league's most un-guardable player."