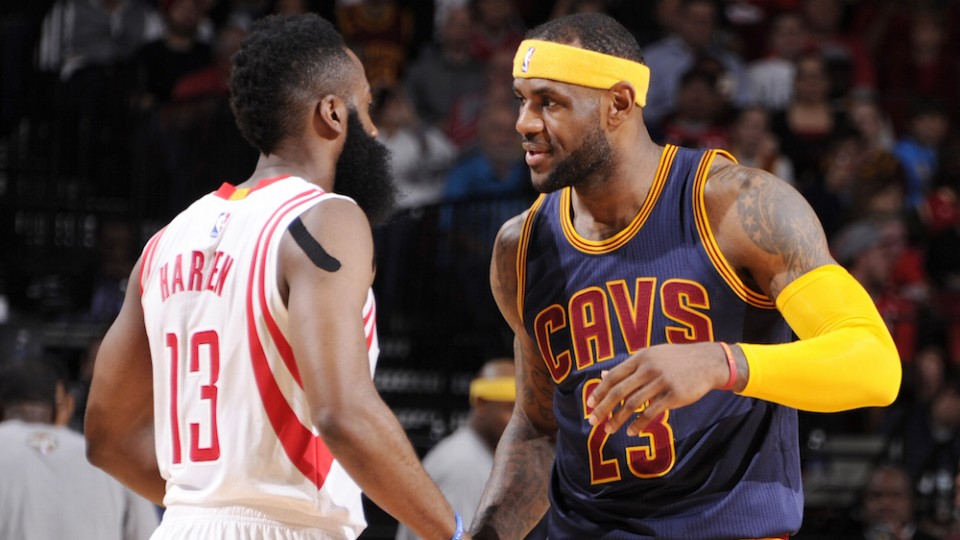 (Bill Baptist/NBAE/Getty Images)
I'm referring to the two best players with the same name: James Harden and LeBron James. (If they decide on a co-MVP, can you imagine a James-James winner?)
So, which James? First, let's examine how the NBA votes on their Most Valuable Player. Every year since the 1955-56 season, the MVP award, named the "Maurice Podoloff Trophy," in honor of the league's first commissioner, is given to the best performing player of the regular season. A panel of sportswriters and broadcasters from the U.S. and Canada cast their votes. They submit five names, ranked from 1 to 5, with their top pick garnering 10 points. All the points are tallied and the highest-pointer wins basketball's most coveted title.
In the history of the MVP awards, no player has won unanimously. Shaq (2000) and LeBron (2013) came very close, each receiving 120 of the 121 first-place votes.    All time, the record-holder is Kareem Abdul-Jabbar, who won six. He's followed by Michael Jordan and Bill Russell with five apiece. Wilt Chamberlain joins LeBron as four-time MVPs while Magic Johnson, Larry Bird and Moses Malone own three.
LeBron has won four of the last six MVP crowns. His quest for a three-peat last year was thwarted by Kevin Durant, who amassed outstanding numbers last season: 32 PPG, 7.4 RPG, and 5.5 APG. This year's regular season ends on April 15 and the MVP awardee will be disclosed during the playoffs. So, will it be James or James?
Let's discuss: Since LeBron moved from Florida to Ohio, he's transformed the Cavs from being under-performers to Eastern Conference Finals contenders. As of yesterday, his averages per game are: 26 points, 5.8 rebounds and 7.3 assists. The biggest factor is what happens to the Cavs when he's with (or without) them. In the 11 games that he missed this season, the Cavs scored 2-9; when he's around, they win 70 percent of the time.
According to Greg Swartz, who wrote "The Case for LeBron James to Win NBA MVP Yet Again" in Bleacher Report last March 9: "It's not just his 26.0 points, but rather James' overall court vision and playmaking ability that stands out… There's all the little things that don't show up in stat sheets. James is always pointing out what he sees on the court to teammates. He shouts defensive assignments from the bench. He supports, encourages and even criticizes when necessary… James is once again the undisputed leader of the Cavaliers, with his every move dictating their success."
His leadership, his numbers, his elevation of the Cavs to potential NBA champs — all guarantee that he'll be a top MVP contender. But you know the disadvantage of LeBron? His name. His reputation. This thing called "voter fatigue."
"Much like with Durant the year before and Derrick Rose in 2010-11, it's arguably more exciting to see a first-year winner rather than someone who's done it before," said Swartz. "James certainly shouldn't be penalized for this, however. The most valuable player should be a blind award based off who's made the biggest difference for his team, regardless of past success."
As for James Harden, the league's second top-scorer with a 27.1 point average, Daryl Morey, the GM of the Houston Rockets, said it best: "Take James Harden off our team and we are nowhere."
"Harden has suited up for every Rockets game this season," wrote Jesus Gomez in "James Harden's durability should make him the MVP favorite," a recent SBNation.com article. "He leads the league in total minutes played and is second in minutes per game, averaging 36.6. In a year in which most of the league brightest stars have struggled staying on the court, Harden has been arguably the most durable elite player in the NBA. It has been huge for the Rockets to be able to rely on him so much with Howard missing 27 games already. When it comes to the ability to stay on the court for his team, Harden edges out every other MVP candidate."
L. James or James H.? Neither. I'll go for Stephen Curry or Russell Westbrook — and the discussion continues in a future article.