The two-letter answer is NO. At his peak, TW soared with invincibility like Michael Jordan, was as dogged relentless as Rafael Nadal, and as famous as Manny Pacquiao is in GenSan.
Consider this: From 1997 to 2008, he won 14 major trophies and achieved a career Grand Slam three times. His 79 PGA Tour wins is second only to Sam Snead's 82. Tiger is acknowledged as the sporting world's first billionaire, a feat he pocketed at the age of 33. He was en route to besting the likes of Ali, Pele, MJ, Lance (pre-doping revelation) and Phelps as the greatest human being who ever played sports.
This was then; pre-Elin Nordegren. Now, he can barely walk. At the Farmers Insurance Classic last week, he limped and quit after 11 holes. The week before, he shot a horrendous 82 — the worst number he's recorded as a professional.
"His golf game is in shambles," said former pro Paul Azinger. "It's sad to see that. But what we get to see is the most confident golfer of all-time try to claw his way back."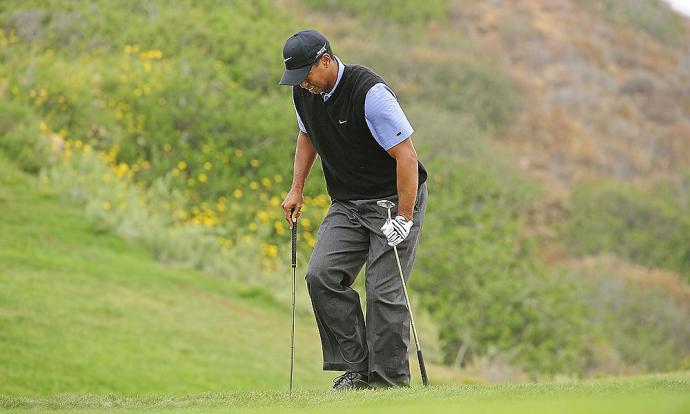 Mentally, during his peak, we know that he was unbreakable. It was Tiger who uttered these words: "My mind is my biggest asset. I expect to win every tournament I play." Sure, up until today, he can summon his brain to conjure up images of success. That's in the mind.
But the bigger problem is everywhere else in his body; his physical maladies. Tiger is Nadal: he's the most injured man among men. A quick listing of his ailments will give you a headache. He's had afflictions related to the ACL, MCL, pinched nerve, tibia, cartilage damage, back spasms.
BAYANI GARCIA. I sought comments from Cebu Country Club's 2010 and 2013 club champion.
Here's Bayani Garcia: "Tiger's number one priority is to get healthy. For a person to undergo as many injuries and surgeries as he has, recovery takes longer and not to mention he isn't as young he thinks he is. Once you get older, recovery takes longer. Also, I really feel like he needs to submit to the fact that there are certain swing thoughts and movements that he used to do 10-15 years ago that he cannot do anymore because of his age and injury. He is always talking about speed and explosiveness in his drives and getting it back to where it used to be where in reality, its not. He has to humble down and admit that he won't be hitting it as long as he used to and these younger players will, and are hitting it past him on a regular basis.
"The only statistic that matters in golf is scoring and Tiger is arguably the best in this category in the history of the game. He is probably the most mentally tough golfer to ever play the sport and he will always find a way to score. His performances over the last 3 tournaments was rust in his game plus trying to revisit a new swing theory with his new swing coach. As golfers, we know that with any major change we introduce or re-introduce in our technique, the results take a long time to bear fruit.
"I have no doubt that he will be back. He will be back to winning golf tournaments and even snagging a few majors along the way. I still believe that he has a good chance at beating Jack Nicklaus' record. He has the drive, the mental toughness and most importantly his experience in winning. The only way he can achieve his goals is if he remains healthy throughout the duration of his career."
When I reminded Bayani that Tiger is getting old — he'll turn 40 this December — he added: "There have been some 40 year olds who have won and won majors. Vijay Singh, Ernie Els, Angel Cabrera (twice), and Phil Mickelson (who won 2 of his majors when he was 40)."
True. Jack Nicklaus won his 18th and final major (Masters 1986) at the age of 46.
"These guys haven't got an ounce of the mental toughness that Tiger has," said Bayani. "Golf is a relatively forgiving game where you can play at a high level even to your 50s. Tiger just needs to get healthy and remain healthy. That is top priority right now. Once he does, he will find a way to score and win. Not dominate perhaps but still win."
GIO GANDIONCO. Gio Gandionco, another top golfer from CCC who's now in the U.S. with a golf scholarship, had this to say: "I think Tiger right now is facing a slump and if he doesn't stay healthy, his game will continue deteriorate. He's had many injuries and back issues and I think that's really affecting him. His swing mechanics are coming into place, he's recently been working with his new coach Chris Como to  get his swing back to what it was like at his prime. I think at this point, it's also a mental issue that Tiger needs to overcome. He has never played this bad consecutively before and he needs to find a way to bounce back and gain his confidence. No doubt he has the capabilities to win again, if he stays healthy and continues to work hard, I'm sure he can win more majors."