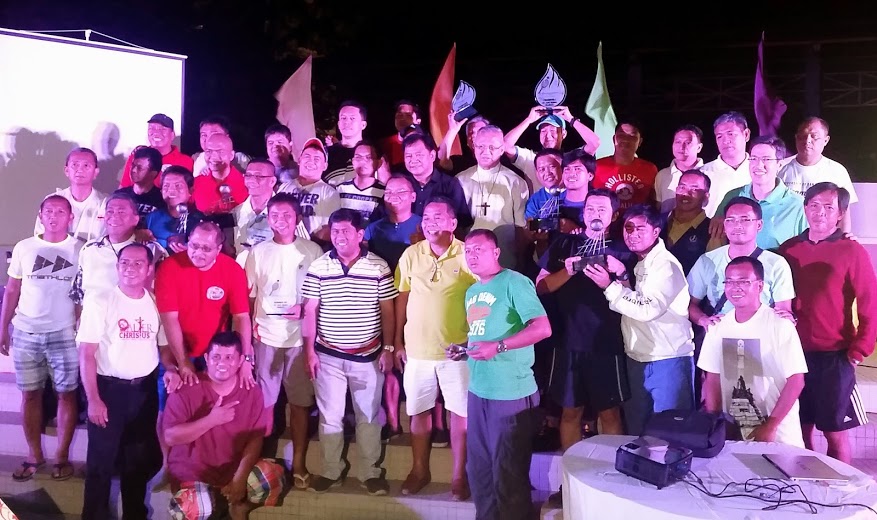 Awards Night at the Padgett Place
Archbishop Jose Serofia Palma, the eloquent and always smiling leader of the Cebu archdiocese, stood before the assembled priests last Thursday night and declared these nuggets of sports wisdom: "Tennis brings us together. It keeps us united. The Pope himself exhorted us to go out of our churches and take a break. Let's be active."
Bishop Ricardo Baccay of Tuguegarao echoed those words by adding: "Let us be passionate in our service… both in serving in tennis and in serving our parishes. The more active we are physically, the better we're able to serve."
One hundred thirty priests representing 19 provinces and 16 dioceses (including five religious congregations and three bishops: Baccay, Precioso Cantillas of Maasin, Leyte, and Antonio Palang of Mindoro) gathered in Cebu City earlier this week to serve.
By "serve," I mean the movement where you toss a yellow ball, swing your arm backwards to scratch your back, then you slap forward to pounce a shot.
Fr. Fernando Suarez, who celebrated his birthday yesterday, conceptualized this tournament for priests back in the year 2010. After five years in Manila, he decided to change venues and try our city.
Msgr. Ruben Labajo, himself a tennis player, led the 31-priest Cebu contingent in helping organize the tournament. He was assisted by dozens, including Frederick Yap, Wilson Ong, Michael Sy, Zsazsa Sierra, the Tabura family (Fritz, Jun and Freza) and the Siso siblings, Niño and Em-Em. Lito and Fe Barino of Duros Land sponsored the Awards Night at their beautiful skyscraper, The Padgett Place.
During the awarding, Archbishop Palma was gifted with two Technifibre tennis rackets by Fr. Suarez. A former netter who stopped because of his busy schedule, Archbishop Palma told Msgr. Ruben, "Let's play tennis again."
That evening when I had the chance to sit beside him, I said: "Archbishop Palma, I only have one child and she's become a national junior tennis champion. It was you who baptized her (Jana)."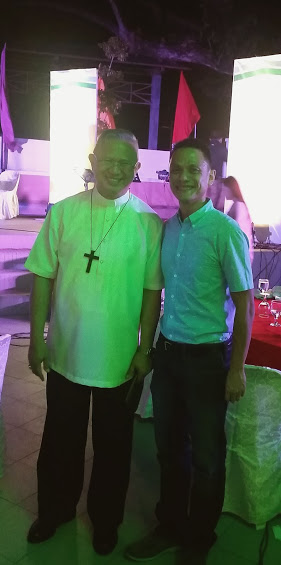 With Archbishop Palma
The 6th Fr. Suarez Cup, which ran from Feb. 3 to 5, saw the priests wearing shorts and not vestments, lifting rackets instead of holding rosary beads. The priests were engaged in all-out battle. Yes, believe me, having watched several intense matches this week, the priests are competitive. (Consider that the first prize includes both a Norkis motorcycle and a trip to Poland to represent the nation in the all-priests international tournament.)
Fr. Jose Dosado, a good friend from the former Sancase Tennis Club, won the 56-and-above singles category. In doubles, Fr. Arnel Haber teamed up with Fr. Jerry Pascual to win the doubles crown; they come from Tagum.
The indefatigable Fr. Suarez, whose stamina has amazed his tennis friends (once, he played 12 consecutive sets of tennis), won the 46-55 singles category.
Why, I asked Fr. 'Do Suarez, do you like the game of tennis?
Ever the inspiration (and healer) to so many, he recited the ABCs.
"A" stands for "Ace." In tennis, like in life, you serve and "don't expect anything in return."
"B" stands for "Be Grounded."
"C" is "Consistency." I've been privileged to recently play four sets of tennis with Fr. Fernando (we partnered in one and played against each other in three — him winning all four doubles sets) and he's like a wall; returning shot after shot with his two-handed forehands and backhands. Same with life, it's essential for us to be steady.
"D" is "Do Not Underestimate Your Opponent" (for tennis) and "Do Not Judge Others" (in life).
With "E," it's simply to "Enjoy."
Fr. Suarez imparted one final message to us three nights ago: He once had a problem with his tennis serve and so he asked his good friend Roland So, a former Davis Cup star, for a tip. Roland's answer was perfect: 'Bend your knees.'
In tennis, the more we bend our knees, the better our service; in life, we ought to do the same: bend our knees to be humble and bend our knees in prayer to God.