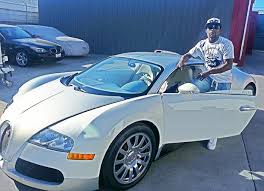 Only 10 weeks remain. Why the delay? If he's going to announce it anyway, why prolong the wait? Dozens upon dozens of articles in Philboxing.com all point to the same direction: May 2, 2015 will happen.
Cut the crap, Floyd. Sign the document that Manny Pacquiao has signed and announce the bout. Mayweather is taking us for a joyride aboard his Gulfstream III jet. He's smiling that handsome and charismatic smile; he's counting his estimated $280,000,000 net worth; he's driving his Ferrari 599 GTB Fiorarno or Lamborghini Aventador LP 700-4 or Bugatti Veyron Grand Sport.
Sport is entertainment. We watch it to feel high or low; we applaud the first to cross the finish and we deride the beaten body lying on the canvas. But underneath our thrill and excitement — the root of all this entertainment — is one word: Money. And isn't this guy's nickname the same? This is all about money. Money the person. Money the denomination.
How to explain the delay? It's called the "Apple strategy." This was started by the late Steve Jobs and perfected by Tim Cook and the machination called Apple Inc. You know how the world's biggest company (market capitalization: $740 billion) delays and keeps secret its latest iPad or iPhone to maximize the gossiping and to keep the millions of fanatics swimming in a news frenzy?
The iPhone-using Floyd is employing the same tactic used by the iPhone makers. The man from Las Vegas has learned a trick from the men from Cupertino.
It's called suspense. Delay, delay, delay. Wait. Pause. Spread a tiny rumor here. Shake hands in Miami. Keep everyone guessing. Watch the NBA All-Star weekend beside Rihanna. Wait. Pause. Delay. Keep everyone salivating….. And when all throats are dry and all tongues are wagging, thirsty and hungry to receive the news… Boom! Like a left hook, you unveil the artwork.
The end result? When it's finally announced, like when Apple revealed the months-long-rumored iPhone 6+ on the giant screen in California, everybody drools and all eyes are enlarged and mesmerized.
How do you explain this? Big fights usually get announced six or more months in advance. This one only has a lead time of two months? Crazy. If this were a small-time basketball or volleyball tournament, fine. But not the undisputed "Biggest Boxing Fight in History."
Matthew Fellows, a columnist for Guardian Liberty Voice, wrote an interesting piece, "Mayweather-Pacquiao: Feeding Frenzy Calculated by Money Team," last Feb. 16.
"Mayweather is extending this drama in order to get maximum exposure for Shots, the social media app he threw down one million dollars for where he plans on announcing the fight," said Fellows. "He is all about maximizing his earnings even in announcing the fight and has been willing to drag fans along in torturous manner in order to fill his bank account."
Nobody in sports is better in business than Mr. Mayweather, who tops the list of highest paid athletes in Forbes and Sports Illustrated. Hate him and despise him, but he's amassed a mountain full of dollars — $105 million, to be exact, in 2014 alone.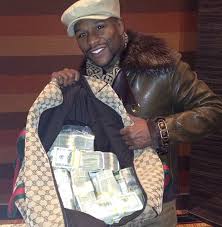 Sport is business. I don't know how they arrived at the computations but the May 2 clash is supposed to generate a total revenue of $250 million (in pesos, that's nearly P10 billion).
"Despite what people who clearly know little about the greed of boxing people and their ability to drive up numbers, the fight is in the pipeline and will be announced soon enough," added Fellows. "The more the media and fans alike obsess, the broader the smile on not only Mayweather's face but on the big wigs who stand to make tens of millions on a fight that should have happened five years ago."
Marketing. That's what this is all about. It's a business strategy. And it works. It's word of mouth multiplied by millions of mouths and it's for free. Except that, on fight night, we pay while Money makes all the money.