My dad Bunny, considering the possibility of flying to Los Angeles and driving four hours to Las Vegas to watch Money vs. Manny, was in constant touch with a few friends residing in Las Vegas yesterday. The ticket prices? You won't believe it. Not 1K or 3K but $5,000 for the second-cheapest seats. That's P230,000 for a single chair on a scuffle that will last a maximum of 36 minutes. My dad said No. He'd rather occupy his usual front row "good luck" chair inside Casino Español come the morning of May 3.
SALVEN LAGUMBAY. I interviewed one of the country's foremost experts on boxing. He's a best friend from UP Cebu College, a fellow writer, and now one of Asia's top boxing judges. Here was Salven's email to me a few nights ago:
"Bai, honestly, in the very long time that I've been following boxing, this is the first time for me to experience a fight announcement that is taking extremely long to make, with almost everybody around the world waiting for it with bated breath.
"Welcome to the Floyd Mayweather School of Business. First of all, in the history of contemporary boxing, or all of boxing for that matter, I would rate Mayweather as arguably the most astute, business-savvy boxer of all times. If he wasn't boxing, he would have been the Dean of the Harvard Business School or a member of Barack Obama's Economic Team.
"I have personally met him at his Mayweather Boxing Club gym in Las Vegas last October, and true enough, Mayweather is an entirely different athlete. You would think it would be easy for an Asian like me who travelled more than 7,000 miles to get a photo session with him? Think again. I got mine, but not after coursing my request thru the right channel.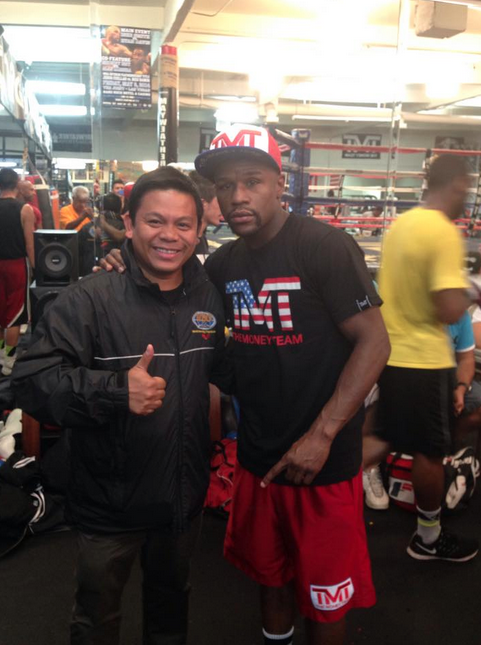 "This announcement has been super-delayed because of Floyd Mayweather. It's the Art of the Deal working its magic. And no, it's not because Mayweather doesn't want to fight. Nor is he afraid of a Pacquiao. Let's put it simply this way: Mayweather wants to be the one to steer the negotiation wherever he wants it to go. And so far he has been successful. Mayweather wins the first round even before the fight gets made.
"Also, a fight of this magnitude, with egos of those involved rivaling its size, this fight would not have been easy to make in the very first place. There's the issue of who gets what (resolved, 60-40), the contract weight (147 lbs. or catchweight at 150), what gloves to use (Reyes or Grant), which outfit gets telecast right (HBO or Showtime), who gets to air the replay, who will make up the broadcast panel, who will announce (Michael Buffer or Jimmy Lennon), who goes up the ring first, who will be introduced first, how is the PPV sales going to be divided, who gets what corner color (red or blue), who will be the referee, who will be the judges, who will be the lead promoter, who will do the infomercials, which outfit gets right for all accreditations. For all we know, both camps are even at loggerheads as to whose name gets mentioned first in fight posters and advertising billboards.
"As for the promotion of the bout itself, yes, there is still time for that. Usually in major fights, they would allow a window of 4 to 5 months from fight announcement to fight date to allow ample time to promote the show. In this case, they don't have that opportunity because of negotiation delay, but then again, this fight is so popular there is not much promoting needed to sell it. Lol, they can fight tomorrow and still pack the entire MGM and do more than a million PPV buys!
"As for fight preparations, both Mayweather and Pacquiao would need only 8 weeks or less to be in top condition. Both guys are professionals. They are in shape even with no fight schedule, and would need only a few weeks for the so-called sparring sessions and other 'body alignments' and tactical planning needed for the big show."