You cannot please everybody. That's a fact of life. No matter how good you are or how sincere your intentions are, there will always be that one person — or 20.5 million Floridians — who'll despise you. That's life. "You can't please everyone, nor should you seek to," said actor Dylan Moran, "because then you won't please anyone, least of all yourself."
Agree. Pat Riley must be fuming bad. What happened to their four year ride, reaching The Finals all four seasons and winning twice?
Yes, but then LeBron James is The King. As today's Jordan, his decision is honored. He is not only basketball's best but this planet's greatest athlete. And when you're at the Mt. Everest of your game and only 29 years of age, you can do as you wish. The Chosen One chooses.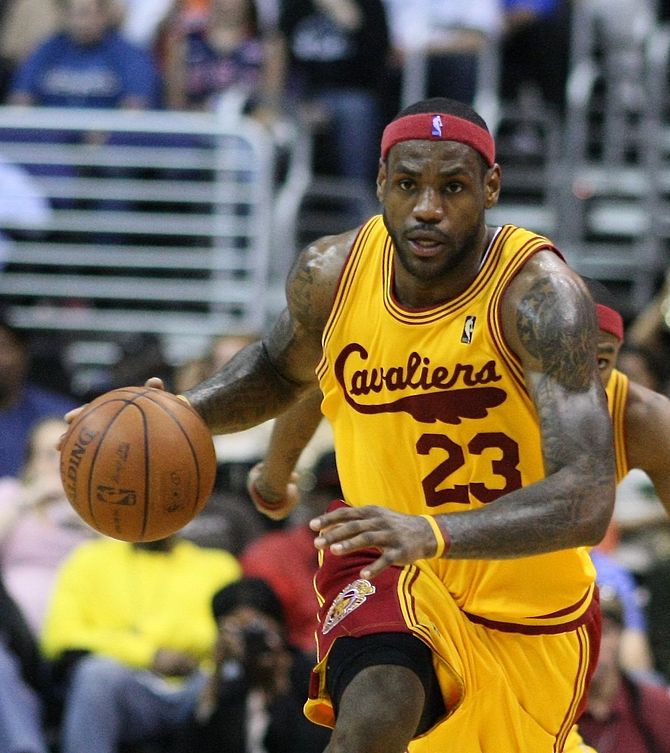 After getting embarrassed by the San Antonio Spurs, LeBron must have looked at his pal Dwayne Wade's 32-year-old banged-up body and concluded, "Man, he's old." This is a fact: If Miami Heat had remained with the same roster for next season, the result will be the same: they'll get clobbered by Manu and Tony and Tim.
Stay with the old or gamble with the future? In "The Decision Part 2," LeBron followed his heart. His heart had always resided in Ohio, where he was born. "Before anyone ever cared where I would play basketball, I was a kid from Northeast Ohio," wrote LeBron in Sports Illustrated. "It's where I walked. It's where I ran. It's where I cried. It's where I bled. It holds a special place in my heart."
The King is coming home. Who'd have expected that? Given their success in Miami, wasn't the logical move to at least try one or two more seasons before leaping? I'm sure LeBron pondered on that thought. The Heat and our fellow Pinoy Erik Spoelstra have been good to him and helped him purchase what couldn't buy in Cleveland: two NBA rings. And, yes, while Miami cracked and wilted against the Spurs, surely with some tweaking and importing of new blood, they'd have the best chance next season, right?
Maybe. But that's now forgotten. What's important is that a decision has been reached and it's an astonishing one. "I always believed that I'd return to Cleveland and finish my career there. I just didn't know when," added LeBron. "After the season, free agency wasn't even a thought. But I have two boys and my wife, Savannah, is pregnant with a girl. I started thinking about what it would be like to raise my family in my hometown."
Though this issue isn't about money, it's not bad receiving extra: While he started with $4 million as a Cleveland rookie in 2003, James took a pay-cut when he flew south to Miami, pocketing $14.5 million in his first season. Obviously, big bucks — but for a giant of his stature, that's small. Believe it or not, in his whole career James has never been his team's highest-paid member. That will change starting this October with the Cavs when he pockets $22.2 million.
This story is also about forgiveness. One of the major stumbling blocks of his return was the animosity he received from the Cleveland fans, most notably the Cavs owner Dan Gilbert. Four years ago when LeBron shocked his employer with his goodbye, Gilbert wrote a scornful letter, saying LeBron was a coward. LeBron never forgot that (justified) cruelty.
Now he has. In a secret meeting last Sunday, Gilbert was said to have told LeBron, "We had five great years together and one terrible night. I told him how sorry I was, expressed regret for how that night went and how I let all the emotion and passion for the situation carry me away. I told him I wish I had never done it, that I wish I could take it back."
LeBron reciprocated, saying that he, too, was sorry for "The Decision" that aired on worldwide TV in 2010. And so, the two shook hands, probably hugged, and 'Bron's coming home.
Which means that Cedar Point, the "roller coaster capital of the world," will have to fulfill its promise of a new ride: a roller-coaster named, "King James."
I can't wait for the roller-coaster ride called the NBA.