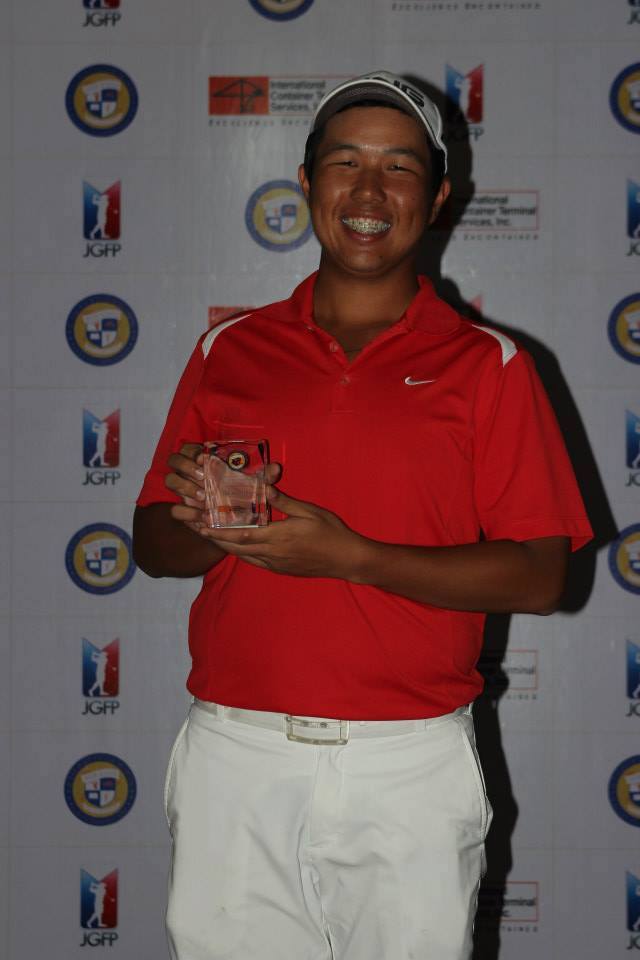 In the annual Club Championship of the Cebu Country Club (CCC) last May 10, among the Class A golfers who competed, one young man stood tallest. He was only 18 then (he turned a year older last June 1). It was the first CCC "Green Jacket" victory for Harvey Sytiongsa. Here's our interview:
START. I started playing golf at the age of seven, but the game caught my attention at the age of four when my dad (Edgardo) used to do practice putting in Del Monte Golf Club. My first coach was Bob Pestaño and the one who further developed my game is Coach Joe Bernaldez.
MILESTONES. During my Junior golf years, I won a Championship in one of the VisMin legs (Mactan).. With my amateur years at CCC, I was champion in some Monthly Medals and won a Lowest gross tournament in one monthly medal… In 2013, I placed runner-up in the Philippine Junior Masters. In 2014, I played for my school (Univ. of San Carlos) and placed runner-up in the individual competition. We won runner-up in the inter-school event at the Orchard Golf & CC. Lastly, I'm a member of the CCC that played in the 2014 PAL Interclub in Bacolod.
CLUB CHAMPIONSHIP. It was a great experience for me; a chance to play with the best players of the club. I played my best and shot in the qualifying days 79 and 74 with a total score of 153. I won my first match vs Joseph Stevens, 4 & 3. With the second match, I beat Kiyofumi Takahashi, 4 & 3. The third match was very tough, against Carl Almario, a former pro-golfer; I won 2 & 1.
During the 36-holes final match, I was nervous playing Marko Sarmiento, a former club champion, because he is the strongest hitter in the club. He plays great golf and is an experienced player. I just tried to calm my nerves by playing the way I played that week and not changing the routine I had for the whole week. The first nine was close since we gave and took strokes per hole. The second nine was more challenging since Marko was driving good, hitting the irons solid and making putts. But I finally had the upper hand on the third nine since I just needed to make par and he needed to make birdies. I won the Championship on hole no. 11 with a score of 8 & 7.
GAME. I can't say that I have a specialty in the sport since I am an all-around person. I treat all shots with equal importance but place more emphasis in the short game.
I usually play with golfers who are better than me so that I can elevate my game. I also play with players who are interested in bringing up their game to the level I am in now. I play as often as possible when I have time. I prepared for the tournament by having my swing and my game checked by my coach.
My idol? Tiger Woods. He plays a solid game and he blocks off any distractions. He has a great mental side and also keeps fighting to win all games. Among the locals, I like Frankie Miñoza. I watched his game against Miguel Tabuena in "The Duel" last May 23 and he played like there was no pressure. I also idolize our own CCC pro Chuck Hong. I was able to play with him during the Pro-Am in "The Duel" and he hits accurately and has a great short game. He is friendly, approachable and is fun to get along with. I really enjoyed playing with him.
WHY GOLF? It's interesting and challenging. I chose golf above other sports since it is a game where I challenge myself physically and mentally. It is also a game wherein I only blame myself for the mistakes I make. It can be played by anyone of any age; it can be for business and everyone is treated as equals on the course.
My next challenge is to play in the Philippine Amateur Golf and Asian Amateur Golf and hopefully win both the stroke and match play. Another challenge is to qualify and represent the Philippines in the Putra Cup. Tips for the Jungolfers? Just keep practicing, have patience, always keep a positive mindset and never give up!