Can you believe this? The news that has gotten tennis fans excited? Yes, they're coming. The date: Nov. 28 to 30. The venue: MOA Arena or the Araneta Coliseum.
It's called the International Premier Tennis League. It's not the usual ATP or WTA tournament. There are no ranking points offered. Cash? Oh yeah. For these celebrity athletes to come, surely there are plenty of Euros. How much? I don't know; but players of this caliber are given "appearance money." Which means that, win or lose, they bring home $$$$$$.
This is team tennis. It's not a common setting. Usually, players play for themselves. Or, if it's a team format, they play for their country (Davis Cup or Fed Cup).
The brainchild of former world doubles No. 1 Mahesh Bhupathi, this is the inaugural season. There are four teams/cities: Dubai, Singapore, Mumbai and Bangkok. But, wait. What's unfortunate for Thailand has turned fortunate for our country. Because of the political instability in Bangkok, the venue has been transferred to our capital.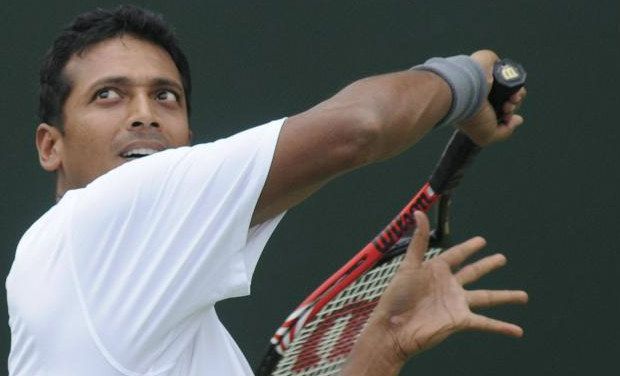 Mahesh Bhupathi
Yehey! This is fabulous for tennis. Because while the NBA's Rockets-Pacers dribbled inside MOA last Oct. and David Beckham kicked the ball here with the LA Galaxy and, well, we have Manny Pacquiao, we've never had a Top 10 version of tennis.
Well, we did, but it was over two decades ago. Inside the Araneta Coliseum, I was there when Ivan Lendl played Stefan Edberg. A baseliner, Lendl rushed the net to practice his volleys. There were plenty of laughs as the exhibition setting was relaxed. That was called "Fire and Ice 2." The first one was a classic: Bjorn Borg vs. John McEnroe. But since those legends landed in Luzon, we haven't had a Sampras or Becker or Agassi visit us.
Until six months from now. Ours will be the first leg. After our Nov. 28 to 30 date, the venue moves to Singapore (Dec. 2-4), Mumbai (Dec. 7-9) and Dubai (Dec. 11-14). We're lucky because all the attention is focused on the first stop.
The format is innovative. Reads the website: "Each match comprises five sets, with no-advantage scoring. There will be one set of men's singles, one of women's singles, one men's doubles, one mixed doubles and one men's legends singles. Every game counts because the winning team is the one that wins the most games in total. In the event of a tie, the match will be decided on a tie-break."
TEAM MANILA is bannered by Andy Murray, Jo-Wilfried Tsonga, Carlos Moya, Daniel Nestor, Victoria Azarenka, Kirsten Flipkens and our own Treat Huey. TEAM DUBAI (called the U.A.E. Falcons) is led by Novak Djokovic, Nenad Zimonjic, Janko Tipsarevic, Goran Ivanisevic, Malek Jaziri, Caroline Wozniacki and the Swiss Miss, Martina Hingis. TEAM MUMBAI (Indian Aces) has Rafael Nadal, Gael Monfils, Pete Sampras, Rohan Bopanna, Fabrice Santoro, Sania Mirza and the beauty, Ana Ivanovic. TEAM SINGAPORE (Lions) has Andre Agassi, Llyeton Hewitt, Nick Kyrgious, Pat Rafter, Tomas Berdych, Bruno Soares, Daniela Hantuchova and the indefatigable Serena Williams.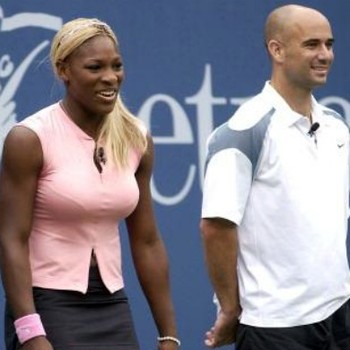 Serena and Andre (Theo Wargo/Getty Images)
Amazing list of names, right? But the question is: Will all of them come to Manila? The answer is No. It's a team event. It's possible that Murray will be here but only Monfils, Berdych, Ivanisevic, Rafter and several others will land in Manila. Our hope is that the big names — Rafa, Serena, Andre, Novak, Pete — will come. But there's no guarantee. They might; they might not. And we'll probably never know until the actual start. What's guaranteed are a few things: This is world-class tennis, whoever comes. These aren't your usual exhibition matches where they giggle all-day and still receive that $1 million fee.
"The games will be relaxed and fun but very competitive," said Randy Villanueva, a good friend of Bhupathi (they played each other in the juniors).
So, dear fellow tennis addicts, start saving up. You don't have to travel to Paris or Melbourne to watch these stars. Let's go. Sadly, to all R. Federer fans, he can't make it. He'll be busy with a couple of sets… of twins.