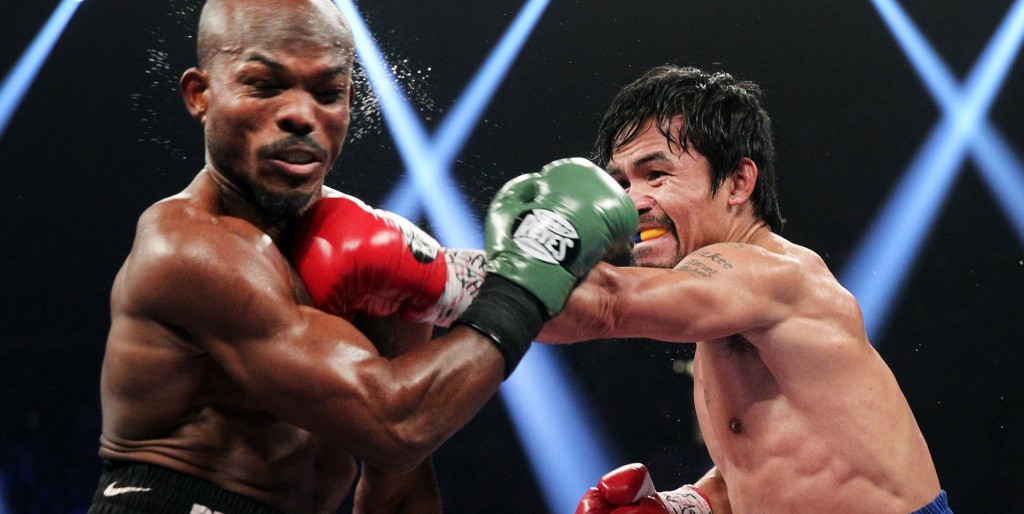 Hambog. If there's one thing Timothy Bradley displayed two days ago, it's this: he's a showman who loves to taunt, mock, jeer. He's a boast, not a beast. He was more bravado than brave. He made fun of our congressman. Good thing he didn't get knocked-out like Anderson Silva. Remember UFC's greatest fighter, who bragged and gloated on the octagon — only to be promptly KO'd by Chris Weidman?
I was hoping Pacquiao would do the same to the grandstanding and show-off Bradley. (Speaking of UFC, last Sunday I mistakenly wrote "Bruce" Buffer instead of Michael Buffer; it just shows the popularity of UFC, pointed out Nick Torres.)
With Pacman, he has redeemed himself. He lives to fight another fight. "This win was important," Pacquiao said. "I proved that my boxing journey will continue." He was Manny The Great; though not the spectacular, unrelenting and pitiless Supermanny of five years ago.
Age matters. When you're 35 and have logged tens of thousands of hours on the gym, punching and being punched, jabbing and receiving those uppercuts, the body, like any organism and machine, wears out.
Manny was fantastic. He wasn't outstanding. "He was a little bit slower than I've seen in the past," Freddie Roach said.
Part of it is confidence. In that 15-fight winning streak from 2005 to 2011 when he annihilated Oscar and Ricky and Miguel, his belief and sureness were indisputable. His poise, nerve, resoluteness — beyond assurance. I'm unbeatable, Manny declared then.
Prior to two days ago, he had lost two of three. Understandably, his faith and belief weren't as strong. But now, after this victory, when he claimed vindication for that burglary in Part I when he was robbed by the judges — his morale has risen.
NO KNOCKOUT. We all wanted to see Bradley lying on the floor. It didn't happen. Manny hasn't scored a KO win in 4.5 years. The best explanation? From David Kassel of FightHype.com, who wrote yesterday: "Manny is fighting about 4 weight classes above his most dominant weight. Manny Pacquiao has grown into a welterweight, but he could probably still make weight at 130-135 lbs. He is almost always the smaller guy coming into the ring… Pacquiao, unlike Floyd Mayweather, is offensive-minded, which means he is going to take more punishment to make sure he gets his licks in… his body is worn from taking so many punches from guys who come into fights weighing over 160lbs. Pacquiao's days of spectacular, one-punch knockouts may be over, and we have to be willing to accept that."
WHO'S NEXT? Obviously, it's Part V. Like a Rocky Balboa series which extended all the way to Rocky V (with one more added 16 years later), this one, too, will reach Round 5.
MP & JMM. Mexicutioner vs. Dinamita. There's unsettled business here. You think, after all those sleepless nights he endured reliving the nightmare, that Manny's not aching to seek revenge?
Interestingly, I dug-up his full name and it's Juan Manuel Marquez Mendez. Yes, Mendez! That's my wife's maiden name. My father-in-law Atty. Jack Mendez, whose mestizo looks might originate from Mexico, probably won't deny their affinity. But I'm also sure he won't mind this Mendez being knocked-out!
Why is Part V a certainty (unless Marquez gets shocked by Mike Alvarado)? There's even a proposed name: Pacquiao-Marquez V: Once and Five All. Because both are Bob Arum's players. Speaking of Arum, I had the chance in Macau to speak to him and my dad Bunny has a nice photo with him. This guy is indefatigable. Like Jack Mendez, he's 82 years old! But his rosy cheeks and always-smiling face would tell you he's much younger. His favorite pair of shoes, as I witnessed in Macau, were New Balance running shoes.
MOMMY D. Everybody's raving about Mommy Dionisia. It's obvious where Manny got his spunk and moxie from. Footages of Mommy D. flashing those fingers while holding a prayer pamphlet elicited lots of comments. On stage, when she not only hugged her son but also embraced Bradley — that was unexpected and wonderful. This mom is groovy. Naay karakter.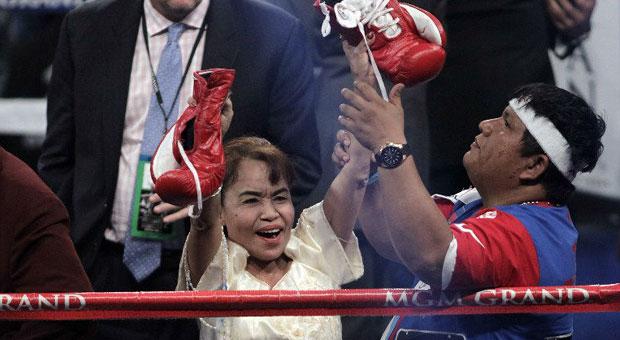 (Inquirer.net)