Let the Games begin! Past 12 midnight (Phil. time) yesterday, the Sochi Olympics started. I tried to stay awake late the other night but couldn't find the TV5 coverage. CNN showed snippets leading to the Opening but no HD channel was made available by SkyCable.
Based on what I read, it was spectacular. Armed with over $50 billion worth of expenses, it better be a grand spectacle. Some notes that I picked up from the Opening…
Maria Sharapova, who grew up in Sochi, was one of the top athletes (she's an Olympic silver medalist) who carried the torch before the cauldron was lighted.
Another top Russian athlete who also carried the torch in the final moments was Alina Kabayeva. She may not be that familiar but she's a top gymnast – though that's not the "tsismis" story. This one is: she's the girlfriend of Vladimir Putin. Only 30, she's pretty and bright and is a Russian politician. Although Kremlin denies it, almost everyone in Russia knows that the now-divorced Putin and her are a couple. Did she get the torch bearer part because of her "insider" relationship with the Russian president? Ha-ha. That's the tabloid story. But she is, in fact, an Olympic gold medalist in rhythmic gymnastics.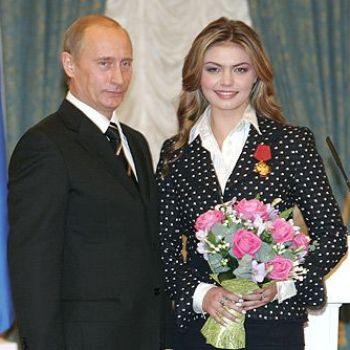 Putin with Alina Kabaeva
What went wrong in the Opening? It appears that only one moment wasn't right. It was the unveiling of the five Olympic rings; they started as snowflakes and emerged to become rings… the problem was: only four of the five rings opened! The nearly 40,000 in attendance inside Sochi stadium witnessed it.
But, not to worry, the Russians came prepared. For the TV viewers, they quickly deleted that malfunction portion, inserted the "correct" recording where all five Olympic rings were shown (taken from the rehearsal), so that TV viewers saw the "perfect" version. It's somewhat similar to the Beijing Olympics when they included pre-recorded footages in the supposed "live" version. But the Russian manipulation is worse. Still, many call it a necessary act. They say: For the billion-people worldwide TV audience, you can't show the Olympics with four rings.