I called him up at 12:15 yesterday. I thought he'd be having lunch. Instead, my eardrums were greeted with a symphony of sounds: balls dribbling, rubber shoes squeaking against the wooden floor, the referees' whistles reverberating. They were practicing. Inside Cebu Coliseum. Inside the same arena where, just 17 hours earlier, they could have won it all.
14-0. That was their scorecard before the Sunday night Game 3.
15-0. It could have been that score. They led in the 1st quarter, in the 2nd, the 3rd, the final quarter. In OT. They were just minutes, moments, heartbeats… away from the most dominant season in Cesafi's 13-year history.
But yesterday, instead of a relaxing seafood luncheon at Yayoy's Grill, they were there… Practicing. Inside Cebu Coliseum.
Surprisingly, the always-intense Raul Demerry Alcoseba – I call him "King Cobra" – was upbeat when he answered my call. Positive. Expectant. In a good mood. Hmmm… This is a surprise. On second thought, it's not a surprise. This is a man who, over three decades plus, has been through thousands of pressure-cooker-type situations inside coliseums.
Been there. Done that win. Experienced that loss. It's called reality. It's called you-can-never-win-it-all. "I told the players that this is never easy," Coach Yayoy said. "To win a championship, you need to win three."
Having led 2-0 in the finals, his Southwestern University (SWU) Cobras was a game away from sweeping the previously-unbeatable University of the Visayas (UV). If you followed the beginnings of Cesafi, you'll remember that UV was today's SWU – it was so dominant that it won the first nine Cesafi titles. "I told the players, 'It's not about the streak.' Winning is not given to us on a platter. We have to be patient. We have to learn our lessons," Alcoseba added.
Maybe it's the added pressure of the sweep. Maybe it's the other team, just seconds away from oblivion, rising to the occasion. Whatever it is, it's good for the public. "This kind of game is good for basketball, for the Cebuanos," Alcoseba admitted.
Thrilling! That's what Alcoseba means. And, talking to him yesterday, nothing gives him more euphoria – not even his Provincial Board membership and being a three-time Councilor of the City of Cebu – than a double-OT game with thousands of screaming fans.
"Our players have to be patient," he said. "We can't commit early fouls like we did. Like Sanjo. He has to give up some points so he won't foul out early. He has to be patient in the offense, not exerting too much energy. Not running court to court. Our players have to learn to control the game. It's called time management. They think that when they get the ball.. hala, discarte."
Patience. That, in one word, is the command of the King Cobra.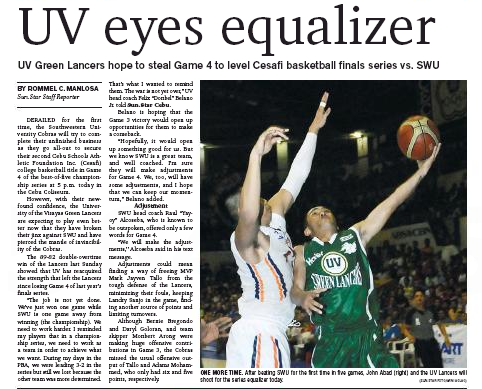 From SunStar Cebu
RYAN AZNAR. I asked for a message from SWU's athletic director and here's what Ryan Aznar said: "The guys still believe they can close it out on Game 4, adjustments will be made by the coaching staff for the next game. The school's support is very important as well as the students, knowing that the entire SWU community is behind them keeps their morale high and encourages them to play hard in every game they play."
GAME 4. Although each game, especially in the Finals, is important, I believe that today's game is the most crucial. If SWU wins it, obviously, it's done. They're expected to win. After a near-perfect season, they're still the heavy favorites.
But…. And here's an important "but," if UV wins today, wow, this will completely shift the momentum and have the Cobras feeling pressured.
I've always loved that winner-take-all ending. Remember Miami-San Antonio a few months back? Game 7? If UV snatches another steal today, imagine the excitement in that Game 5 finale?
LIVE STREAM. I'm out of town right now but, thanks to this newspapers you're holding right now, I got to see Game 3. Watch it at cesafi.sunstar.com.ph/live.