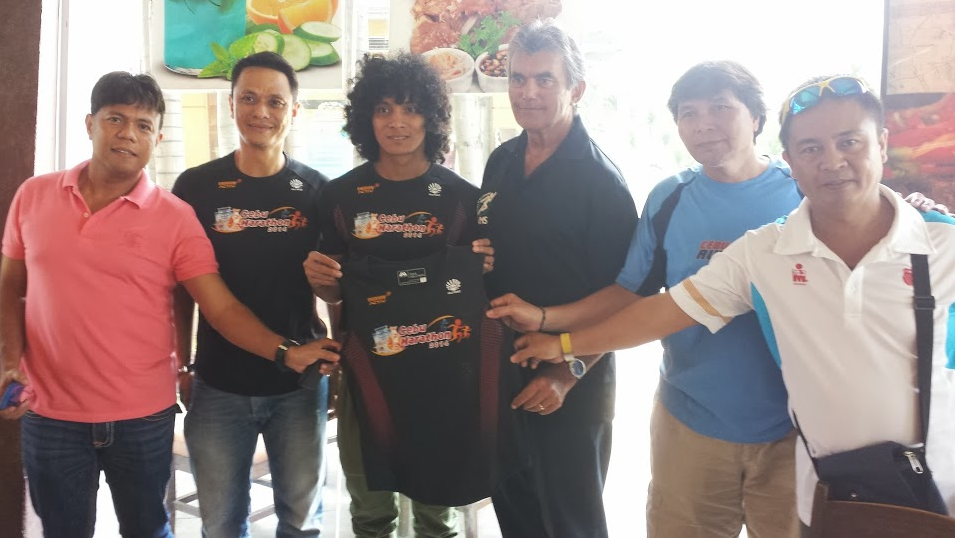 From left: Steve Ferraren, John Pages, Rio de la Cruz, Dave Cundy of IAAF/AIMS, Jesse Taborada and Joel Juarez
Rio de Janeiro hosts one of the world's biggest festivals. Before Lent each year, millions of revelers crowd Brazil's second largest city. Rio is swarmed with sexy dancers, giant floats and the beating music of samba. That's Rio. In Brazil.
Here in Cebu, we, too, have our own festival. Often called "the Philippines' biggest mardi gras," it's organized in honor of the Blessed Sto. Nino and it's held every 3rd week of January. That's Cebu, Philippines.
Why this mention of "Rio" and the Sinulog? Because a different type of Rio is invading Cebu. No, it's not the Rio de Janeiro of Brazil. It's a different "Rio de…"
It's Rio de la Cruz of running. Yes, the man we see on the covers of many magazines, Men's Health, included; the one with the signature "Afro hair" who calls celebrities like Piolo Pascual and Fernando Zobel as his close buddies — this Rio is coming to Cebu.
Rio is helping run the run that's adjudged as one of this country's most fun and festive; finest and first-rate: The 2014 Cebu Marathon.
With Rio de la Cruz as the race organizer and our group — the Cebu Executive Runners Club (CERC), the founders — there to help him out, it will be a strong one-two combination that will elevate this race to superstardom.
IAAF/AIMS. These letters stand for "International Association of Athletics Federations/Association of International Marathons and Distance Races." This is the worldwide body whose membership includes the planet's top races — the New York, Boston, Chicago marathons…
For the past three days, Rio has been in Cebu together with an Australian who is considered one of the top race directors of their nation. His name is Dave Cundy. He's the Vice President of AIMS and he personally measured — on a Vellum carbon-fiber road bike lent by Chris Aldeguer — the streets of Cebu; from Osmena Blvd. to Magellan's Cross, down to the Tunnel and towards Talisay City at the SRP. (Dave Cundy, himself, is an accomplished runner, he finished 30 marathons; his best time: 2:41!)
JAN. 12. The Cebu Marathon date is on January 12, 2014. That's over four months from today. There will only be two distances: the 21K and the 42K.
Why no more 5K? "This distance is being offered almost every Sunday," said Rio. "We want to position the Cebu Marathon as the premier running event. We want to motivate runners to go farther."
Medals for the 21K finishers? Yes, finally. While we previously did not give medals — Rio insists on rewarding those who complete the 21,000-meter distance.
Jerseys and Finishers' shirts? Check. Timing chips? Check. Loot bags with plenty of goodies? Check. The Carbo-loading party at The Terraces of Ayala Center Cebu on Jan. 10? Check. Live bands and dancers along the route? Check.
The top marathon organizer of our islands, Rio is always offering unique and new additions. His novel idea for Cebu's race: the first and only "zero waste" 42K race in the Philippines.
No plastic cups. Runners will be given free water bottles (or may opt to bring their own waist belts) and will be poured water (and, possibly, Gatorade) along the route. This makes the race environmentally-friendly.
With the registration, apart from online registration, there will be Rio's signature "cards." Instead of having to fill-in your personal details on paper, it will now be paper-less. (More on this in a future article.)
For now, I suggest you start preparing. The Milo Marathon this Sept. 22 — also organized by Rio, as are all Milo running events — is a good start. It's time to look ahead. If you did the 21K and haven't completed the 42.195-km. distance,  the date "01-12-2014" may be your lucky numbers.
What makes our CERC organizing group extra happy?
For one, we've found a partner who's the best in the business (Rio is also one of our country's fastest; his 10K best: 29 minutes; his 42K best: 2 hours, 31 minutes!).
Plus, we're extra motivated because finally, after seven years of organizing, we can do what thousands of you have already done: We can run! See you at the starting line.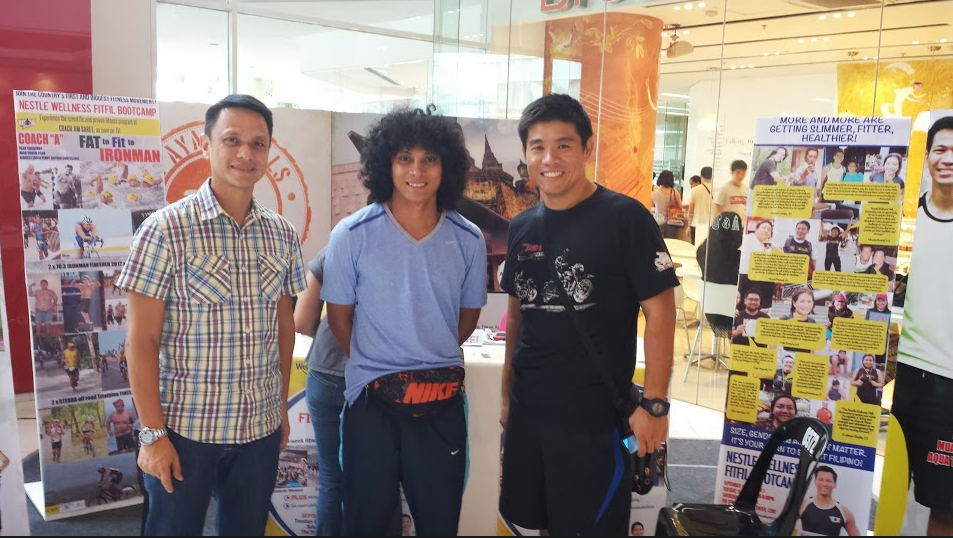 With 'Biggest Loser' star Alan Choachuy