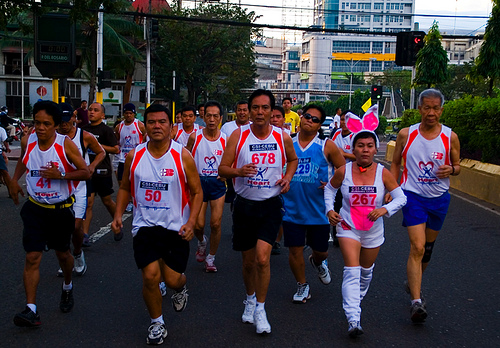 Rama (center) and Labella (to his right), in tandem (photo taken over five years ago, last Feb. 2008)
Each time I give him a call to ask if he can join a 5,000-meter run along the streets of the city that he manages, he never says no.
Running for public office. Running for exercise. These two types of runs he cherishes.
Mayor Michael Lopez Rama — had he not been a life-long public servant — would have opted to become a career basketball shooter. He'd rather be wearing high-cut basketball shoes than his trademark leather boots.
The long-sleeves polo shirt wrapped with coat jacket? Sure, he has to wear this attire when he meets VIPs. But, I'm sure, he'd exchange this quickly for long, baggy basketball shorts and a sleeveless jersey.
Several years ago upon the initiation of soon-to-be Provincial Board Member Raul "Yayoy" Alcoseba, we played basketball. It was at our family's school gymnasium at Bright Academy in Banilad.
Rama vs. Alcoseba/Pages. Mayor Mike (then our vice mayor) brought along his entire clan. It was a Sunday afternoon. From our end, it was my brother Charlie, dad Bunny, uncle Ray Pages (the former PBA player), Coach Yayoy, his children Momon, Rocky, and nephew Ryan…
I don't remember the outcome — it doesn't matter. What matters is that, for two hours, we passed and rebounded and flicked spinning lay-ups. And, if you've played basketball with him, you know Mike Rama's strength: the outside jumper. He converted on several long-range missiles.
That's basketball. With running, he enjoys the exercise that we (and incoming Vice Mayor Edgar Labella) all enjoy — jogging, sprinting, lifting one leg after another. In each of the past Cebu Marathon events, he's there. At 4:30 A.M., when everybody's still snoring, he's at the Cebu I.T. Park, stretching and bouncing his long legs, ready for the sweat.
Last January was extra fun. We all know that "Gangnam Style" was the hottest dance song. When Annie Neric, our co-organizer/emcee, started dancing, guess who gamely joined her at the starting line during the warm-up?
Mr. Mayor, of course. Mike Rama danced Gangnam. He then wished the runners good luck. Next, off he ran… step by step, without stop, the five kilometer distance beside his son Mikel.
CITY HALL. Last Tuesday, I had the privilege of being inside his cavernous office inside the Cebu City Hall. Thanks to the invitation of Edward Hayco, our tireless chairman of the Cebu City Sports Commission, the city mayor was surrounded by over 50 sports personalities.
It was a courtesy call by Ed Hayco and he brought along some of Cebu's top athletes: dancesports gold medalists (with Eleanor Hayco), karatedo champions, archers (led by Dondon Sombrio), sports commissioners like Nimrod Quiñones, Ryan Aznar, Brian Lim, Bernard Ricablanca, volleyball's Eric Licain, and CCSC's executive director Brando Velasquez.
Looking refreshed after taking a couple of weeks' vacation after that extra grueling campaign period, Mayor Mike was relaxed. To the many young athletes listening to his every word, he imparted numerous lessons in life.
"The heart is the most important," Mayor Mike said. "You may have the talent, you may have the resources, but if the passion doesn't come from within — your heart — then you can't be a true champion."
Mayor Mike talked about two of the 10 commandments. "The most important are to love God to love your neighbor," he said. He then pointed to his right wall where a black-and-white photo of him as a young boy was displayed. "That's my only medal," he explained, as dozens of medals glistened from the necks of the athletes that surrounded him. "I was the valedectorian in elementary."
After his inspirational words, everybody joined him for the picture-taking. Presented a gift by Ed Hayco, he took off his formal jacket and wore the sports shirt. Then, after being given a bow from the archers, he placed it alongside his personal photos — showing everyone how much he loves sports.
"To whom much is given, much is expected." Our mayor is a lifelong sportsman. We expect nothing less than the best era in sports from Mike Rama.