Multiplied by the exchange rate (rounded off) of P40 = $1, the amount of $40 million translates to P1,600,000,000. Yes. No typo-error there. That's "16" plus eight zeros.
If you encashed that amount in 20 peso bills, it would fill a 20-foot container van. That amount can buy one person (I computed this) 688 Ford Fiesta 1.6L Trend 6PS vehicles plus 37,000 iPad Minis plus a whopping 7.2 million meals of ChickenJoy!
Floyd Mayweather, Jr., who's fighting Robert Guerrero this morning, said these words in a recent ESPN interview:
"I say this: I called Manny Pacquiao, myself, on the phone, and offered him $40 million. This was before the Marquez fight. Offered him $40 million. I told him I would wire (him) $20 million within 48 hours. He told me, I want 50-50, and got off the phone. I'm not scared of no fighter, and I feel that, where was this guy when I was dominating the sport of boxing in '98, in '99, in '96. This guy was never heard of. This guy just popped out of nowhere, walking through the biggest and the strongest fighters? And this guy come from 105? Are you serious? Once again, I never said he took anything. All I said is I want to be on an even playing field."
Mayweather is a loudmouth. He blabbers. He talks as fast as his rapid-fire punches. Should we believe the man nicknamed "Money" when he talks about money?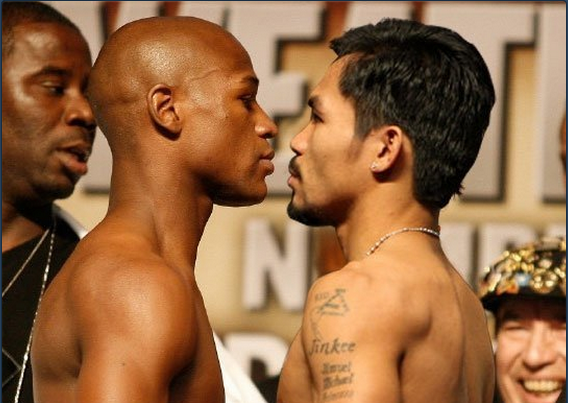 In this case, yes. When analysts estimated that a Pacman-Mayweather fight could have fetched each man $50 million, then his $40 million offer is possibly true.
Did Pacquiao make the mistake of not accepting Mayweather's offer?     Definitely.
"Hindsight is a wonderful thing," David Beckham once said. True. Because… What if Pacquiao accepted the P1.6 billion offer then went on to humiliate the previously-undefeated American? Then he retires. Perfect.
Instead, MP rejects Money's money offer, fights Marquez a fourth time, falls to the canvas and doesn't wake up for minutes; he then takes a super-extended-leave of absence from December until today.
Now, that's all past. Pacman wants to completely erase the memory of that Marquez daytime-nightmare. "Let go of yesterday," Joel Osteen preaches.
Still, the questions remain: Will Pacman fully recover? Can he regain his old self, when he was at his peak during the fights with De La Hoya, Hatton, Cotto? He's now 34 years old—surely, he's on the physical decline, right? (Consider this: Boom-Boom Bautista, who reportedly quit boxing, is only 26; yet, let's also consider that Mayweather is 36 and Marquez will turn 40 this August; plus, Bob Arum is 81!).
MARQUEZ. More on Juan Manuel: it's obvious that the Mexican has the upperhand in the negotiations. Offered $13 million to fight Manny, he spurns the temptation.
For vindication purposes, Manny needs Juan Manuel. Will this MP-JMM Part 5 happen next year, after they win their respective bouts this 2013?
Maybe. Maybe not. But for now, Marquez is playing hard-to-get. He believes he won their first three fights. He also wants to preserve the memory of December 8, 2012. He doesn't want to give Pacquiao the satisfaction of revenge. He wants our last remembrance to be of him climbing the corner ring with arms pointed in victory while his Filipino rival was slumbed asleep on the Las Vegas floor.
PACMAN. As for the Congressman from Sarangani, it looks like the date is set. "He's (Pacquiao) fighting Nov. 23rd, that's the date in the United States; Nov. 24th, that's the date in Macau. He's gonna fight in Macau, at the Venetian Cotai Arena," Bob Arum said. Who's the enemy? "It's Rios or Alvarado," Arum added.
MONEY. With today's fight against The Ghost, expect the same: a 44-0 scorecard for Floyd. It's his first time to step on the stage after a two-month-long prison sentence. Facing an opponent who was a perennial 126-pounder and fighting only his third fight in the 147-lbs. division, Floyd is expected to easily win. And he will.
FINALLY. Said Bil Keane: "Yesterday's the past, tomorrow's the future, but today is a gift. That's why it's called the present."