Based on estimates, the number of people who've reached the summit of Mt. Everest is 3,425. If you think this number is very small compared to the world's population of seven billion, consider this: An estimated 625 people have ever swam from Europe to Africa via the Strait of Gibraltar.
One of those 625 swimmers lives right here — in Banilad, Cebu City.
Sebastian "Basti" Lacson is this rare individual — and possibly the only Filipino — to have ever done a marathon swim between these two continents.
Today, Basti is popularly known as one of Cebu's top executives; with the Visayan Electric Company, Inc. (Veco), he's the Chief Operating Officer. But back in 1996, Basti was operating chiefly a different type of challenge: swimming (from Spain to Morocco) one of the toughest crossings on earth.
Here, in Basti's own words, is the full and first-hand account of that risky, superhuman, crazy and amazing feat:
"Dear John, Thank you for your interest in that swim which, in more ways than one, shaped the person that I am today. That self-imposed test of will taught me many things, showed me what to do and what not to do in life. It opened many doors, as it continues to do today. It establishes a reputation that precedes me in many things I do.
"Your interest led me to dig up my files and thereby recall, once more, exactly what I was thinking back then in 1996. Much of what we do, especially when young and carefree, we cannot readily explain the reasons for. Only later, looking through life's rear view mirror, can we understand precisely why we chose that course of action. My diary entry for 30 September 1996 states, in response to my very own question, 'Why am I doing this?,' states 'Too see the face of God' as the reason.
"The swim was a challenge. One fateful April Sunday in 1996, I happened to be lunching with a cousin in Castelldefels, a coastal town south of Barcelona. She had arranged for a friend of hers to join us. This friend was Andreu Mateu, a Spanish adventurer and explorer. Over lunch, he regaled us with stories of his numerous adventures, among them his swim across the Strait of Gibraltar. He added that he was planning to do the swim once again in October of that year. Without any hesitation, I signed on.
"Why was I so quick to get myself into such a commitment? I was winding up my MBA and was having some difficulty landing a job in Europe. I felt I took the MBA too young (I started at 24, the youngest in our class) and perhaps companies I interviewed sensed this. I was trying to keep a long-distance relationship with my girlfriend, who was herself studying in Boston, alive. Working back in Manila after an MBA in Barcelona worried me. Looking back, now I know why I was so audacious as to commit to the swim despite my complete lack of swimming background: I needed something to catalyze success into my life.
"I eventually ended up back in the Philippines and worked in our family enterprise. Four months before October, I started to train. My simplistic regimen was this: swim until I could swim no more. No interval, no stops, no pulse-taking. Just swim non-stop. Two weeks before the swim, I was doing 10 kilometers per swim, which I thought was sufficient preparation. All this time, I became obsessed with the swim and my life was work and training. My Boston girlfriend, who by then had also returned to Manila, decided she had had enough neglect and called it quits. At that point, it didn't seem like I cared.
"Andreu and I met up in Barcelona in the last week of September 1996. Three friends of his were joining us. Two guys, Gonzalo Ceballos and Pedro Vernis, and a girl named Cori Sangenis. We all flew down to Malaga in the south of Spain and took a bus to the coastal village of Tarifa, which is the southernmost point in the Iberian Peninsula. I still have some expense items listed down from that time (assuming exchange rate of 3 Pesos per Spanish Peseta):
Pesetas    Pesos
Barcelona-Malaga plane ticket    20,000    6,700
Neoprene suit ¾ inch    21,000    7,000
Hotel in Tarifa    20,000    6,700
¼ share in 2 escort crafts    31,250    10,400
¼ share in doctor    6,250    2,100
¼ share in fishermen-escorts    5,000    1,700
¼ share in other expenses    5,000    1,700
TOTAL (without counting meals and
Ticket from Manila to Spain)    108,500    36,300
"My sponsor was the now-defunct Pilipinas Bank, whose president was the gentlemen banker Carlos "Lito" Pedrosa. He gave me USD1,000 which, if you look at the expenses indicated above, was just on the money. My father sponsored the ticket to Spain and gave me some money for meals.
"During the first few days of October 1996, the wind was not in our favor. Strong Levantine winds buffet the cost of Cadiz constantly throughout the year. This is why the area was already, at that time, dotted with wind turbines. But during the first few days in Tarifa, it was howling. These easterly winds reach their maximum expression in the Strait of Gibraltar, turning this sea lane into a nightmare or, as I wrote in my diary, '…rendering the Strait impassable with its monstrous rage.' I observed further that '…the waves tend to break or wipe-out and this, combined with their 2-3 meter height result in any swimmer's nightmare.'
"On October 5th, the winds died and we planned for an early start the following day. We started at 6:56 am of October 6th from Punta Marroqui in Tarifa. Led by one of our guide boats, a small zodiac, we made for a southwesterly tack, swimming into the Atlantic Ocean.  This is against the current which is from the Atlantic to the Mediterranean.  This was very tedious although necessary in order to get to out intended destination: the beaches of Punta Cires in Morocco. So tedious was this first part of the swim that it took about 3H 30mins (out of 5H 19mins total) to cover less than half the total distance of the route. Once the critical inflection point had been reached as determined by our fishermen-guides, we drifted southeast with the current until we reached the beaches of Morocco. We had forgotten to bring our passports (something you don't normally bring when out swimming) and when we spotted armed men waiting on the beach, we opted to dive down, touch sand, and motored hurriedly back to Tarifa. We had done it: left Spain at 6:56 am, got to Morocco 12:15 pm. 5 Hours and 19 minutes from Europe to Africa. For further verification, please consult the 'neoprene' category in www.acneg.com, website of the Strait of Gibraltar swim association.
"The swim did turn out to be a good thing. I got my first good job because of it. The Spanish guys interviewing said that I could 'do anything if I could swim the Strait of Gibraltar.' I realized the value of working tirelessly for a goal and of the value of deferring the reward until the end. I apply those virtues at home, in the workplace and in sport, where my love for endurance tests stills persists. I also realized that in life, balance is necessary, that I cannot ignore all else just to pursue some single-minded objective, like I did with the swim. As for the girl in Boston, well, we married in 1998 and now have two wonderful children. So I guess that got sorted out.
"In the end, maybe I did see the face of God."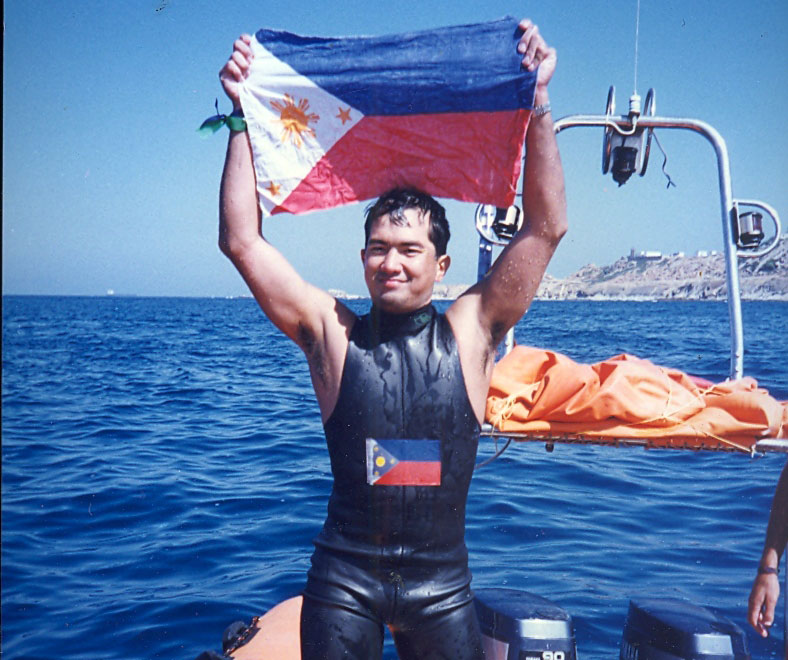 COMMENTARY ON SPORTS. My discussion about sports with Basti did not end with his Strait of Gibraltar swim.
Basti has been a lifelong sportsman. Back in college at the Ateneo, he was captain of the Blue Eagles basketball team.
While taking his MBA in Spain, he decided to run a 42K. "I ran the Barcelona Marathon in 1995, which was I believe the first time they used a timing chip," he said. "It was a fabulous route down the northern coastal road towards Barcelona. It culminated in the Montjuic stadium where the 1992 Olympics began and ended. The last three kilometers were up the hill to Montjuic, and many of the professional runners complained. I also recall that after that year, they stopped ending in Montjuic. I ran that in 3H 56mins. I also did a couple of half-marathons in Madrid some years later."
MORE Q & A. Here's the rest of my interview with Basti…
John: Given that we're a country of 7,107 islands, it's a wonder why swimming is not that popular; why do you think this is so?
Basti: The islands and beaches are for having fun and frolicking. Swimmers are bred in public swimming pools, and we don't have any. To expand the talent pool of any sport, public sports facilities must be available and young athletes must be able to revolve their sporting and social lives around those sporting facilities. This applies to tennis, soccer, swimming, cycling, table tennis and the like. If one wants to swim in this country, where does one go without spending much money or becoming a member of a private club? In other countries, municipal facilities provide the breeding ground for what later become world-class athletes. Once in a while we will produce an Akiko Thompson (very well to do parents), or import soccer players from Europe, but our talent pool is not rich because we have chosen, as a society, not to invest in sport. Since there is nowhere to swim, we won't produce many fine swimmers.
John: What do you think of the Olango Challenge (which just finished two weeks ago) and the long-distance swims?
Basti: The Olango Challenge is a great opportunity to experience the delight of open sea swimming. We should have more of it.
John: Do you still swim nowadays? Any events you're targeting? What exercise keeps you busy?
Basti: Recently I've started swimming again and have been doing 2. 5K workouts whenever possible. It isn't easy to find a decent 25-meter pool in Cebu. When in Manila, I try and swim every day since I have access to a nice 25-meter pool out there. I just do it for my own conditioning. I haven't caught the triathlon bug yet. I have a bias against sports that require heavy investment. I'm a bit of a purist in that the best sports for conditioning are the ones that require minimal investment and maximum effort.
John: Why is sport so important in life? What lessons can one derive from sports? What have you personally learned from sports?
Basti: Sport means different things to different people. Sports and/or music in young people set the important keystone habits that unlock other beneficial traits that will help them throughout life. They underscore the need to practice relentlessly to excel at something. In this age of instant just-swipe-your- I-Pad gratification, this value can be forgotten, to the detriment of the child. They underpin the need to set priorities and follow schedules. They teach a child how to win, and how to lose. Sports and music create friendship bonds that last longer than other friendship contexts. To win and to succeed in music and sport, one must rely on teammates, coaches and parents. Winning by cheating is frowned upon, also a valuable learning point.
Once we get older, sport becomes important in staying fit and healthy. It releases much of our angst and tension that can accumulate because of work and the like. We also need to accept when the body starts slowing down and the next generation come in and take over. That is life's cycle.