This afternoon from 3 to 5, we will be honoring the top sports performers of 2012. The list is long. There's John Mier. There's David Lim, Jr. There's Mendel Lopez, who's being awarded not for running but for triathlon.
A total of 250 athletes and sportsmen and women — all Cebuanos or Cebu-based — will step on stage at The North Wing Atrium of SM City Cebu to receive their plaques and citations.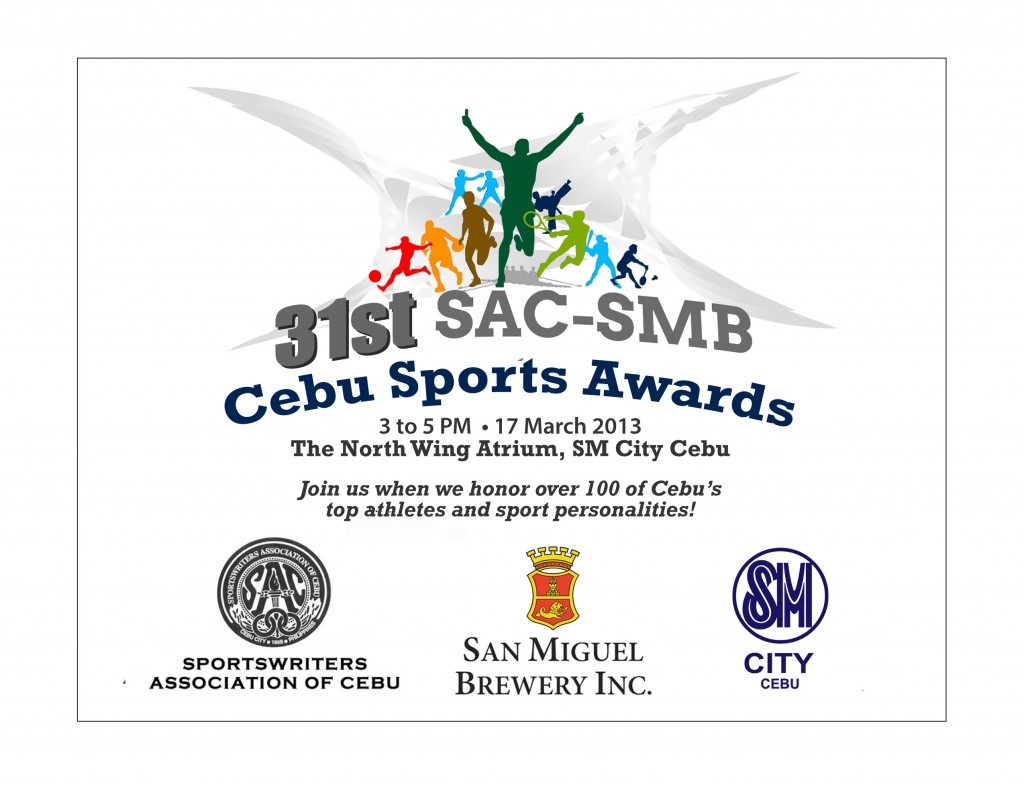 Today's event — the 31st SAC-SMB Cebu Sports Awards — is historic for many reasons.
First, it is the first time to be held at the SM City. We've hosted this ceremony 30 times in the past, from Magellan's Hotel to Grand Con to Laguna Garden Cafe to Ayala Center, but never in SM. And never on the 3rd and final day of the 3-day SM sale.
Second, for the coveted "Sportsman of the Year" award, we're not giving it to one man — but to sportsmen. Yes, plural. The award goes to… the Cebu Football Association. Yes, the new CFA officers professionalized the world's biggest sport in 2012 and brought to our Visayan shores the show entitled "Azkals vs. Singapore."
Third reason: We're having a new set of officers for SAC (Sportswriters Association of Cebu). For the past five years, I've held the title of president. We held an election recently and I'm proud to introduce our new set of officers: Rico Navarro (president), Mike Limpag (VP), Marian Baring (sec.), Manny Villaruel (treas.), Jonas Panerio (auditor) and Mars Alison, PRO. (You'll notice that the six officers are equally distributed: two each from SunStar, CDN and The Freeman.)
To Rico — who writes every Sunday for The Freeman and is the sports director of Sacred Heart School-Ateneo de Cebu — good luck! (The Induction Ceremony, to be administered by CCSC chairman Edward Hayco, will also be this afternoon.)
Fourth reason: Football is the biggest winner today. There's a CFA General Assembly starting 6 PM tonight. The top Philippine bigwigs are arriving, including PFF President Nonong Araneta and Azkals patron Dan Palami. Both are expected in SM later. Most of all, my choice for Presidential Awardee is Dr. Pericles "Ricky" Dakay.
Ricky plays football, has kids who play football, has a team (Queen City) who plays football, and runs the most active sports organization in Cebu today that's all football: the CFA.
Five: Who's the Athlete of the Year? Last year, it was Richard Bitoon of chess. The year before, it was world boxing champ Donnie Nietes. In 2010, we awarded Rubilen Amit, the billiards wizard. The list is varied. This award is the only surprise that will be unwrapped and announced towards the end of the program. Nobody except the sportswriters knows the recipient. Watch for this!
Sixth reason: Sally Mae "Em-Em" Siso will be honored. A multiple tennis honoree in the past, Em-Em will receive a different plaque today: the Orlando C. Sanchez Memorial Award. This is conferred to that one individual who exemplifies good sportsmanship. Why Em-Em? Last year, we were together in Palawan and, while Em-Em was unjustly defaulted in the finals match, she had all the humility and kindness to approach her tormentors and make amends. That's sportsmanship.
Seven: Watch Mikeala Calamba. I have yet to meet the 15-year-old high schooler from USC who, last year, became world champion when she won the 7th World Taekwondo Poomsae Championships in Colombia. Mikeala will be performing today.
Reason No. 8: Check out the entertainment. A live band will entertain the crowd. Ed Hayco's Dancesport Team Cebu City will dance. Tony del Prado's taekwondo artists will strut their moves.
Nine: Bring your children. Who doesn't want to get their kids into sports? This is the best occasion to inspire them to get active.
10: Finally… Cheer for your friends! Clap for them. Show your support. We will also have an 8' x 8' photo wall. Take photos with all the sports-stars. This only happens once a year. See you later!