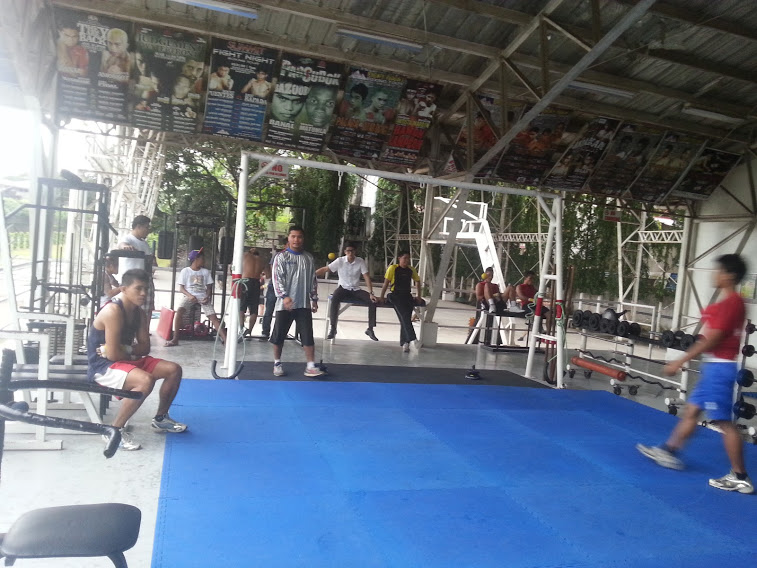 The country's most respected and best-managed boxing facility is not found in GenSan or in Quezon City or in Bacolod, it's right here in Cabancalan, Mandaue.
Last Tuesday, I visited the ALA Gym. Wow. Superstar after superstar I saw. Jimrex Jaca sparred. Rey "Boom Boom" Bautista wore jogging pants and intently watched the hostilities. Genesis Servania sweated. Michael Domingo was there — no longer a fighter but a trainor.
I went to visit Donnie Nietes. Humble and always sporting a charismatic smile, Donnie proclaimed himself super-fit ("wala problema gyud," he said) for next Saturday's duel at the Waterfront Hotel.
"I was not my best shape in Bacolod," he told me, in Bisaya, referring to his controversial win in October 2011 at the La Salle Bacolod Gym. This time, Donnie is much more confident. As we spoke, he wrapped his fists with white tape. He wore all-black, from foot to head: Asics boxing shoes, leggings, shorts and a shirt plus a head gear that was black.
We spoke in Ilonggo. Nietes hails from Murcia, a town 10 kms. from Bacolod. His snake? "Ara didto sa kwarto (It's in the room)," he said, referring to his good-luck pet snake, Don II.
The ALA Gym, found behind the sprawling Aldeguer compound that houses their multitude of businesses (The Islands Group, included), was abuzz with excitement two afternoons ago. They house a track oval for running. A full-size basketball court. Mirrors adorn the walls while various weights of dumbells are ready for use. There are two boxing rings, side by side.
Because the Pinoy Pride XVIII is just nine days away, a who's-who of Pinoy boxers was present last Tuesday. There were about 50 boxers, including several Japanese. Punching bags, too many to count, stood still, ready for pounding.
Above, hanging, were dozens of banners of the ALA Promotions events. In full color, the various Aldeguer boxers were celebrated. Each photo had their family name printed underneath.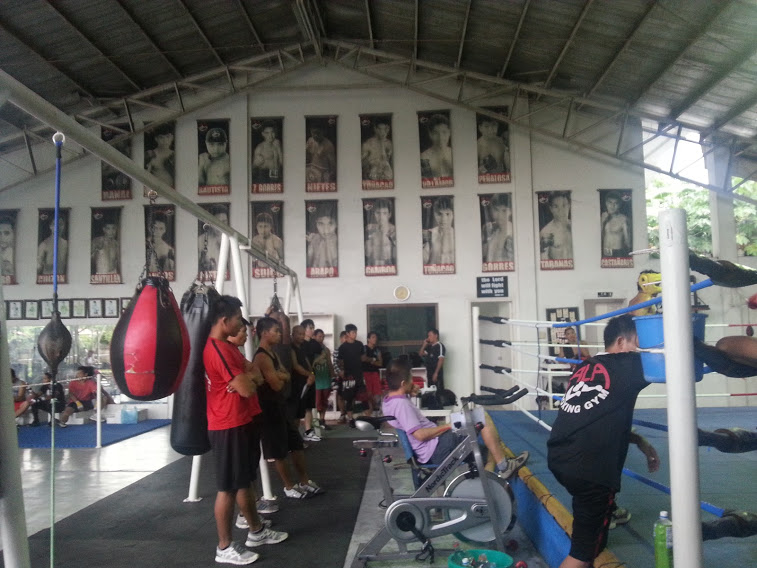 Minutes after I arrived together with Tommy Frederiksen, the Swedish tennis coach of my daughter Jana, The Godfather himself arrived.
Each Monday to Saturday afternoon for the past 28 years since his gym started in 1985, Tony Aldeguer himself is there to supervise their training. He wore shorts and running shoes. And when the sparring started, instead of just sitting down to watch, he climbed the NordicTrack stationary bicycle (which had a plastic sign at the side which said, "For ALA Use Only"). He himself was there to work out. Pedaling, observing, shouting comments to Donnie and to Edito Villamor — all these ALA was doing in his second, every-afternoon home.
"We're letting Donnie spar against a taller, bigger opponent," said "Tito Bidoy," as I call him. This way, Donnie gets used to the Mexican, Moises Fuentes, that he'll face next weekend.
Donnie sparred for four rounds with Ralph Lulu. They didn't seem to hold back; they were going all out. This was Donnie's second-to-the-last sparring session; he spars his final four rounds today. "Donnie might not be spectacular but he's powerful and very effective," Aldeguer tells me.
Ilonggos. I'm not sure if it's because Mr. Aldeguer himself comes from Iloilo but his gym is filled with Ilonggos — many from Bacolod and Negros. "They're very talented," ALA says.
After Nietes' session, guess who came on board? It's a sight that we'll not see anywhere, even in Las Vegas.
Milan Melindo versus John Riel Casimero! Milan is scheduled for an April 6 bout (undercard of Brian Vilora) in Macau while the world champ Casimero is headed for Panama next month.
Their sparring? I don't know if a) they both hated each, or b) they wanted to put-up a great show for the audience, or c) they're just ultra-competitive and want to always give their best… but it was a spectacle. They were out to flatten each other.
Shirtless with spiky light brown hair, Casimero (wearing adidas running shoes) was offensive. Seated beside Coach Tommy, we were, literally, at ring-side (beside the ropes) and could feel the power of the punches and the absorbing pain they'd inflict. Milan himself did not relax: he punched uppercuts and wanted to KO his fellow Pinoy.
And that's only the sparring. I can't wait for March 2.