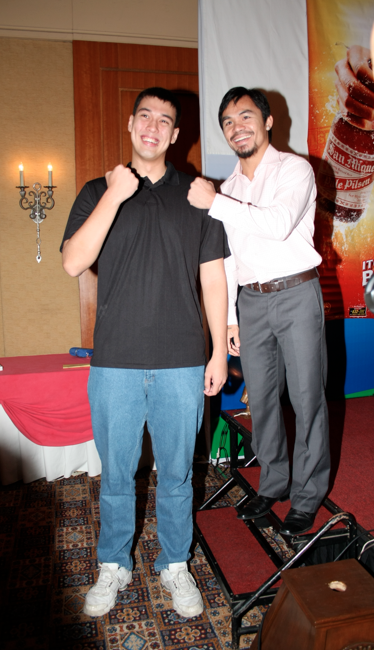 "I'm doing good," said Greg Slaughter, yesterday. "Just getting ready for the season."
"The season," of course, refers to the UAAP Season 74 that opens this July 9. Greg was "pirated" from the University of the Visayas by Ateneo de Manila University. This happened last year.
Are all your documents OK? I asked. "Well, they haven't officially released the decision," he said. "But I think I'll be all right."
Greg moved to Manila in 2010. But, after arriving at the Quezon City campus of ADMU, he could not wear the Blue Eagles uniform because of the one-year-residency ruling. He waited. For the meantime, he donned the Smart Gilas jersey.
This UAAP season, Greg and his Ateneo coach, Norman Black, whom I spoke to over the phone two weeks ago, are excited.
After winning three CESAFI trophies from 2007 to 2009 here in Cebu, Greg's shift from UV's green garb to Ateneo's blue motif will mean one giant move for this giant: Ateneo will win Consecutive Title No. 4.
"I miss Cebu," Greg said. "But I've had no time to visit. Been busy with Gilas and the PBA. And, after that, with the Ateneo training camp. Our team flew to Las Vegas. I've also been busy with school."
Is Ateneo difficult? "It's pretty tough," said the only player in CESAFI history to have won the season MVP, the All-Star MVP, and the Finals MVP in the same season (2008). "School is tough but they help us. I've got tutors."
Finally, I asked Greg, given all the good nutrition that they provide in Manila, if he's grown even taller. (I once asked him, "When you fully stretch your arms, how near are you from the basketball ring?" His reply: "My fingers are about 8 inches away. I can tap the backboard and grip the middle of the net while standing!")
Greg's answer: "I've reached the limit. I'm 7 feet tall."
With that height, Ateneo will stand tall this year while their enemies will have a tall, tall order.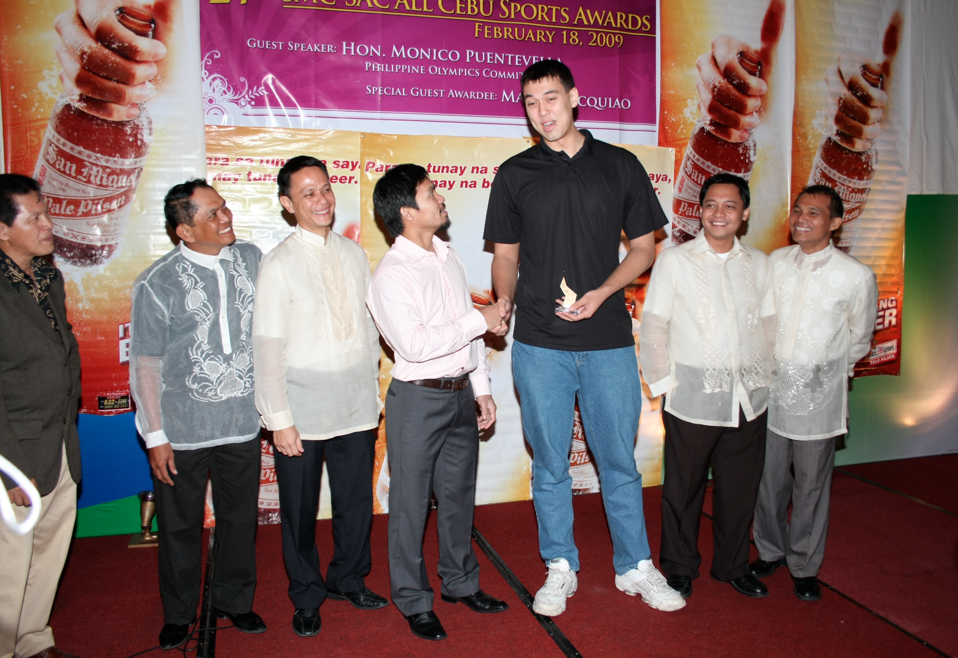 At the 2009 Cebu Sports Awards; from left, Raffy Uytiepo, Jun Migallen, John P., Manny, Greg, Jingo Quijano and Raffy Osumo
Past articles I wrote about Greg:
As Greg slaughters, UV marches to No. 8 this '08
Greg Slaughter: Q & A with the triple MVP
The 'Tim Duncan' of Cebu basketball speaks
With UV's 9th prize, Eddiegul is on Cloud 9
MARIA. Ms. Sharapova is blonde, tantalizing, long-legged at 6-foot-1; she adorns the pages of the Sports Illustrated Swimsuit Edition and is the world's richest female athlete. The sports giant Nike just paid her $70 million for an eight-year deal to wear The Swoosh. She earns $25 million total, through sponsorships, every 12 months.
Sharapova is the prettiest face and the sexiest body in sports. That's according to me, to Mike, to you, and to Sasha Vujacic, whom Maria will soon marry.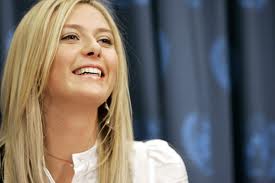 What makes Ms. MS so appealing? Everything. Her face glimmers. Her three Grand Slam singles trophies radiate. Her seductive photos adorn Google. Her mini-skirt flutters open. Her aggressive backhands obliterate women. Her shrieks echo in Centre Court.
Maria has won Wimbledon before. This was in 2004 when, as a 17-year-old, she surfaced as the winner in a "Beauty versus the Be(a)st" contest against Serena Williams. Sadly, since that surprise moment seven years back, Maria has never won the London major title again.
Until this Saturday. Against unknowns Sabine Lisicki, Petra Kvitova and Victoria Azarenka, we know the result. Three are not glamorous; one is. And the prettiest wins. It's about time. The last time that Sharapova won a major was the Australian Open in 2008. Since then, she's been plagued by a chronic shoulder injury.
Helped by the losses of the Williams' sisters and of No. 1 seed Caroline Wozniaki, the path has been made easier for the California-based netter who moved from her native Siberia, Russia to Florida at the age of seven.
ROTARY. Like Pres. Noynoy Aquino, I celebrate my one year as president of the Rotary Club of Cebu West today, June 30. But, unlike P-Noy, whose term extends for 60 more months, I step down by midnight. Starting tomorrow, July 1, a new leader will guide our club—one of the oldest-running in the country, at 49 years old. Our new chief is Lenton Beltran. To all of Cebu's outgoing Rotary officers… smile. You deserve it. To District Governor Ted Locson: Congratulations! And, to our incoming RCCW president, Lenton, enjoy the fabulous ride on the Rotary wheel!